This was a wine dinner not quite the same as you may expect. The room is set long table style mostly with hightops and a few extra tables in a casual, relaxed atmosphere that is Wildebeest.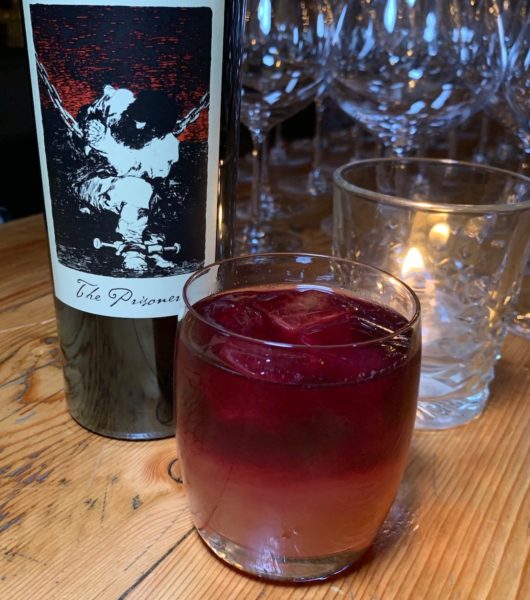 The night began with a New York Sour cocktail enhanced with The Prisoner wine and almost from the moment you arrived there was a buzz of excited anticipation. Not only were we going to be tasting blends from Napa Valley in California but we were to indulge in thesmoke-tinged, spiced flavours of the changing seasons crafted by Chef Ian McHale and executed by his team.
This was not the time to sit quietly in your seat and everyone spent some time circulating about the room, chatting with friends and meeting fellow wine lovers. As appies were passed among the guests the conversation became lively as we, not so patiently, waited for dinner and the first chance to taste the wines.
Special guest sommelier and emcee Kurtis Kolt kicked things off with a bit of background about The Prisoner Wine Co. As he pointed out California is best know for its big bold single varietals such as merlot, cabernet sauvignon, syrahs and zinfandels. Consequently the adjectives of unconventional and defiantly different fit this "out of the box", that's just an expression not what the wine comes in, winery.
Wildebeest is the kind of place where you can relax and enjoy the experience of fine dining without any of the pretention. This is a comfortable, tastefully casual setting that was the perfect foil for the Prisoner wines.
With the first course paired with The Prisoner 2017 Sommelier Christina Hartigan walked us through her reasons for the pairing with the Smoke Magret Duck.
THE PRISONER 2017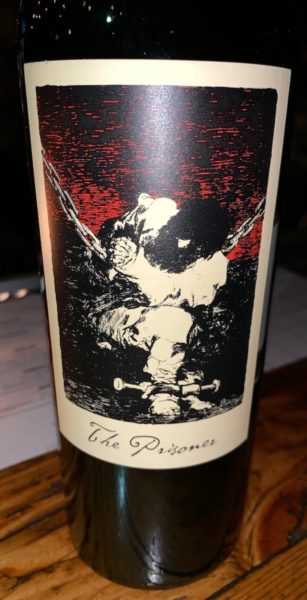 Aromas of cherries, toasty, slightly alcohol forward with sweet scents. Bold, rich and as it sits the scents of rose, cinnamon and plum are released. Jammy, smooth with medium tannins. Flavours of cherry and blackberries.
After enjoying the dish the wine is now richer, smoother, sweeter and quite dense.
The Prisoner was inspired by the "mixed blacks" first made by the Italian immigrants who originally settled in Napa Valley. The Prisoner is now the most recognized Napa Valley red blend, leading the resurgence of interesting blends by incorporating Zinfandel with the unlikely mix of Cabernet Sauvignon, Petite Sirah, Syrah, and Charbono.
Features enticing aromas of Bing cherry, dark chocolate, clove, and roasted fig. Persistent flavors of ripe raspberry, boysenberry, pomegranate, and vanilla linger harmoniously, for a smooth and luscious finish.
Smoked Magret Duck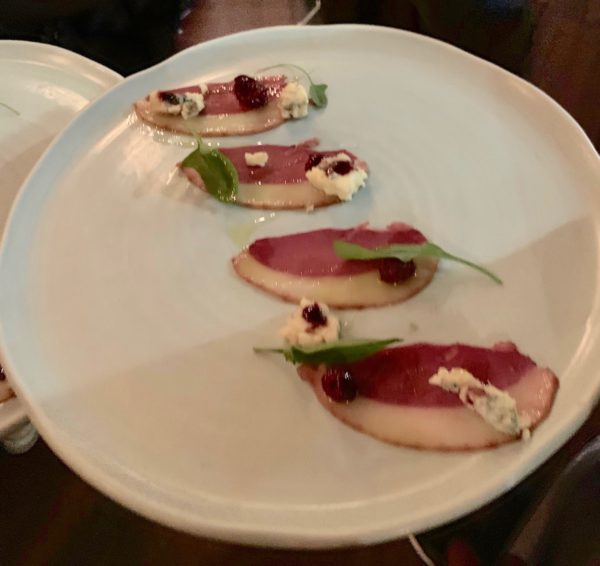 Trailing blackberries, cashel blue cheese, sheep sorrel
Lightly smoked (in house) magret, savoury, rich and salty. It stood up well to the blue cheese. Nutty and the blackberries was a nice addition, sweet and crunchy. This dish overall was quite rich and surprisingly filling.
THE SNITCH 2017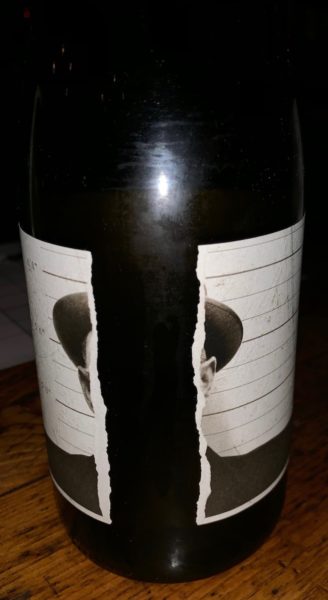 Typical scents of a California Chardonnay. Very oaky so I will wait until I have done some tasing of the dish. As it sits the oak scent diminishes becomes more floral with rose scents. As it sits there is now very little oak flavour, pleasant but slightly alcohol forward. Light with good flavour, lingering light oak, fruity. It's all about the pairing.
When creating our wines, we always look for fresh approaches to traditional varietals. For The Snitch, we combined Chardonnay from exceptional vineyards in warm Oak Knoll and cool-climate Carneros with just a touch of Roussanne. The result is bright and rich with an unexpected something special.
Fresh tropical fruit, apple, and pear on the nose. The palate offers richness balanced by bright acidity.
Sweetcorn Agnolotti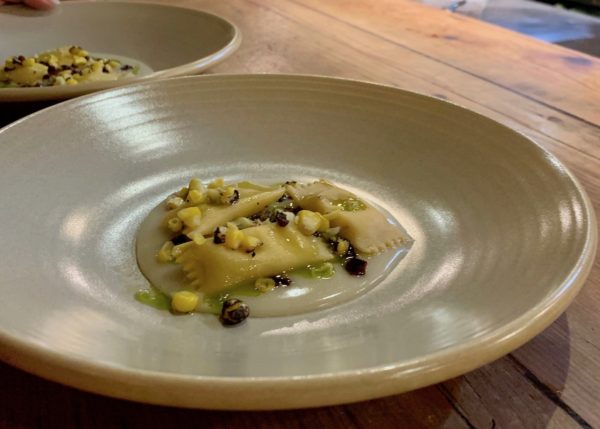 Blackened sweetcorn, thyme, cornhusk velouté
The corn was both sweet, as well as crispy and chewy. The pasta a perfect el dente. The velouté was smooth and rich. The essence of the thyme enhanced the dish. This was a favourite dish.
THORN 2015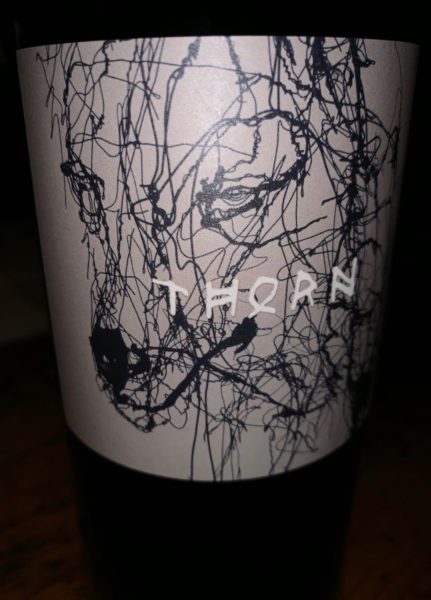 Scents of roses and plum, dusting powder and talc, sweet candy, marshmallow and melon. Sit and swirl more alcohol forward. Scents are dusty and smokey. The wine is sweet, dense and fairly smooth with prominent tannins.
You don't know what it wants and you've underestimated its character. But you can feel it watching your every move. A cunning presence lingers, like a thorn in your side. It isn't going anywhere.
Earthy aromas open up into cocoa, blackberry, cedar, and anise. It's smooth with flavors of cherry, chocolate, vanilla, and a mild toastiness. The finish is long with balanced acidity.
Wagyu Tartare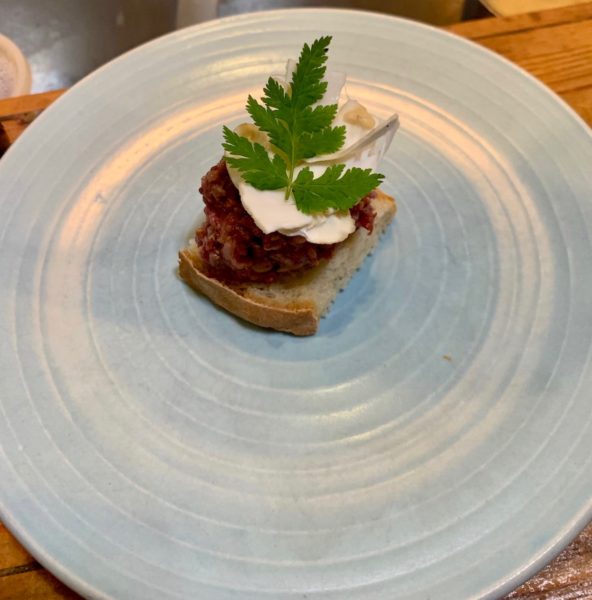 Subtilia Ranch wagyu, BC pine mushrooms, cucumber, hazelnut, olive oil bread
The tartar was spicy and tangy but the crostini was a bit too crunchy and hard to cut.  Quite salty, a bit coarse in texture with liberal pepper.
BLINDFORD 2017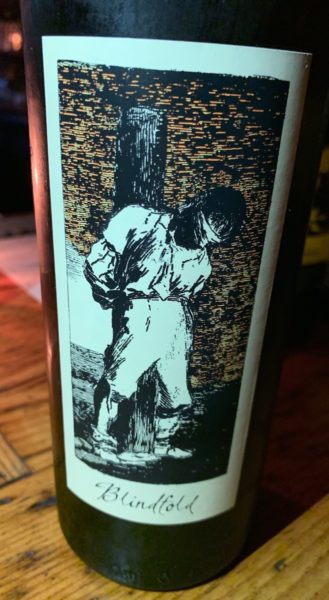 Dusty, fruity and oaky. Light taste with light oak. The wine stands up to the sour cabbage of the dish. With the dish the wine comes across as light and sweeter than on its own.
They thought if he couldn't see the world, then he wouldn't make his mark. But a blindfold won't hold him back. It just heightens his other senses. And whether they like it or not, his resilience will leave a lasting impression.
Chardonnay blended with white Rhône and aromatic varieties, equally bold and intriguing—a luscious entry of toasted hazelnut and mandarin is balanced by bright acidity and minerality. The finish is rich and creamy with flavors of lemon zest and caramelized sugar.
Lois Lake Steelhead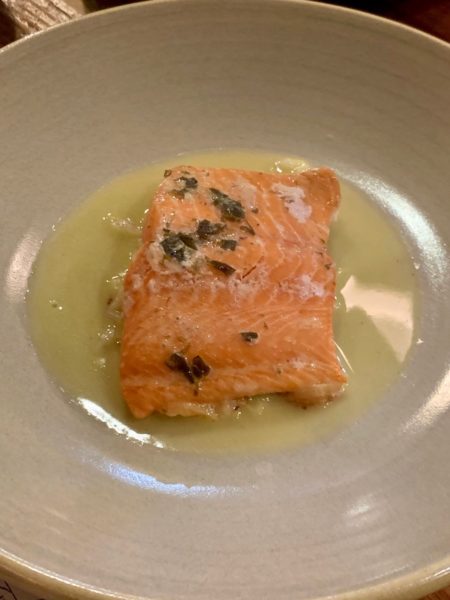 Peach beurre blanc ,caraflex cabbage
This moist steelhead was perfectly cooked with soft texture. Paired with a toasty, tangy cabbage. The cabbage was quite tart and sour and at times a bit overpowering the delicate flavour of the fish.
DÉRANGÉ 2016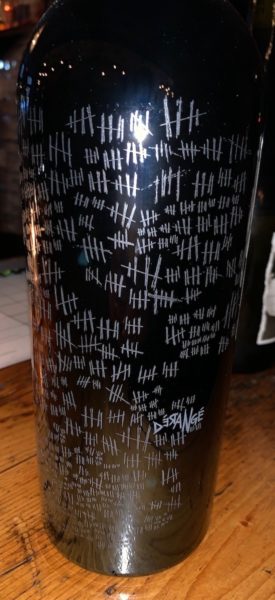 The wine seemed to be a bit lighter than the Blindfold. It worked well with the dish which was delicious and favoured by those of us that appreciate a good, flaky pastry crust.
In the late spring of 2016, all 2015 TPWC lots were evaluated for character. The most concentrated and delicious lots of each variety were selected for the first vintage of Dérangé. After lot selection, all barrels destined for Dérangé were hand-selected by tasting each and every one. This red blend is full of black cherry, clove spice, blackberry cobbler, and vanilla toast. The mouthfeel is full on the entry and the soft tannins and balanced acidity are a delicious combo.
Game Pithivier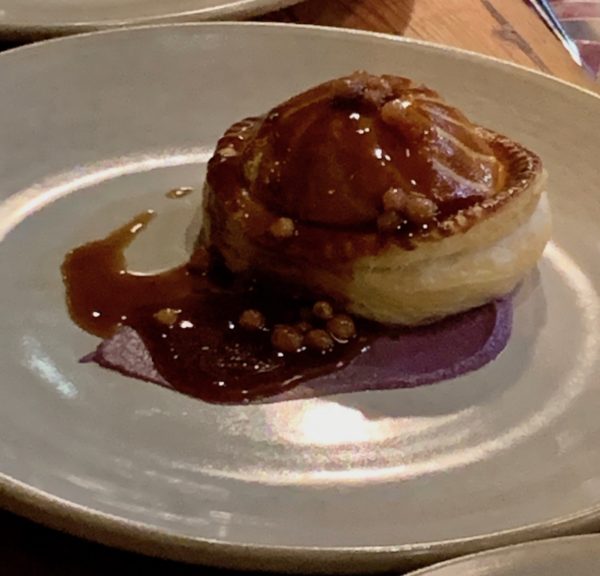 Pickled morels, red cabbage purée, huckleberry jus
I think this is the dish everyone was waiting for and they left it to the end! Yummy pastry with spicy filling. The pickled morels were really spicy. You can never go wrong with good pastry and the fruit jus added just the right balance.
Petit Fours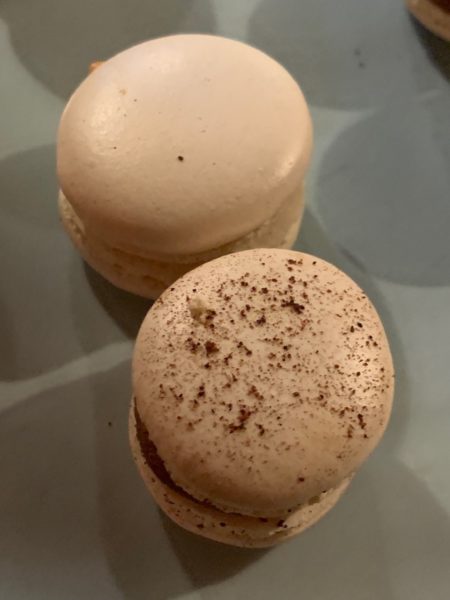 A nice finish with two types of a macaroon; a savoury truffle with foie gras and a chocolate mocha. Tasty.
Overall the Prisoner wine dinner was something different. More casual with wines that were new to me. It's nice to stretch your comfort zone and discover something different, something you may not have chosen for yourself. It is through this journey of discovery that we learn and grow, expanding our knowledge and enjoyment.
I would definitely like to visit Wildebeest again to try their dinner menu of seasonal, well crafted dishes.
Tasting notes in italics courtesy of the winery. All images MyVanCity. I received dinner complimentary for myself and a guest in order to facilitate this review. All opinions are my own.
Something is wrong.

Instagram token error.