Yes, it's official Fall is here in Vancouver and with Fall comes some new menus and menu items at one of our favourite restaurants located in the Four Seasons Hotel Vancouver – YEW seafood + bar.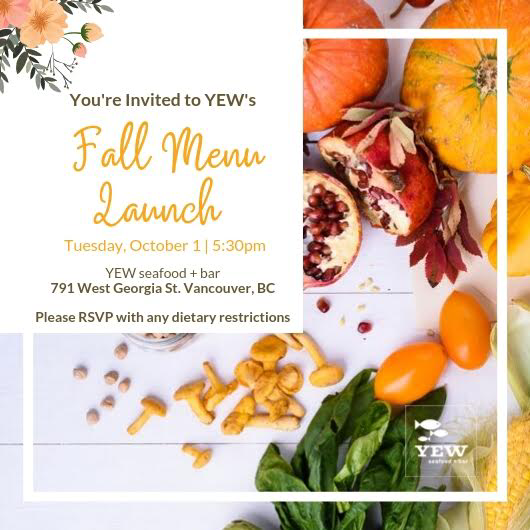 On October 1st an excited group of local diners, foodies and bloggers joined General Manager James Alexander, Restaurant Chef Evan Morgan and Executive Pasty Chef Suraj Karmakar for a tasting of the Fall menu.
Just launched and receiving rave reviews already the dishes were out of this world. Not only were they absolutely delicious they were so innovative and fresh you were left craving more!
Here are the dishes we tasted:
YEW Prawn Cocktail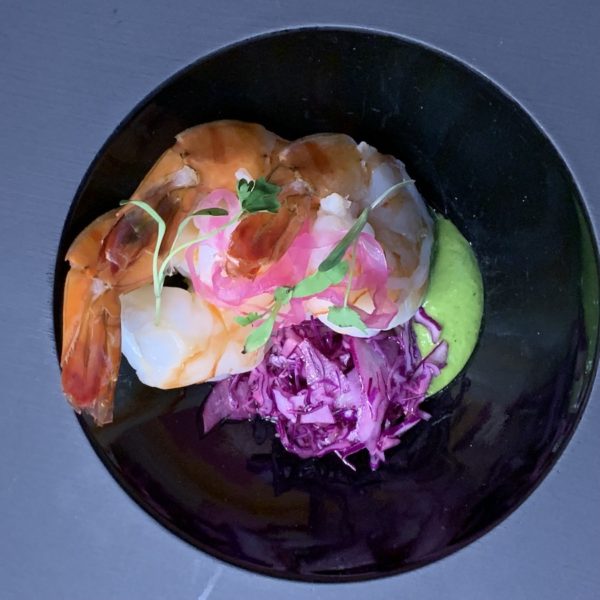 This was the perfect starter the Prawn was succulent and very tasty. The salsa verde and the flavour of the cilantro were deliciously prominent in the taste.
Dungeness Crab Cake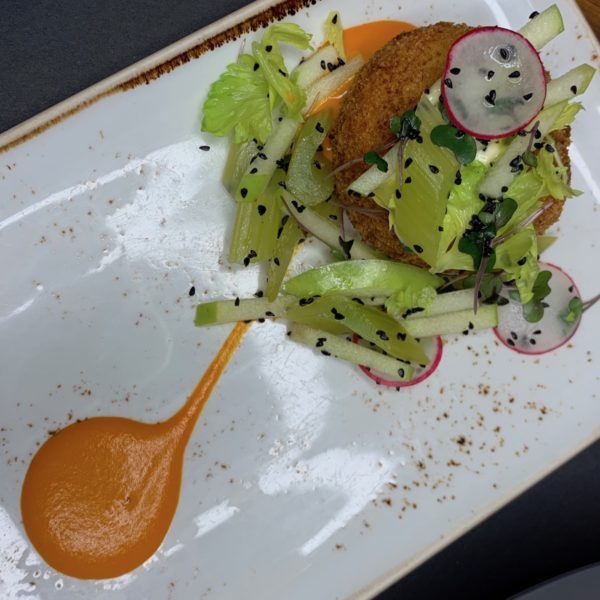 Crispy on the outside and tender pieces of Dungeness crab on the inside. We are so blessed to have the best seafood here on the West Coast and lucky to have such fine examples of seafood dishes that we never tire of.
Grilled Octopus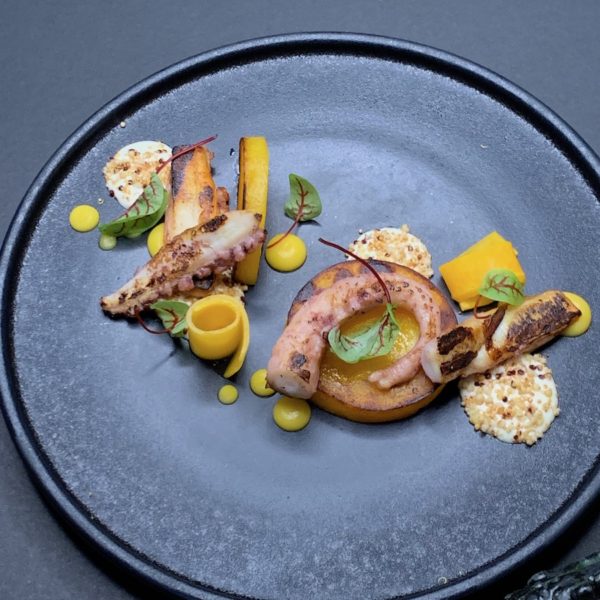 This was an interesting dish with the sweet butternut squash and the more flavourful smoked onion aioli enhancing the octopus. The octopus is fairly mild and was very tender and grilled perfectly.
Seared Scallops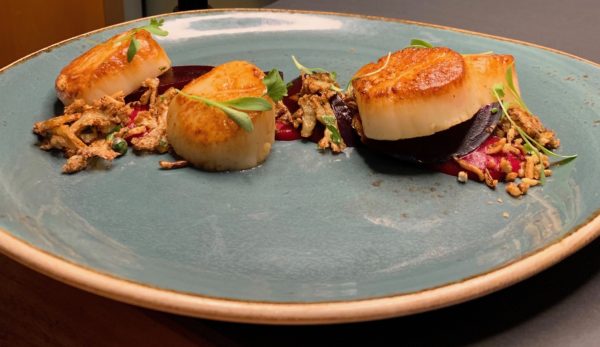 The scallops were nothing short of spectacular, so flavourful, tender with delicious caramelizing on the outside and sweet on the inside. Again seared to perfection.
Maple Cochujang Glazed Sablefish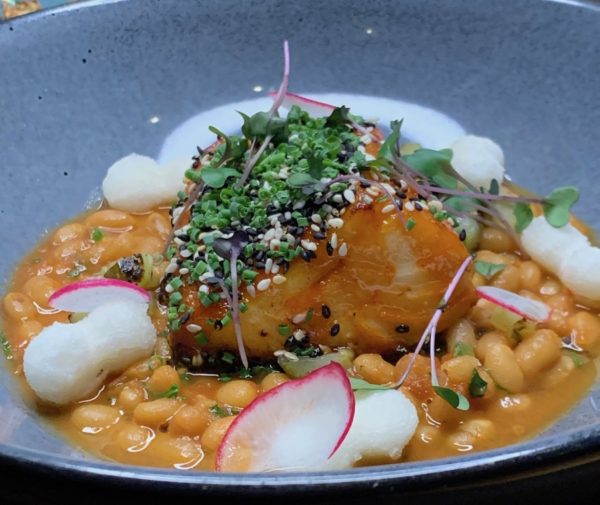 Dashi Baked Beans, Crispy Rice Cake, Kale
This was a surprising pairing but it really worked. The comfort of the somewhat sweeter baked beans was a good combination with the juicy, rich sablefish. The crispy rice cakes melted in your mouth.
Peppercorn Crusted Lingcod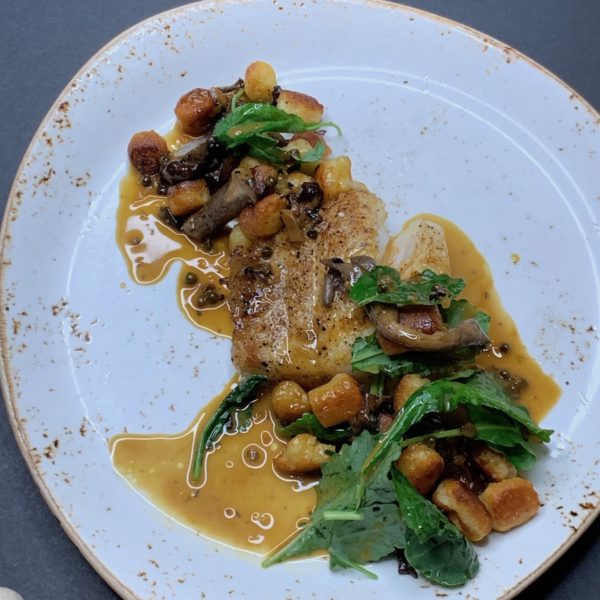 Gnocchi Parisienne, Roasted Mushrooms, Peppercorn Sauce
The offerings of wonderful, fresh, local seafood is what Yew is noted for and this dish was excellent. The gnocchi were yummy, the roasted mushrooms flavourful and the lingcod was so very good. The peppercorn sauce was a nice compliment without being too over done.
Dessert Trio
"Fall-en" Stone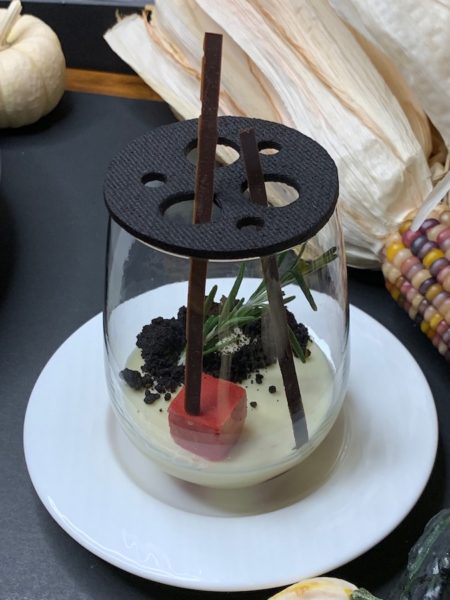 Banana Mousse, Makrut Lime Cream, Kalamansi Jam
Just the presentation alone is fantastic. What talent! Of course the dessert was delicious; both sweet banana and tart lime flavour mingling with each bite.
"Beyond the Black Forest"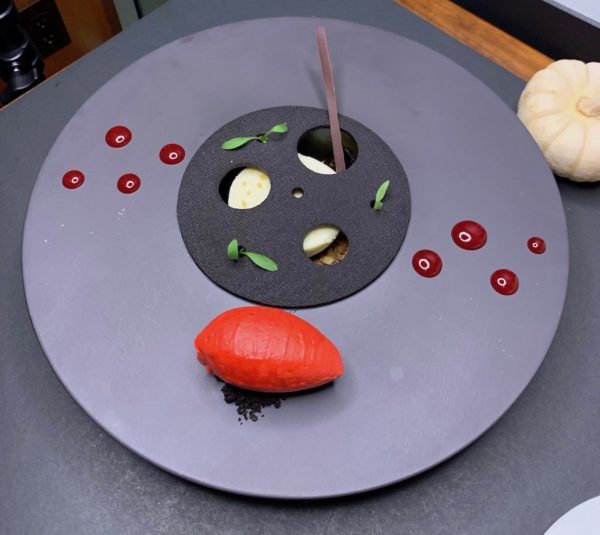 Rosemary Crème, Amarena Cherry, Chocolate Shortbread, Raspberry Sorbet
Certainly the most unusual vision with this outstanding display of pastry art. Yes, as good as it looked. Food as art.
Oven Roasted Pear + BC Blueberry Crumble
Spiced Caramel, Housemade Ice Cream
Where to begin? That was a question as both desserts were so different in texture. The pear soft and melt in your mouth creaminess; the blueberry crumble was reminiscent of winter nights gathered around the family table.
All three desserts were excellent and with so many flavours and textures there is something to delight everyone with this scrumptous trio.
Wine Pairings
For red wine drinkers a lovely reserve beaujolais from Burgundy. For me the Lariana Viognier was perfect on its own or paired with the dishes. Either made an excellent choice.
Dive in!
The YEW team brings a passion for fresh ingredients and a wealth of global culinary experience to YEW seafood + bar.  Led by a farm- and ocean-to-table philosophy, and inspired by the abundance of top quality West Coast ingredients, our menus offer a delicious slice of life in beautiful British Columbia.
Reservations highly recommended.
All images MyVanCity. Images shown are of the actual dish as per the menu. Our menu was tasting portions or samplings of each dish. The evening was complimentary, including wine pairing, in order to facilitate this review. All opinions are my own.
[wdi_feed id="2″]