Executive Chef Ricardo Valverde Pays Homage to South American Roots with Pair of Exclusive Three-Course Holiday Menus Featuring Optional BC Wine Pairings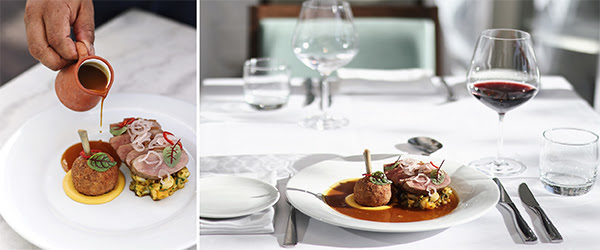 Ancora Waterfront Dining and Patio Executive Chef Ricardo Valverde will put his Peruvian culinary heritage in the spotlight when the False Creek restaurant hosts a pair of exclusive dinner services to mark both the Canadian and US Thanksgiving Holidays on Monday, October 8 and Thursday, November 22, respectively.
The three-course exclusive menus, which feature Valverde's unique interpretation of a classic Peruvian dish of arroz con pato (rice with duck) with huancaina sauce as the main, are available for $59 per person plus tax and gratuity. Optional beverage pairings from BC's The Hatch, Le Vieux Pin and Sperling Vineyards selected by Ancora's sommelier team are also available for an additional $48 per person.
"I'm extremely passionate about honouring my Peruvian culture and the cuisine I loved while growing up in my hometown of Lima," says Valverde, "These special holidays give me an opportunity to showcase some of those traditional dishes and culinary styles for our guests."
ANCORA THANKSGIVING DINNER MENU
$59 per person++
Wine pairings $48 per person++
Roasted Mushroom Bisque
truffle crème fraîche
The Hatch Prima Volta Chardonnay 2016, Kelowna, BC
—
Arroz con Pato
huancaina sauce, roasted chicken jus
Le Vieux Pin Le Grand Pin Syrah 2016, Oliver, BC
—
Carrot Cake
Dulcey mousse, walnut crumble, buttermilk ice cream
Sperling Late Harvest Riesling 2015, Kelowna, BC
The award-winning restaurant recently marked its third anniversary by announcing that it will open a second location overlooking the waterfront in the high-profile Grosvenor Ambleside development at 1351 Bellevue Avenue in West Vancouver later this fall. The new Ancora outpost will feature seating for 104 in its expansive dining room and bar and 38 on its patio and offer panoramic views of notable landmarks such as the Lions Gate Bridge, Stanley Park and Vancouver's West Side.
RESERVATIONS
As seating is limited for Ancora's Canadian Thanksgiving dinner service on Monday, October 8and US Thanksgiving service on Thursday, November 22, reservations are highly recommended and can be made online or by calling the restaurant at 604-681-1164.
For the latest news about Ancora, register for the restaurant's e-newsletter at ancoradining.com, become a fan of /AncoraDining on Facebook or follow @ancoradining on Twitter and Instagram.
---
ABOUT ANCORA WATERFRONT DINING AND PATIO | Launched in 2015 on Vancouver's False Creek seawall with a second location slated to open this fall in West Vancouver's Ambleside Beach, Ancora Waterfront Dining and Patio embraces the harmony of Peruvian and Japanese cuisines while incorporating the very best local, seasonal and sustainably sourced ingredients that the Pacific Northwest has to offer. Paired with an exceptional array of wines, a selection of classic and signature cocktails and a décor that evokes a serene-yet-sophisticated West Coast feel, Ancora offers unique dining experiences that celebrate international flavours and culinary artistry. Since its opening, Ancora has been singled out for numerous accolades, including The Globe and Mail's '10 Best New Vancouver Restaurants 2015', enRoute's 2016 shortlist of the Best New Restaurants in Canada as well as consecutive mentions on the prestigious annual ranking of Canada's 100 Best Restaurants in 2016 and 2017.
1600 Howe Street, Vancouver, BC  V6Z 2L9 | 604-681-1164 | ancoradining.com
Hours: Lunch noon to 2:30 p.m. Monday – Friday | Cocktail Hour 4 to 5 p.m. Monday – Friday | Dinner 5 p.m. to close daily | Brunch 11 a.m. to 2:30 p.m. Sunday
Opening soon: 1351 Bellevue Avenue, West Vancouver BC
Twitter: @ancoradining | Facebook: /AncoraDining | Instagram: @ancoradining