Earlier in October, I was invited to a media event at the Dockside Restaurant at the Granville Island Hotel. The purpose was to introduce us to their new fall menu.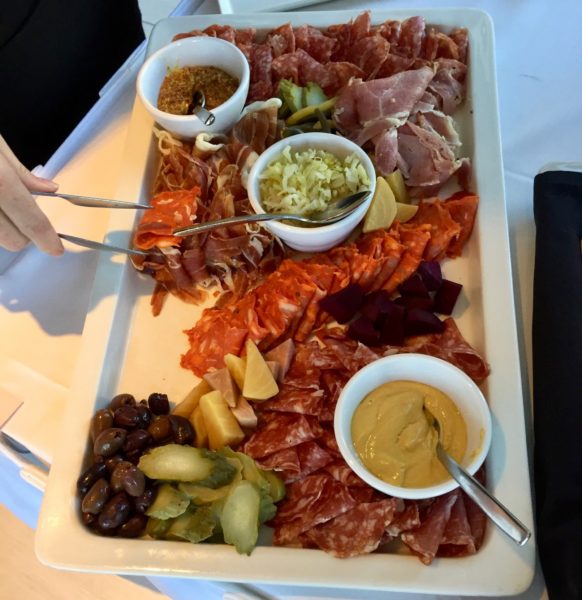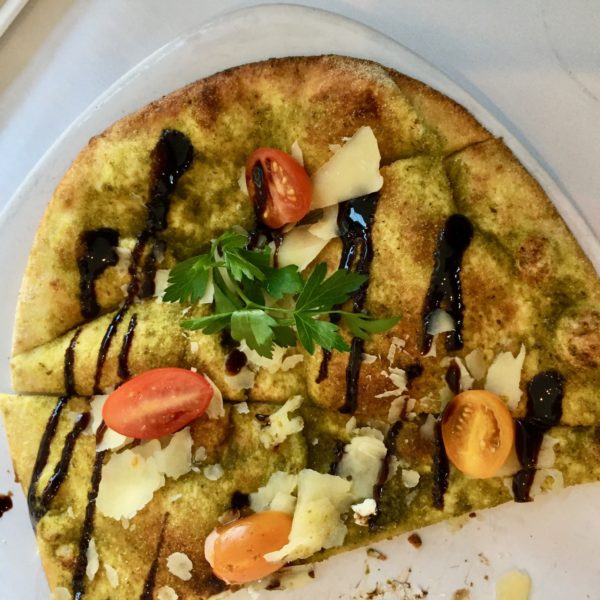 We started the evening with some nibbles which included an attractive and tasty charcuterie plate and warm pizza slices. Both were nicely presented and paired well with the Burrowing Owl and Road 13 wines on offer.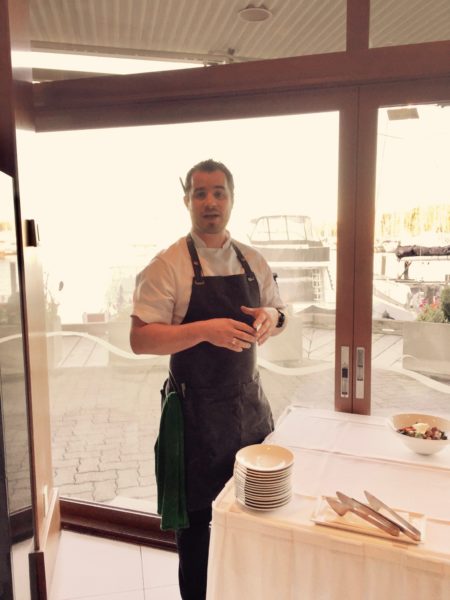 Chef Mark Crofton definitely hit the ground running with this knockout new fall menu which includes two healthy locally sourced salads.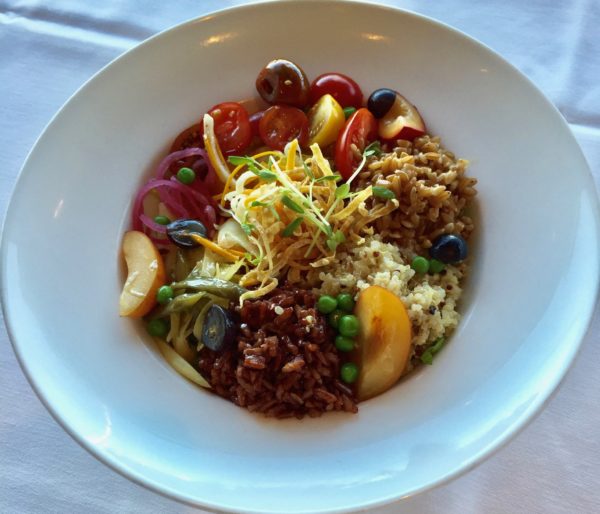 Super Food Buddha Bowl quinoa, farro, wehani rice, pickled vegetables, heirloom tomato, romaine hearts, citrus vinaigrette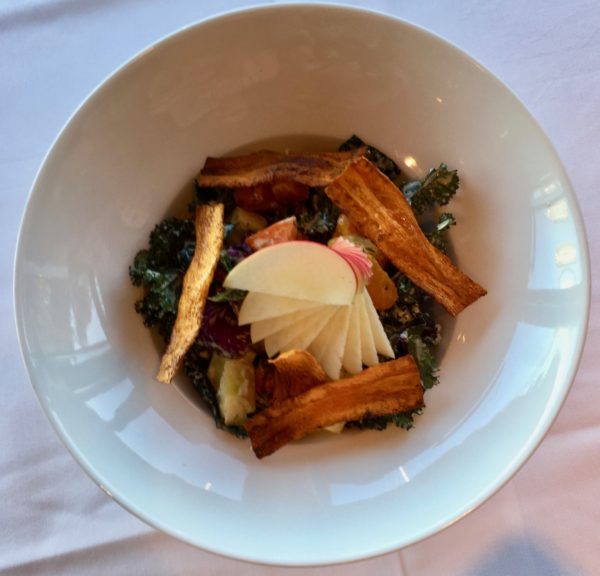 Warm Fall Harvest Kale Salad  roasted root vegetables, honey crisp apples, buttermilk dressing, grana Padano
 The mains were a big hit, especially the Grilled Haida Gwaii Halibut swimming in the "to die for" dungeness crab bisque which we all declared would make a standout dish on its own.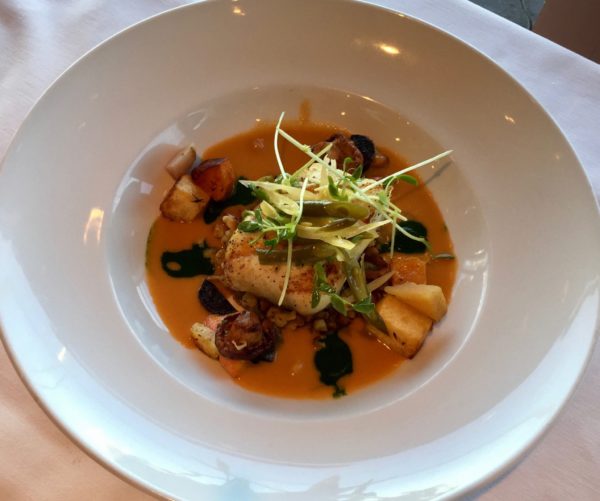 Grilled Haida Gwaii Halibut grilled halibut, lemon-herb spaetzle, dungeness crab bisque, house pickled and roasted organic vegetables
I enjoyed the Forno Roasted Spring Salmon as the lemongrass was not too strong but accented the dish perfectly. The pistachio puree added a pop of yummy colour.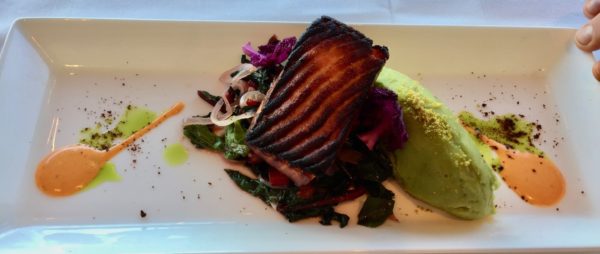 Forno Roasted Spring Salmon lemongrass-soy marinated spring salmon, pistachio mash, bell pepper aioli, seasonal organic vegetables
Done to perfection, and of course, there is nothing better than a Two Rivers Tenderloin. At 6 oz this is the ideal portion. Everything came together with this dish.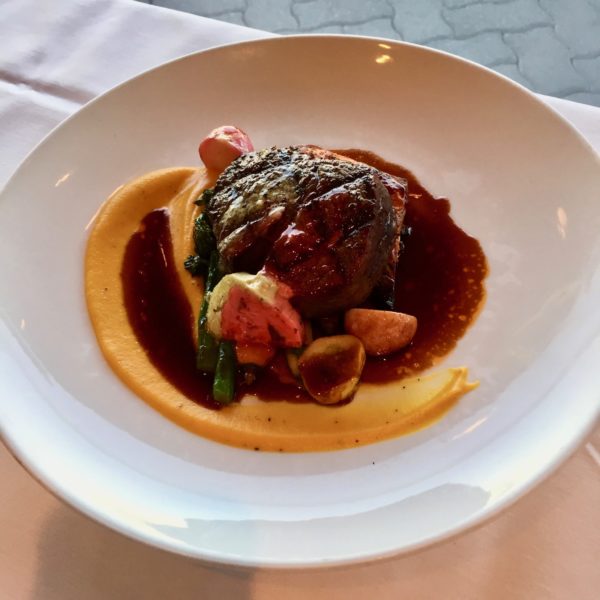 Two Rivers Grilled Beef Tenderloin 6oz AAA beef, potato yam pave, butternut squash puree, red wine thyme jus, seasonal organic vegetables, preserved cherry-basil compound butter
Although it was disappointing the lamb was not locally sourced it does come down to a supply issue, we need more ranchers. Nevertheless, the dish was very good, tender and moist.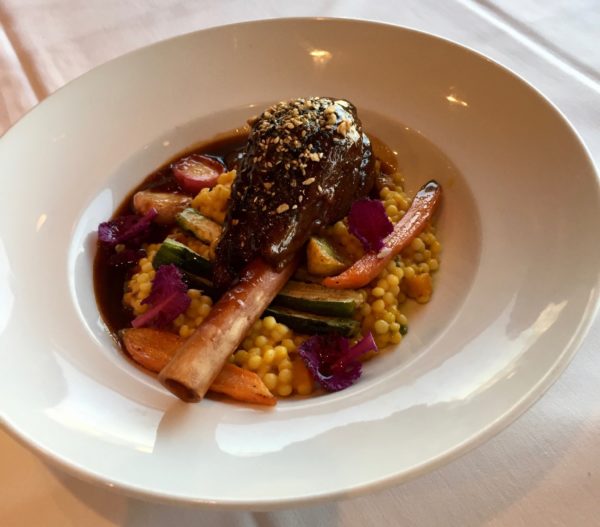 Braised Lamb Shank Australian Lam Shank, Israeli cous cous, butternut squash, Okanagan plum jus, dukkah, seasonal organic vegetables
Who doesn't want dessert? Obviously not a group of media types and it didn't take long to devour these delicacies.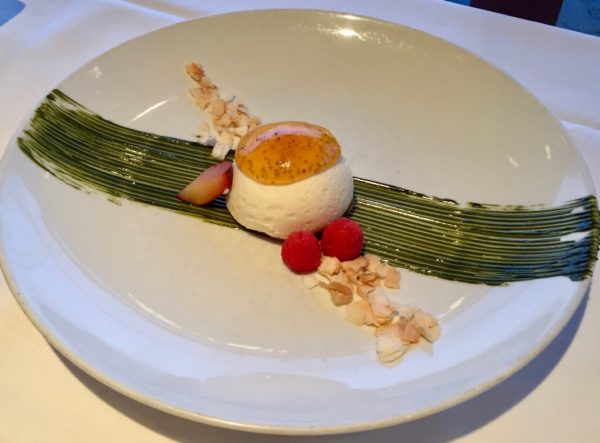 Coconut Milk Cheesecake Passionfruit chia seed glaze, honey toasted nuts and candied coconut chips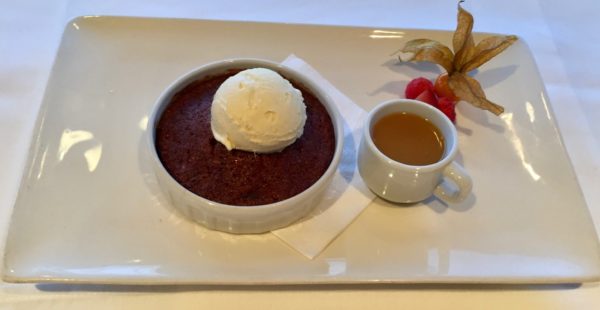 Chocolate Espresso Pots de Crème Almond & chocolate sable, chantilly cream
It didn't feel too much like Fall just yet on this particular evening, the dinner was early and it was still sunny outside but there was no mistaking the efforts of Chef and staff preparing an excellent array of dinner options that are now available on the Dockside menu. You won't be disappointed. Reservations are recommended.
Executive Chef Mark Crofton,
Whistler born and raised Chef Mark Crofton's gastronomic prowess was well nourished.  Throughout his childhood, he was encouraged in the kitchen by his Mom, Yvonne, who recognized his natural talent as he produced meals for the family.  When Mark was eleven years old and after a successful hunt, Mark's Dad, Richard, arranged for Mark to join him and celebrated Chef Bernard Casavant in making sausage.  That sneak preview of a commercial kitchen sealed his path.
Throughout his teens, weekend and holiday jobs were under Chef Casavant's guidance.  Experience in the movie industry and at Earl's Restaurants led up to cooking school at Camosun College in Victoria B.C.  His training included apprenticeships at Zambri's of Victoria and, in the Okanagan, at the Burrowing Owl's Sonora Room. A special feather in his Chef's hat was being selected to cook for Royalty and Athletes alike at Canada House in Whistler during the 2010 Olympic Games.
These endeavours and more netted Chef Mark the highest level Red Seal Cook qualification.
Headhunted by the Gibbon's Group Chef Mark moved from the Okanagan to Toronto where his career advanced, guiding his culinary team to producing sumptuous repast which he repeated in their Vancouver establishment The Yale Saloon.
Now at Granville Island Hotel's Dockside Restaurant, Chef Mark Crofton has taken on ensuring the restaurant's standard of a high calibre, leading edge menu.
Thanks to Chef Mark and the staff for hosting us for a very enjoyable and delightful evening. Dinner was complimentary. All opinions expressed are my own.