BURDOCK & CO NEW SEASONAL DISHES AND MOTHER'S DAY BRUNCH
Following their six-year anniversary in April, the popular Main Street eatery 
Burdock & Co
  has a new menu: new seasonal dishes showcasing B.C.'s bounty of beautiful ingredients; a special Mother's Day brunch; and the continuation of the eatery's ever-popular Disco Dumplings Monday-night series.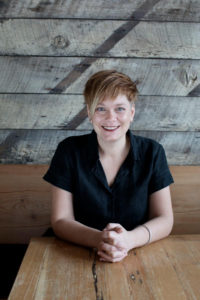 On April 15, Burdock & Co celebrated its sixth birthday – a significant milestone that represents just a fraction of the years Owner and Executive Chef Andrea Carlson has been dedicated to shaping Vancouver's culinary scene. For more than a decade, Chef Carlson has demonstrated an unwavering commitment to sourcing homegrown ingredients and actively supporting local farmers and growers. Renowned for marrying unusual ingredients and executing exquisite platings, Chef's earthy dishes pay homage to B.C.'s diverse environments, capturing the true essence of west coast fare. Her lasting impact on the province's culinary scene was recognized last fall when she was inducted into the B.C. Restaurant Hall of Fame as the Local Champion.
"Burdock & Co's six years of success, would not be possible without the dedication shown by our long-standing staff. Every day, they come to work with remarkable determination to create an above-and-beyond experience for our guests. I am grateful to have a passionate and supportive team."
With the arrival of warm weather, guests can enjoy a fresh crop of ingredients brightening up Burdock & Co's menu. Best enjoyed family-style, the sunny selection of flavourful dishes includes heirloom carrot and burdock salad with black sesame paste and mushroom crumb; rosemary-smoked mussels dressed in garlic and red wine vinegar sauce; and grain risotto with lacto-fermented potato puree, aged miso and crispy quinoa.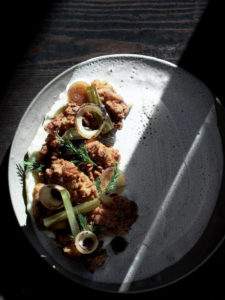 Burdock & Co continues to make Monday nights brighter with Disco Dumplings. From 8pm until long after the sun goes down, the spunky series transforms the dining area into a lively disco with DJ Chris Allen spinning vinyl. Dance, mingle, and nosh on fresh west coast-style dumplings, priced at just $10 per plate. Beer and natural wines are offered at discounted prices, as is the signature fried chicken with pickle mayo. Dumpling lovers can also pay a visit to sister restaurant Harvest Community Foods, where frozen burdock & pork dumplings are available for take-home purchase ($10 per bag; each bag contains 10 dumplings).
This Sunday, May 12, Burdock & Co celebrates Mother's Day with a special brunch service. Diners can enjoy a two-course set menu, including petit fours, coffee and tea. Seatings are available between 10am to 2pm and the set menu is priced at $40 per person. Reservation are recommended, and can be made here.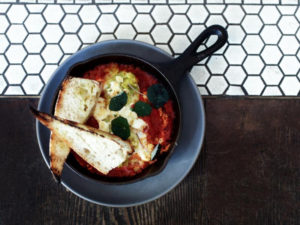 Of course, you don't need a special occasion to indulge in a leisurely morning meal – Burdock & Co's award-wining weekend brunch is offered every Saturday and Sunday, between 10am and 2pm. Menu highlights include local congee with salted almond and smoked shoyu; Swedish meatballs, nugget potatoes and fried egg; and French pancakes accompanied by seasonal fruit, maple and cream.
To make a reservation or learn more about Burdock & Co, call 604.879.0077 or visit Burdockandco.com.
Opened in 2013, Burdock & Co is Andrea Carlson's uncompromising vision of what a restaurant can be. Located on Main Street in the heart of Vancouver, Burdock & Co presents sophisticated dining in a casual setting, with an evolving local and organic menu, naturalist wine program, and a signature way of cooking that trusts the raw materials to shine. Burdockandco.com

Media release and images provided by Lena Chen, Avenue PR.
[wdi_feed id="2″]