One thing you can count on is that an evening spent at Water Street Cafe is always a pleasure. That being said attending one of the Water Street Cafe's Wine Maker's Dinner series evenings elevates the experience to a whole new level.
At the most recent Wine Makers dinner I had the pleasure of attending the wines of Noble Ridge, an Okanagan Falls winery, were featured .
Chef Alan Tse, Sous Chef Todd Bright and the team at Water Street did an incredible job presenting six courses starting with a selection of delicious canapés. The following courses were wonderfully seasonal, fresh and local, orchestrated to a high level of culinary delight. As always the choice of dishes were complimented by the excellent choice of Noble Ridge wines.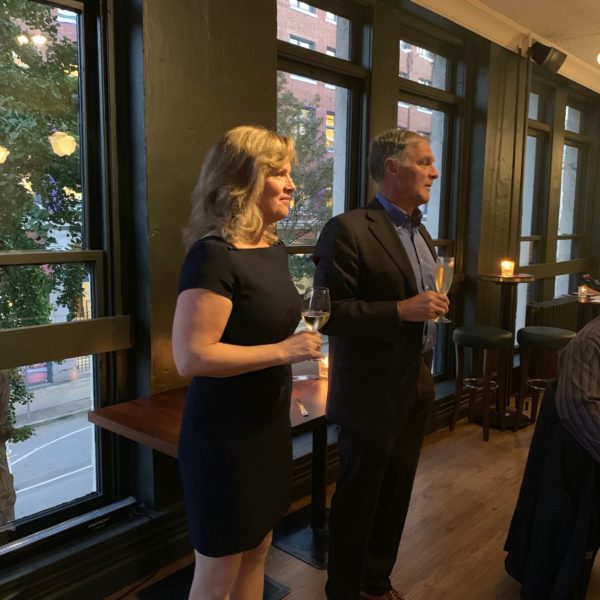 Wine Maker Dinner Series evenings always include the presence of either the winemaker or the winery owner and for this evening Jim and Leslie D'Andrea attended to introduce the wines. Learning more about the wines and the process of how these wines are produced is always of interest to the wine lovers who regularly attend the dinners.
Like good company and good wines the dishes also play a role in every successful occasion. On this night everything came together as it should. The dishes were delicious and the wine pairings were an excellent choice. The long table setting encourages conversation with other guests and a lovely evening transpired.
Wine Dinner
September 26, 2019
$98 per person 6 course menu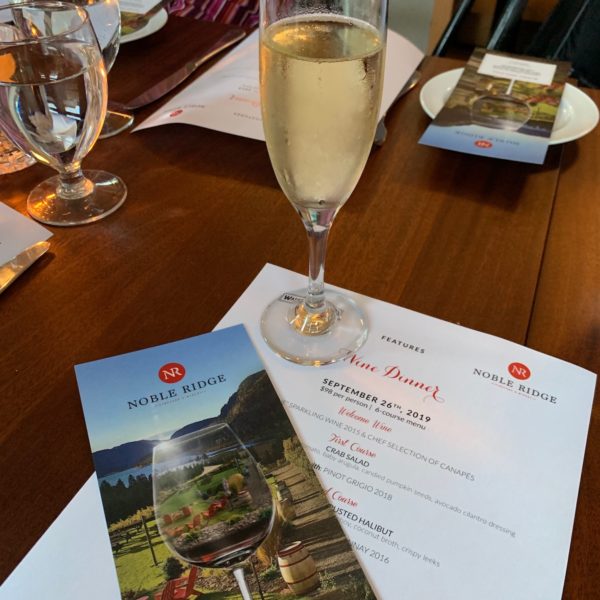 Menu
Welcome Wine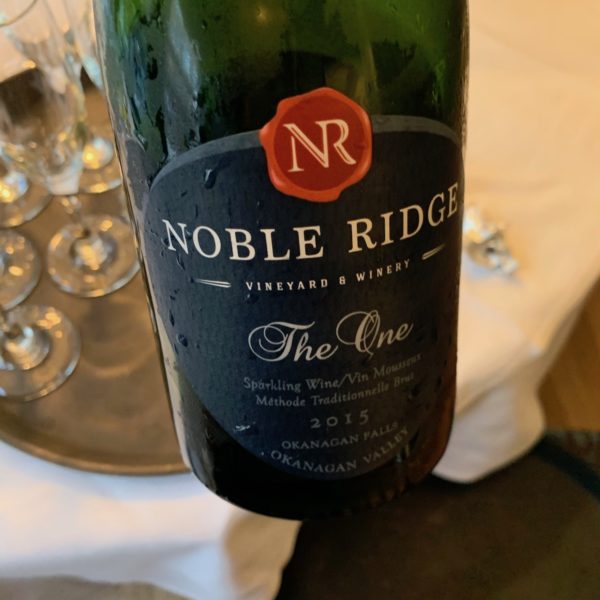 "The One" Sparkling Wine 2015
& Chef Selection of Canapés
Tasty canapés were fresh and delicious. Prawn and goat cheese or Proscuitto apple on a house made crostini. Yummy and went well with The One.
Loved The One sparkling wine. It was tangy and is different than most in a good way. Flavourful with effervescence that pops on the nose.
"The One" sounds like a confident name. And this bubbly is so good it has earned the right to be confident." 
First Course
Crab Salad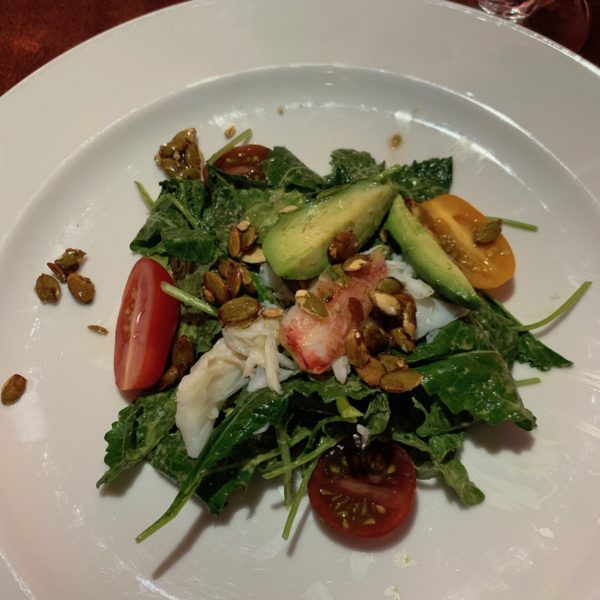 BC Dungeness crab, avocado, heirloom tomato, baby arugula, candied pumpkin seeds, avocado cilantro dressing
Nothing is better than sweet, succulent BC Dungeness crab and when it's paired with avocado over the top. Each bite was different from the last with surprises of a spicey tang. Loved the sweet and crunchy pumpkin seeds. The salad was so flavourful and delicious it made us craving more but we did have several more courses to go!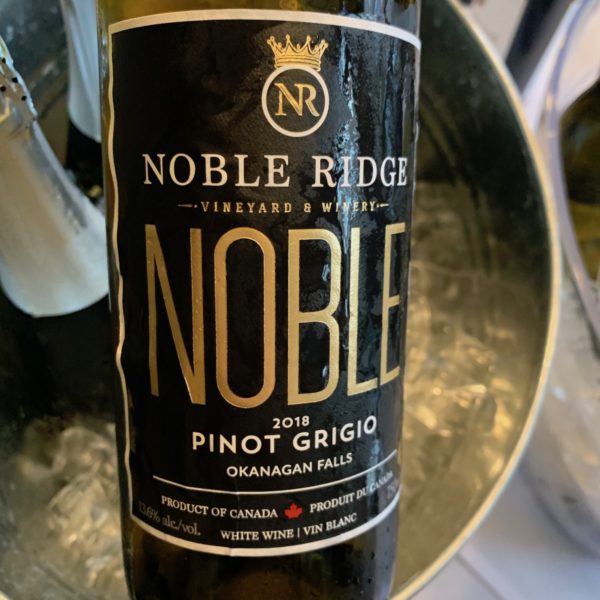 paired with: Pinot Grigio 2018
This citrus forward wine was perfect with the spicy crab salad. It was fruity with good minerality. As easy drinking wine with or without food.
This stunningly voluptuous Grigio presents flavours of mandarin orange, asian pear and lemon merangue. The fruit is elevated by a refreshing and balanced acidity with a lingering finish. Pair with salads, anitpasti and Mediterranean dishes.
Second Course
Macadamia Nut Crusted Halibut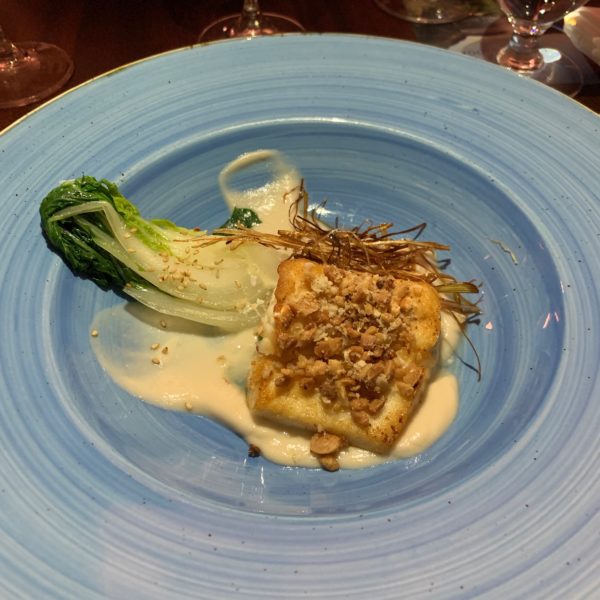 Haida Gwaii Halibut, cauliflower purée, wok ahoy, coconut broth, crispy leeks
This dish was absolutely delicious. The halibut was most and flavourful. The macadamia nuts which are high in fat with their own toasty sweetness perfectly complimented the fish.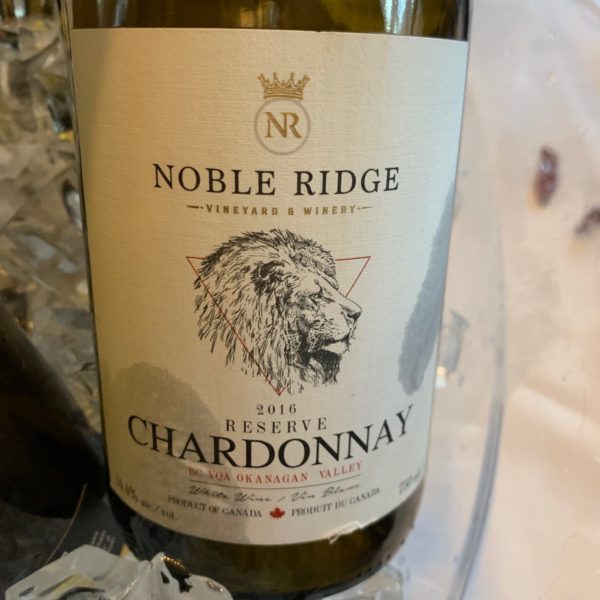 paired with: Reserve Chardonnay 2016
This oaky Chardonnay is aged in French oak which gives it the rich, buttery texture and flavours. The structure is complex and will easily stand up to a rich entree like this one.
Aromas of peaches and cream are complimented with subtle citrus and vanilla notes. The marzipan finish is lively and bright with a rich creamy texture.
Third Course
Sous Vide Venison
Canadian venison tenderloin, parsnip duo, wild mushroom duxelles, charred green beans, heritage bordelaise
This was a superb dish with grilled asparagus and charred green beans. The mushroom duxelles was spicy and sharp. The venison was moist and juicy with a slightly gamey flavour which I loved. The parsnips were a nice accompaniment with their sweet and subtle spiciness.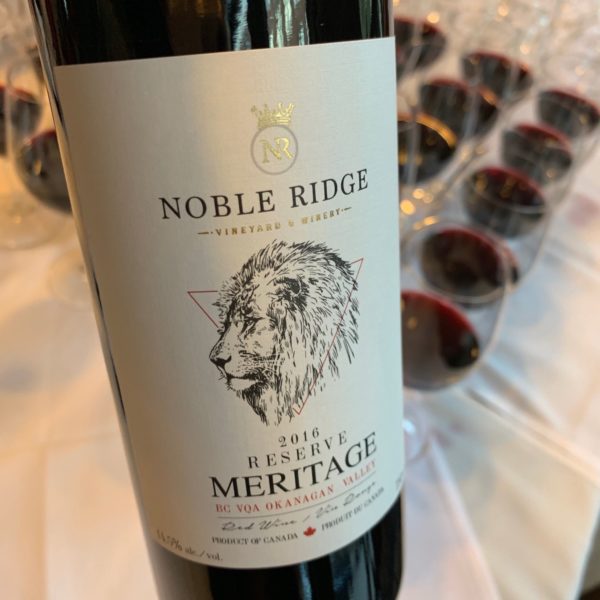 paired with: 2016 Reserve Meritage
The Meritage was dark, rich and delicious. The tastes of dark fruite was excellent, heavy dense with medium to heavier tannins and the perfect pairing for the Venison and flavourful vegetables.
Fourth Course
Lamb Tortellini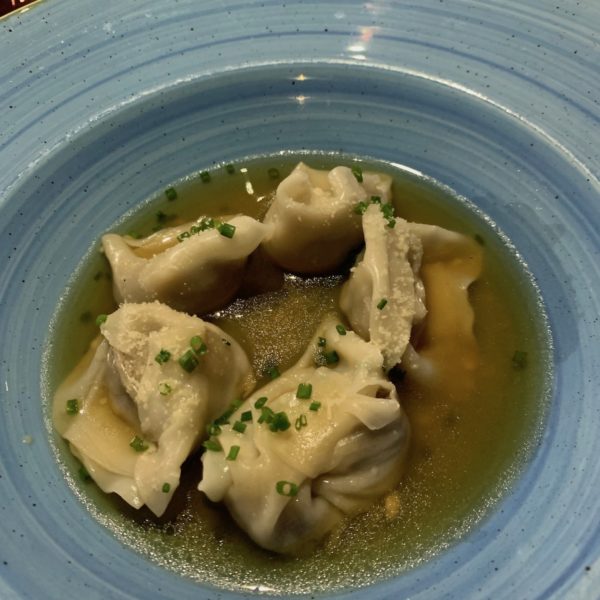 house made Fraser Valley lamb tortellini, lamb consommé
I am passionate about lamb but find I don't order it often because I want only local lamb so this dish was a real treat. Soft pillows filled with strongly flavoured lamb which is exactly the way I love it. The broth was lighter than I anticipated but good.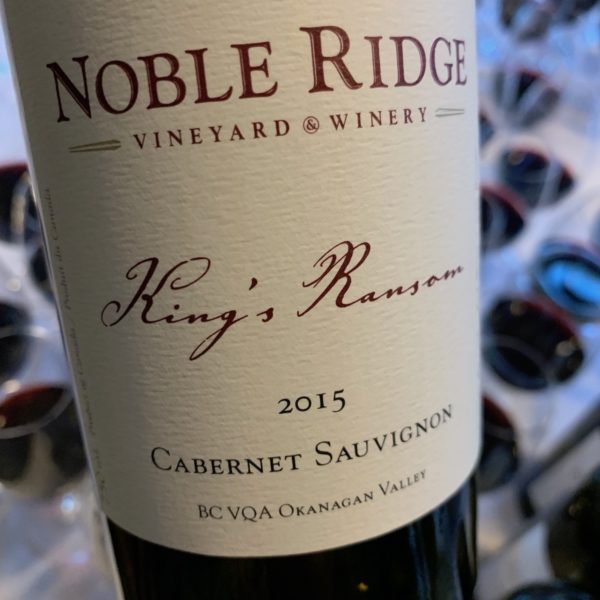 paired with: King's Ransom Cabernet Sauvignon 2015
Leaving one of the best for last! This King's Ransom 2015 Cabernet Sauvignon was heaven in a glass. Rich, dark fruits, slightly tangy and sweet like finish.
It is with great excitement that we introduce our first ever King's Ransom Cabernet Sauvignon! 2015 was a phenomenal vintage in the Okanagan Valley and we can say with great certainty that this wine is truly a remarkable terroir driven wine that speaks to the superiority of its vintage.
Rich aromas of cassis, plum and anise are followed by layers of complexity and sophistication on the palate; cocoa and cherry notes are reminiscent of decadent black forest cake with hints of leather and cigar box. All that's missing is your smoking jacket!
"Our 2015 King's Ransom Cabernet Sauvignon is a world-class wine, period. It is the perfect example of what the Okanagan Valley can achieve in terms of terroir-driven wines. From a winemaker's perspective, this is a dream wine. Everything from grape growing to bottling was ideal: Early bud break, one of the warmest summers in decades and perfect canopy management led to the best balance of flavours, phenolic ripeness, sugar and acid in the grapes that I have ever encountered in the Valley. From there, small-lot fermentations, followed by aging in carefully selected barrels, allowed for the creation of this spectacular wine."
~ Benoit Gauthier, Winemaker, Noble Ridge Vineyard & Winery
Fifth Course
Dessert Trio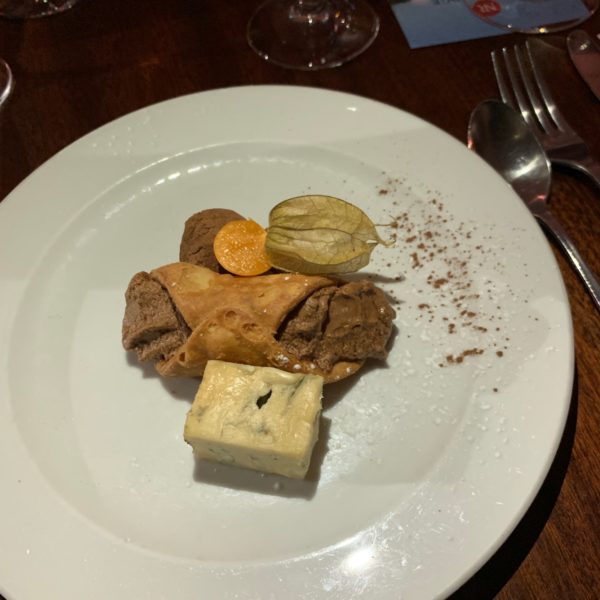 chocolate espresso cannoli, The Crown chocolate truffle, gorgonzola
An unexpected combination of flavours and textures with the smoky cheese that went surprisingly well with the chocolate espresso cannoli and rich chocolate truffle.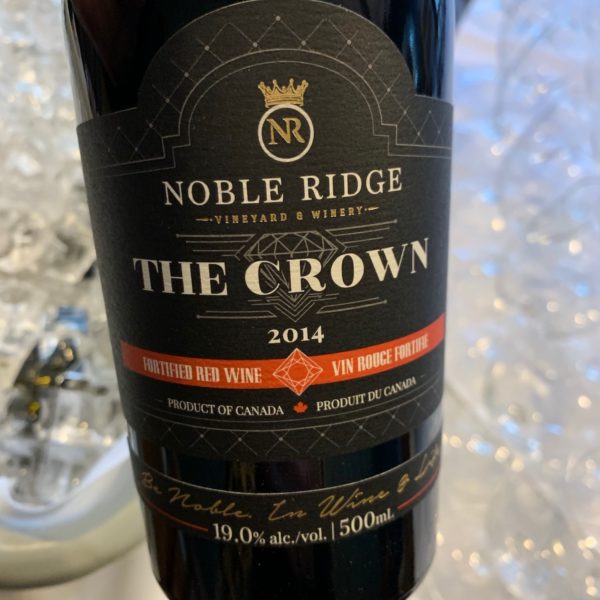 paired with: 2014 The Crown
Wonderfully deep richness in The Crown. Barrel aged for three years. Merlot based it is tasted annually by Jim and Benoit to ensure the highest quality.
This vintage Port Style wine displays aromas of fig, prunes and blackcurrant. The rich mouthfeel delivers a long and complex finish with flavours of black cherry and a subtle spiciness.
Estate Merlot grapes were destemmed and crushed with a 5 day cold soak prior to fermentation. Spirit was added to stop the fermentation about 2/3 to completion. The wine was pressed, allowed to settle then racking into neutral oak barrels. It was barrel aged for 36 months prior to bottling.
Noble Ridge Vineyard Winery lays in the Okanagan Valley at the northern most tip of the only desert in Canada. The winery is named for the noble varieties of grapes grown and the ridge that divides the land on which they thrive. But this noble name is more than just a nod to the land. It's a statement of values and a reminder of the hard work and dedication on which the winery was built.
For more information on what's happening at the Water Street Cafe, use this link.  All images, except as noted, MyVanCity. Feature image courtesy of Noble Ridge. Remarks and tasting notes in italics courtesy of the winery. I received a complimentary dinner for myself and a guest in order to facilitate this review. All opinions are my own. We left a gratuity equal to 20% for the team.
[wdi_feed id="2″]