BlueShore Events, CapU Theatre Series
A CapU Theatre Department Production
7 Stories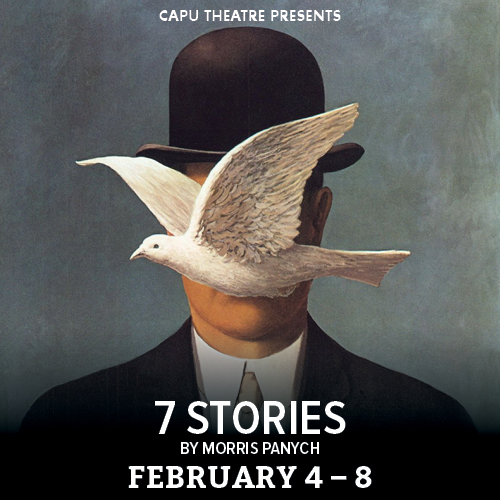 By Morris Panych
This quick-witted, dark comedy will have you philosophizing about life and death,right up to its existential conclusion.
Written by the internationally acclaimed Canadian playwright Morris Panych, 7 Stories is a fast-paced and sophisticated satire that takes place on the window ledge of a seven-storey building where a man is contemplating suicide.  Full of eccentric characters, the man is endlessly interrupted by a variety of quirky building residents and becomes drawn into the absurdity of their daily lives.  There's a lawyer who is having an tumultuous affair with one of the residents, a psychiatrist, a couple of party guests, a gay man about to marry a rich heiress, an artist, a deeply religious woman and others, none of whom is much interested in the man on the ledge or why he is there.
"Seven Stories is an existential comedy. Underlying all the laughable character interactions, comments, and motives, there is a philosophy that life, daily routines and relationships are all somewhat meaningless. Each character copes with his/her silly, senseless reality in a different way. The one common trait that binds them all is that they are all actors in their own personalized game of life." (Montreal Gazette)
7 Stories premiered at the Arts Club Theatre in May, 1989, and was directed by Panych, with set design by Ken MacDonald.  The talented production team and student cast at Capilano University, having just completed a successful run of Macbeth, take on this timeless and challenging character-driven script full of nuances, witty commentary, and rich meaning to bring us a play that shows why Morris Panych's work has resonance with new generations of theatre folk and audiences alike.
February 4 – 8 at 8pm | February 8 at 2pm
The BlueShore at CapU
2055 Purcell Way, North Vancouver
TICKETS: $22, $15, $11
https://tickets.capilanou.ca/ | 604-990-7810
Artistic and Production Crew and Cast
Sylvia M. Zaradic – Director
Brian Ball – Set and Costume Designer
Michael K. Hewitt – Lighting Designer
Stefan Smulovitz – Sound Designer
CAST
Man – Brayden Alexander Meehan
Joan – Becca Hagen
Nurse Wilson – Lili Martin
Rodney – Kevin Trumble
Charlotte – Tess Forsyth
Marshal – Alexei Sidenikov
Percy – Clayton Finnigan
Jennifer / Police Megaphone – Taya Lynn Canderan
Lilliian – Gabriella Susi
Rachel / Effie – Sara Kozak
Leonard – Aaron Ford
Al – Annabelle Coon
Michael – Loughran Thorson-Looysen
Party Extra/One – Kaila Kondo
Party Extra/Two – Adam Parenteau
Party Extra/Three – Connor Hogg
Party Extra/Four – Nao Shishikura
Next (and final production of the 2019-2020 CapU Theatre Series Season
A CHORUS LINE – March 19-28
Media release and images provided by Gwen Kallio, Sisu Productions
[wdi_feed id="2″]