Jan 28 is National Blueberry Pancake Day!
Support Local and Eat Something Delicious Too, When you Incorporate BC Blueberries.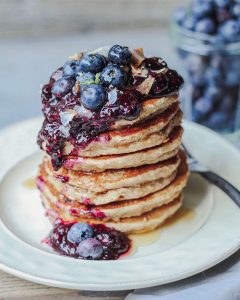 Thanks to the popularity of celebrating special days online, annually on January 28 #NationalBlueberryPancakeDay is faithfully observed by lovers of pancakes and blueberries alike. (via NationalDayCalendar.com)
Whether they are made to be basic flapjacks, buttermilk, gluten free, or vegan fluffy stack of pancakes, these treats are difficult to resist. To help you up your pancake game and be equipped to celebrate National Blueberry Pancake Day, the BC Blueberry Council shares the goods:
Make your pancakes really blue, or not…
To get a blue-hued pancake throughout, add frozen BC blueberries (available at your grocery store) to your favourite pancake batter early in the preparation stage and mash them in.
If you want the blueberries more whole in nature, drop them in one by one as you are adding the batter to the pan. (They don't have to be thawed.)
Feel healthy while you flip for BC Blueberries
Frozen BC blueberries are available year 'round, and can be found in the frozen section of all retail stores in BC. By adding frozen BC blueberries to your pancakes, you not only add a shade of blue, but you also get the added benefits of Vitamin C and manganese, which play an important role in bone development and the conversion of proteins, carbohydrates and fats into energy. One cup (250 ml) of BC blueberries is just 80 calories and contains 3.6 grams of dietary fibre.
Powered by Nature, blueberries are one of the only foods that is truly naturally blue in colour. The pigment that gives blueberries their distinctive colour — called anthocyanin — is the same compound that provides the small but mighty berries their amazing health benefits.
With the cold weather in BC, and flu season in full force, adding a blueberry pancake to your morning routine should be easy to do!
Blueberry Pancake Recipe Inspiration
Get started with some favourite, easy BC blueberry pancake recipes:
The mission of the British Columbia Blueberry Council is to enhance the viability and strategic development of the blueberry industry through promotion, research, industry education and relationship building.
Be sure to follow along on social media for the latest on Pinterest, Facebook, and Instagram @bcblueberries
About The BC Blueberry Council
The BC Blueberry Council was formed in 1989 and represents more than 600 highbush growers who produce delicious, reliable and environmentally friendly blueberries.
British Columbia is one of the top 10 blueberry growing regions in the world, with plantings of premium quality highbush blueberries covering more than 30,000 hectares.
BC blueberries are versatile and fresh, both hand-picked and machine harvested from July through September, and then frozen as well, to be available for berry lovers year-round.
Media release and images provided by Giulia Sa Bayonne, Town Hall Brands.
[wdi_feed id="2″]