Provence Marinaside Unveils New French Food Made Easy Kit
and
Introduces Delivery Service
This week Provence Marinaside is pleased to present French Food Made Easy Kit cinq – Seared Albacore Tuna with Mediterranean Vinaigrette and Roasted Chickpeas. The kit is available for $40 starting today (April 28) and comes complete with everything you need to make this dish at home plus a half baguette:
Fennel Bulb
Sundried Tomatoes
Olives
Capers
Olive Oil
Red Bell Pepper
Garlic
Chickpeas
Spinach
Albacore Tuna
In a short video, Chef Alessandra Quaglia demonstrates how easy it is to reproduce this dish at home in your own kitchen.
With each new kit, Wine Director Joshua Carlson suggests a featured BC wine pairing to complement the dish and this can also be ordered for an additional fee. This week's wine pairing is Montagu Cellars Rosé 2018, Okanagan Valley. Carlson says of the wine "This is a blend of Gewürztraminer, Chardonnay, Merlot, and Muscat Ottonel.  It's dry and bright with nice acidity and should go well with the tuna." This wine is available for an additional $26.
Also new this week – Provence is introducing a delivery service. For the initial phase, delivery will be limited to the downtown area (postal codes V6G, V6C, V6E, V6Z, V7Y, V7X, or V6B). The new delivery service is available for an additional $10 charge with a minimum $50 order.  Place your order online and select a delivery time.
There are now a total of five French Food Made Easy kits (Prawns Provençal, Fennel-Crusted Lois Lake Steelhead, Oven-Roasted Half Chicken Provençal, Duck Confit and Albacore Tuna) and two Cocktail Kits (Moscow Mule and Caesar). All are available through Provence Marinaside's website along with Provence's Takeout Menu of prepared dishes and Chef Sheldon's Online Grocery Store for individual ingredient items such as meats, dairy, baking supplies and other miscellaneous items.
Kit orders must be placed at least two hours prior to pick up or delivery by calling the restaurant at 604-681-4144 or ordering online. As with Takeout Menu items; French Cooking Made Easy Kits are available between 11:30 a.m. and 8 p.m.  Self-isolation has never been so tasty.
Bon Appetit!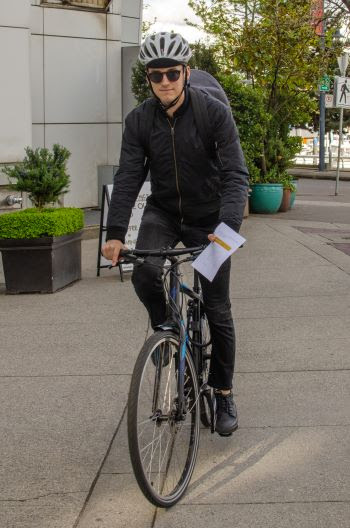 Media release and images provided by Nancy Wong, Culinary Communications. All photos by Emrys Horton, EPH Photography.