Let's all go out to Langley where you can enjoy family friendly activities and may even go home with farm fresh baked goods or freshly picked fruit!
Krause Berry Farms & Estate Winery
Serving you since 1974.
Enjoy our family friendly u-pick fields, Restaurants, Waffle Bar, farm fresh Bakery, home & garden Market and Estate Winery.
During the summer you'll find beautiful fresh berries (u-pick or pre-picked), daily baking from our Harvest Kitchen, our own farm made ice creams, fudge, milkshakes, donuts, smoothies and more.  Families can learn & play together in our Fresh Family Fun Field. In the fall we offer all things apple & pumpkin along with a barley maze, pumpkin patch and tractor rides. Over the Holidays we transform into a winter wonderland for the whole family to enjoy.  Visit our website to view our line up of cooking experiences, classes and special events.  Shop Online all year round for your farm favourites!
IMPORTANT UPDATES – PLEASE CLICK HERE TO REVIEW BEFORE VISITING THE FARM
Open 7 days a week 9am – 5pm
U-Pick strawberries open daily 830am – 430pm.
click here for u-pick protocol and pricing
*every guest small to large must purchase a container*
Fields can be picked out often – please call ahead or check our instagram feed to confirm.
ORDER A FRESH BERRY CUSTARD PIE FOR TODAY OR
PRE-ORDER  CLICK HERE​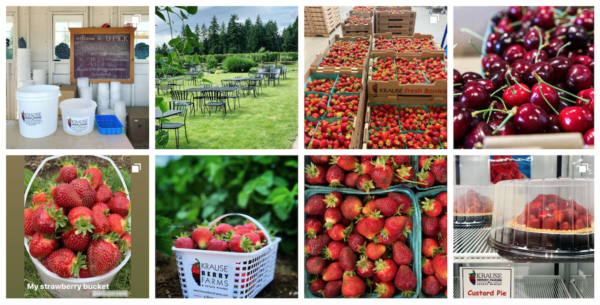 Walk In & Walk Up or Drive In & Drive Thru – You Choose!
Walk in to our One Way Flow Market and Bakery
Drive Thru Fresh/Frozen Berries, Frozen Pies, Pie in a Jar & Ice Cream
Waffle Bar Walk In One Way Flow
Waffle Bar Drive In – Order Fresh Hot Waffles from Your Car!!
Estate Winery Wine by the bottle, glass, cider, beer & sangria – Walk Up Counter
Personal Wine Tasting Sign Up at Entrance
Shop Online & Pick up from our Designated Online Store Area in 60 minutes
(fresh berries are not available online)
click here to review all our new safety measures and features
Live Entertainment Weekends 1030-230
Saturday KB Corral The Seabillys
Saturday Family Fun Field Jana Seale
Sunday  KB Corral Darryl Klassen
Sunday  Family Fun Field Ranj Singh
Community Partnerships
Find our Products at the Jr Group Townhall locations between Surrey & Chilliwack and now in Vancouver at
That's It Cafe at 1612 W. 1st Ave in Kitsilano
A Working Destination Farm Since 1974
U-Pick Berry Fields, Market, Bakery, Estate Winery, Waffle Bar, Farm Fresh Food
Information and images provided by Tourism Langley and courtesy of the Farm.