This "Heart of BC Wine Country" hilltop gem is open for visitors. The site of the Chef Meets BC Grape Okanagan extravaganza is ready to #WelcomeBack wine lovers, by appointment, Weekend Vineyard Tours and boutique visitors.
SEE YA LATER RANCH IS READY TO WELCOME YOU BACK 
We're excited to welcome you back to our winery to help you shop our wide selection of wines that celebrate a century of stories and the lively legacy of Major Hugh Fraser. Your safety is of utmost importance to us, so we are following Public Health Canada and provincial guidelines to ensure a safe experience at SEE YA LATER RANCH.
At this time, we are pleased to offer tastings by appointment (from 11:00 am – 4:30 pm), Weekend Vineyard Tours at 11:00am (by appointment with a minimum of 4 people and maximum of 6) and retail purchases in our boutique. We continue to follow guidelines from both the provincial and federal government and Public Health Canada, and when it is safe to do so, we look forward to announcing the return of our tours, events and other offerings.
Prior to re-opening, a number of health and safety measures were put into place to keep everyone at our
winery safe. These safety measures include:
Increased cleaning and sanitizing protocols for all private and public spaces at the winery
Employee screening for COVID-19 prior to the start of every shift
Mandatory increased hand hygiene for all employees, including ensuring there is hand sanitizer at every cash station and procedures during the guest check-out process
Plexi-glass shields installed at all cashier stations
Mandatory social distancing for everyone while at the winery will be enforced – we have installed barriers and marked floors to help employees and guests practice social distancing
Employees must wear a mask when/if social distancing is not possible
Guests must hand sanitize prior to entering the retail boutique
Guests who have expressed symptoms of COVID-19 or who have travelled outside the country in the last 14 days will be asked to reschedule their visit
Please note all guests (including Wine Club Members) are required to book a reservation for a tasting.
Walk-in guests are welcome if there is an opening in the schedule and they reserve the opening through
the reservation system.
To make a reservation, please email us at info@nullsylranch.com or call 250-497-8267. If you receive our message machine, please leave your name, number of guests, contact phone number and the time of your desired reservation. Your call will be answered by the end of the business day.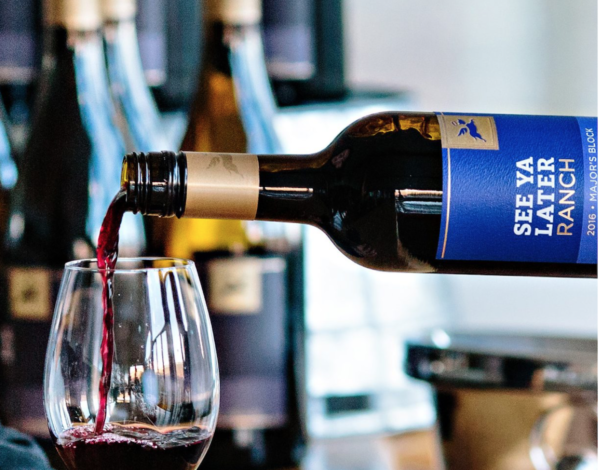 TASTING ROOM HOURS
JULY 1 – SEPT 2
Daily 10 – 6:30
SEPT 3 – OCT 31
Daily 10 – 5
WINE TASTINGS
Tasting Fees $8 (waived with purchase) for 4 wine samples.
Proceeds proudly donated to the BC Heritage Society.
Reservations are required currently.
For tastings and tours, we ask you to kindly keep in mind:
Only groups of six guests or less will be allowed at this time
All tastings are limited to 30 minutes
Almost a century ago, our founder, Major Hugh Fraser, purchased what would become See Ya Later Ranch, high atop Hawthorne Mountain. It's sunny slopes continue to produce award-winning wines to this very day.
Located in the Okanagan Valley near the south end of Skaha Lake and nearly two thousand feet above sea level, See Ya Later Ranch is one of the highest elevation vineyards in the Okanagan Valley – an area where nature has created conditions perfect for growing grapes destined to become award-winning wines.
The vineyard's slope, proximity to the lake, warm days and cool evenings all encourage healthy ripening of cool weather varietals including Pinot Noir, Riesling and the largest planting of Gewürztraminer in North America, with sixty-five acres devoted to this aromatic, cool climate varietal.
Information and images courtesy of the winery.