HOST YOUR SOCIAL BUBBLE FOR AN INTIMATE DINNER
IN SUPPORT OF RONALD MCDONALD HOUSE BC & YUKON
Annual Home for Dinner fundraising initiative continues
with physical distancing and safety top-of-mind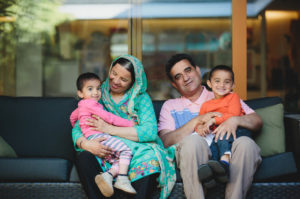 Fall is just around the corner and, while the season is typically a cozy time to reunite with loved ones, this year will be unlike any other with physical distancing protocols in place to reduce the spread of COVID-19. While we might not be able to attend our typical festive gatherings, it is still an important time to stay connected and celebrate the tradition of a shared meal. Through the Home for Dinner community fundraising initiative presented by Beedie, Ronald McDonald House BC & Yukon (RMH BC) offers a great way to gather with your social bubble, while staying safe and giving back to an important cause.
Nothing brings families together like a nourishing, home-cooked meal – and that's why RMH BC introduced Home for Dinner in 2018 in support of families whose time, energy and funds are channeled towards life-saving medical treatment for their children. Every donation supports families who must relocate to Vancouver for their child's medical treatment, giving them a home-away-from-home and the chance to enjoy precious moments like sharing a family meal. To date, the program has had great success, raising over $100,000 for families of the House. As it enters its third year amid a global pandemic, the initiative will continue with physical distancing guidelines and safety taking top priority.
Whether cooking a full-fledged Thanksgiving feast or a laid-back charcuterie night in, Home for Dinner hosts have limitless possibilities to fundraise. Eat in and prepare a casual (or fancy!) meal for your social bubble; simply ask guests to donate to RMH BC in lieu of bringing wine or host gifts. Alternatively, support a local restaurant and order takeout from a participating restaurant partner; your guests can thank you for picking up the tab by donating to RMH BC and passing on the kindness to a family in need. Remember, groups should be kept to no more than six people, as per Dr. Bonnie Henry's recommendations! For those unable to participate in social gatherings, join in by organizing a virtual Home for Dinner experience with friends and family locally and abroad.
"Most of us have recently learned about social distancing, but this is nothing new for many families who stay at RMH BC, since they are often caring for children who have compromised immune systems," says Richard Pass, CEO of Ronald McDonald House BC & Yukon. "For these families, sharing a meal with their children in the safety and comfort of the House is a priceless gift. We invite anyone who can host a meal to participate in Home for Dinner – after all, it's a wonderful reason to reunite with your loved ones and give back to others in need."
Feeling inspired? Here's how to plan your socially-distanced Home for Dinner gathering:
Sign up – host a fundraising dinner, or register to attend RMH BC's virtual celebration.
Plan – plan a home-cooked meal or support your favourite local restaurants by ordering takeout. Invite your loved ones to join you for a special meal. Don't forget to follow current social distancing recommendations.
Fundraise – ask your guests, friends, family and colleagues to donate to your personal fundraising page and earn fun benefits and prizes along the way. The funds raised will help families continue to share meals and moments together at RMH BC.
Celebrate with Us – Join RMH BC for an online celebration on Thursday, October 15.
Helping families in need is truly a reason to commemorate! On Thursday, October 15, Home for Dinner fundraisers and their guests are invited to join the extended RMH BC family for an online celebration. Attendees can toast to their fundraising success, bid in a coveted online auction, enjoy fabulous entertainment and connect with fellow supporters across BC and the Yukon.
For more information or to learn how RMH BC can support your Home for Dinner gathering, visit rmhbc.ca/home-for-dinner. Restaurants keen to participate by curating a takeout menu or catered dinner may contact homefordinner@nullrmhbc.ca.
Join the conversation online and share your Home for Dinner experience with the hashtag #homefordinner.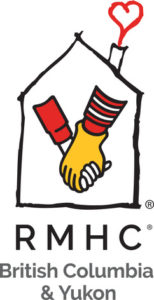 About Ronald McDonald House BC & Yukon
Each year, 2,000 families from across British Columbia and the Yukon travel to Vancouver in search of life-saving treatment for their children. Far from their homes, they need affordable accommodation and a place to stay together under one roof. Ronald McDonald House® BC and Yukon offers a home away from home, a community of support, and a restful space for families to heal better together. Rmhbc.ca
Media release and images provided by Gemma Bishop, Avenue PR