The Westin Bayshore, Vancouver and its stylish restaurants celebrate the season's merriment
While the holiday season will undoubtedly change for many families this year, The Westin Bayshore has created a variety of safe and decadent activities to help you make the most of the holiday season. From curated gift baskets and holiday cocktails – to scrumptious festive tea service and its renowned turkey takeout program – you'll be ready to pack your bags for the local getaway you've been craving.
Winterlust by H Tasting Lounge
H Tasting Lounge is proud to announce that Winterlust will be returning this season! The first of its kind in the city, this dining experience offers reprieve from the chilly weather, with cozy, stylishly outfitted 'snow globes' that allow patrons to soak in the magnetic energy of the season. Returning on Thursday, November 12, this coveted al fresco dining experience brings the festive magic to life in the heart of Coal Harbour.
Savour a line-up of warming libations alongside irresistible seasonally-influenced dishes, including: steak frites; seafood risotto; sablefish; smoked beef pappardelle, and more. Let enchanting décor and thoughtful details illuminate your experience while keeping the festive magic alive. Each snow globe is thoughtfully stocked with cozy enhancements, like plush blankets and throw pillows (that are freshly replenished between seatings). Tickets are $200, and the fee taken will be applied to the $200 minimum food and beverage spend requirement. To book an experience, visit us on Tock.
The well-being of our guests and associates remains a top priority. With this in mind, we have implemented additional safety protocols and continue to monitor the rules and regulations set out by the provincial government. To review our health and safety measures, visit: htastinglounge.com/covid19.
Festive Afternoon Tea
On November 28, H Tasting Lounge's holiday-themed afternoon tea sets return. Sink your teeth into an array of traditional festive guilty pleasures, including: turkey and apple butter petite tourtières; gingerbread cake; mincemeat tarts with brandy buttercream; festive profiteroles, and more. Sip from a selection of Holiday Collection Tealeaves blends, or elevate your experience with a signature cocktail mixed by our team of Premium Bartenders. Each set is served atop a stunning golden carousel, and complemented by our signature cotton candy bonsai tree. Afternoon tea is served on Saturdays and Sundays, 12 – 3pm until December 27 for $55 per person. Visit the menu and book your experience at htastinglounge.com/menus/festive-afternoon-tea.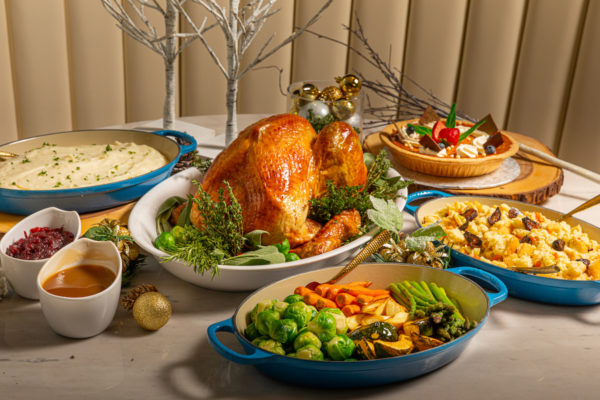 Festive Turkey Takeout
Festive Turkey Takeout (traditionally offered through H2 Rotisserie & Bar) has returned, with a lavish feast fit to feed 6-8 or 10-12 guests, or the option to purchase individually-portioned meals via the Festive Carvery To-Go program. These savoury feasts include either 6kg or 9kg portions of Rossdown Farms free-range turkey, alongside: brioche stuffing; Bayshore honey glazed root vegetables; Yukon gold mashed potatoes; scratch gravy; cranberry-orange sauce, and a chocolate yule log cake. 6-8 person servings are priced at $350; 10-12 person servings are $450, with the option for additional enhancements, including an orange and clove glazed ham. Those with fewer guests to feed can partake in the festivities with the Festive Carvery To-Go, available for $59 per person. Available for pick-up on December 24, 25 and 26. Book yours through Tock.

Dine-In Christmas Feast
On December 24 and 25, join us for a traditional Christmas feast not to be missed. For $69 per person, you'll enjoy: fresh bread with our signature olive oil candle; parsnip and chestnut soup or trio beet salad; a turkey duo served with potato purée, sage gravy and cranberry relish, or arctic char with fingerling potatoes, butter braised leeks, frisée-orange salad, and vanilla brandy lobster sauce, or butternut squash risotto with a citrus herb salad. End on a sweet note with a classic chocolate yule log topped with Grand Marnier. To book your reservation, visit us on Tock.
Christmas Day Brunch
Celebrate Christmas Day festivities with a luxurious multi-course brunch served at H2 Rotisserie & Bar. Treat yourself to a line-up of irresistible offerings that include: whiskey cured salmon gravlax with fennel salad; lobster French toast; ham hock eggs Benedict; egg nog cheesecake, Christmas trifle, and more. Cocktails available include our signature build-your-own Caesar, served with Walter's Craft Caesar mix, choice of locally distilled spirit, custom garnishes, and rim. Festive Brunch is available for $49 ($24 for children). Reservations available 12 – 1:30pm via OpenTable (deposits required). Please note that reservations over six persons are unavailable at this time due to regulations set out by the provincial health authority.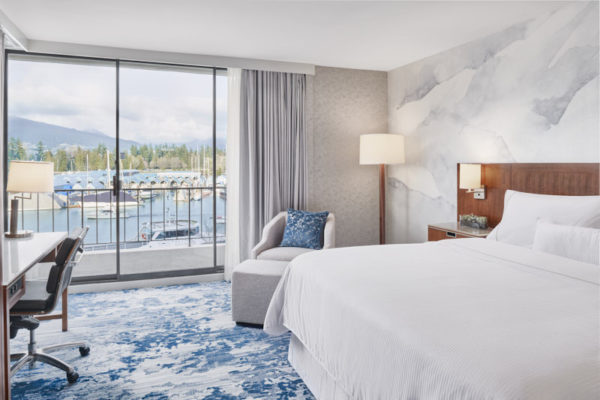 Be Our Guest: Heavenly Holiday Retreat Package
Enjoy the festive season in comfort and joy at The Westin Bayshore, with the Heavenly Holiday Retreat package. Let us treat you to the mini-getaway that you deserve, with an indulgent gift basket brimming with chef's holiday specialties, including: craft hot chocolate; candy cane bark; mincemeat tarts; shortbread, and more. In addition to your welcome gift, you'll receive a daily dining credit of $50 to be redeemed at any of our revitalized dining venues, along with complimentary self-parking. Retreat to your newly renovated guestroom at the end of the day to admire stunning views of the harbour and enjoy a restful night's sleep in our signature Westin Heavenly Bed.
About H Tasting Lounge
H Tasting Lounge is your vessel to the Pacific Northwest and beyond. Evoking the glamour of early 20th-century Hollywood, H Tasting Lounge offers a robust line-up of curated cocktails imagined by premium bartenders and complemented with local dishes crafted by Chef Shaun Maclean; its elegant, art deco-inspired space, was designed by LIV Interiors and has been honoured with three awards from the Interior Designers Institute of British Columbia. Unwind in the sophisticated plush velvet interior, or take it seaside with harbourfront patio dining available seasonally. Breathtaking Winterlust dining experiences set within translucent snow globes are available in winter. Open daily, with happy hour specials available 3 – 5pm daily. htastinglounge.com
About The Westin Bayshore, Vancouver
Located adjacent to Stanley Park along picturesque Coal Harbour, The Westin Bayshore is an ideal destination for business and leisure guests. The hotel's 499 spacious guest rooms and suites feature stunning views over the water and the city. The resort-inspired property boasts one of the largest hotel conference centres in Western Canada, with 71,000 sq. ft. of flexible meeting space, in addition to experience-enhancing facilities such as Vida Spa, indoor and outdoor pools, H2 Rotisserie & Bar, and H Tasting Lounge. Wellness programs include WestinWORKOUT, RunWESTIN, BikeWESTIN and signature classes offered through the Just Add Water Yoga Studio. To review hotel COVID-19 safety measures and service updates, visit our What to Expect page. westinbayshore.com
Media release and images provided by Laura Serena, Serena PR