My friend, Janice is a chardonnay freak.  When she saw that Mirabel Winery had done very well at the recent WineAlign Awards and that their price point was one of the most reasonable, she contacted the winery to order some.  When she spoke to Mirabel she found out that they offered an even better price when ordered by the case, so she found someone willing to split one with her.  The deal was done.
I live quite close to the winery so I offered to pick it up and save her the shipping costs.  This would also allow me to reconnect with the owners, Doug and Dawn Reimer.  It would be a while before I was on the coast again, but Janice was in no hurry for the wines.  I phoned to make an appointment and when I stopped by the Reimers offered to let me sample their current vintages.
Since we last met, they have moved the winemaking from a custom crush facility to their newly built winery.  Kyle Temple, from nearby Tantalus Winery is their winemaker and Alix Berrington is doing a stellar job running the tasting room.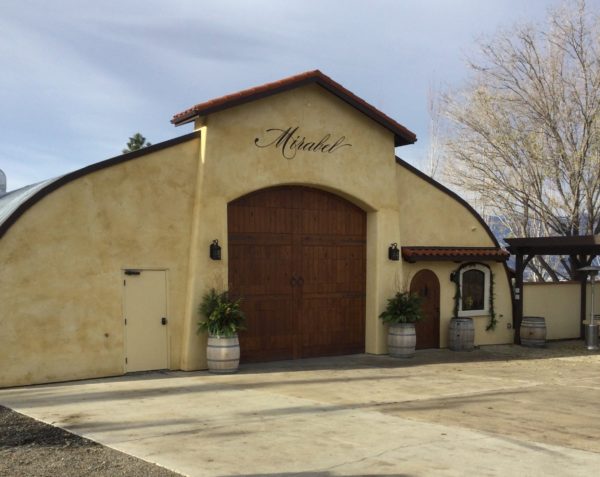 We began the tasting with their 2018 Rosé.  Doug described it as being light and quite dry and something that he would pair with white fish.  I agreed, it was a very food-friendly wine and not unlike what would expect in the south of France.
Next was the 2019 Rosé, again made from 100% pinot noir.  Slightly less dry and more of a patio wine, though with no residual sugar (RS 1.1 for the geeks out there).  Another very versatile food wine and at only $21.00, a great bargain. "Aromas of watermelon, sun-ripened strawberry, and summer rains.  Palate is silky and robust, with notes of cheery and lively grapefruit."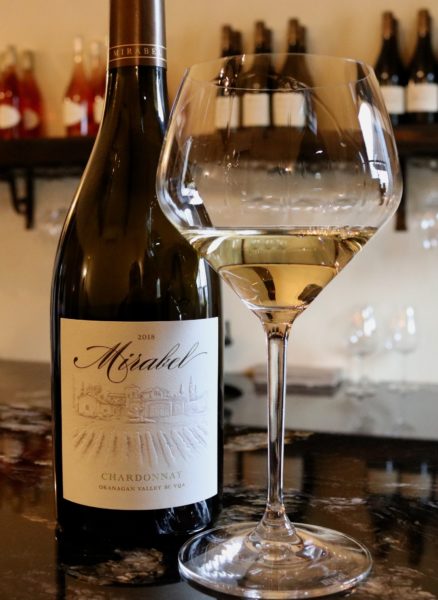 Then it was on to their 2018 Chardonnay, deemed to be one of the top ten chardonnay wines in Canada at this year's National Wine Awards.  Elegant and reserved and maybe underappreciated upon the first sip.  Give the wine some time to warm up if chilled, or even consider decanting it.  Then it will reveal its true beauty.  "The aromatics are precise and complex with notes of vanilla, caramel, fresh pineapple, poached pear, and sun-warmed gala apples.  The palate exudes peach and pear notes, with a nuance of orange rind citrus and layers of butterscotch."  This wine leans more to Chablis than California.  As Dawn mentioned, they have had people in their tasting room who say they don't like chardonnay, but that they love this one once they give it a try.  $28.00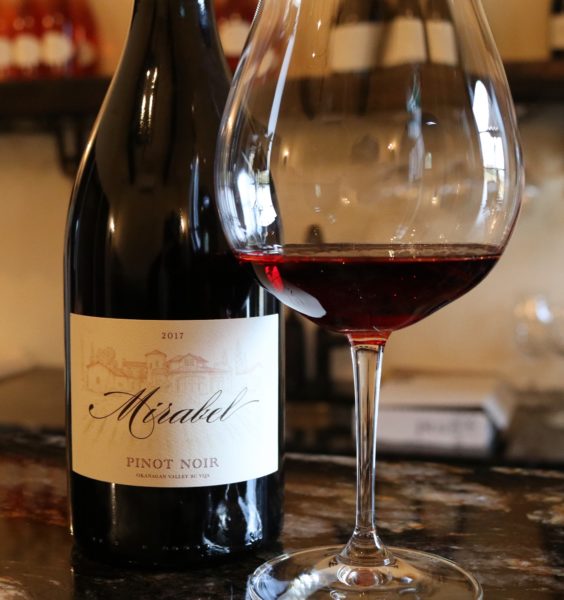 Next on tap, three vintages of pinot noir.  First up, the 2017 Estate Pinot Noir.  Fresh, fragrant and fruity.  Nice with just a slight chill.  "On approach, this wine is aromatic with hints of vanilla and wild berry.  Moving forward it presents orange pekoe and bramble berry notes leading to a bright, long finish." $32.00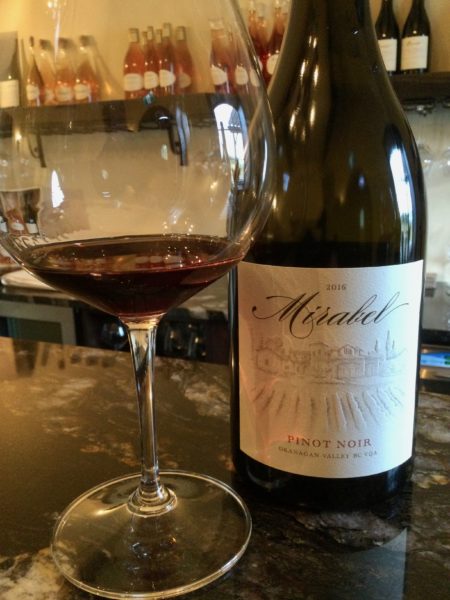 2016 Reserve Pinot Noir.  Medium-light body, with lots of flavour – bright red berries and floral notes with a hint of white pepper.  More concentrated than the 2017 vintage.  "This is a silky, powerful Pinot with an appealing palate of cherry, dark fruit, and hints of oak.  Good weight on the palate leads to a firm yet sensual structured finish." $49.00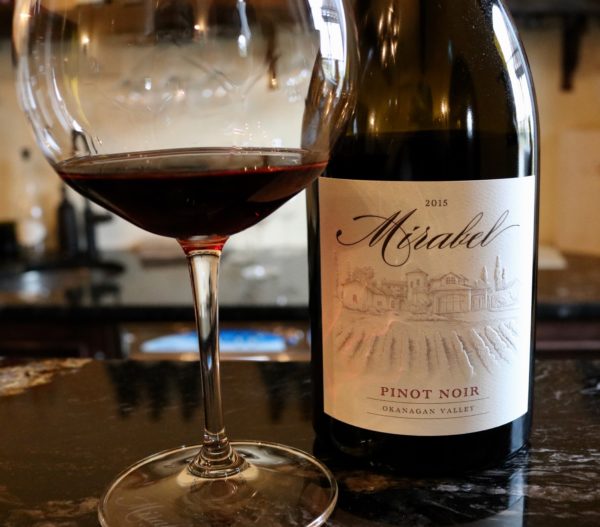 The final wine of the flight was their 2015 Reserve Pinot Noir.  2015 is known as a very good year in the Okanagan, though Doug maintains that 2016 was also very good for chardonnay and pinots.  The difference between these last two wines was rather striking.  Certainly, the extra year of ageing has helped this wine round out more, but there is also quite a difference in the flavours and aromas.  The older one is deeper and darker.  These two wines, just a year apart are both very good, though clearly different in character.  Just don't ask me to pick a favourite.  "Intensely aromatic, brooding fruits intertwined with subtle toast nuances.  A robust Pinot with layered complexity of red berries and forest floor."  $59.00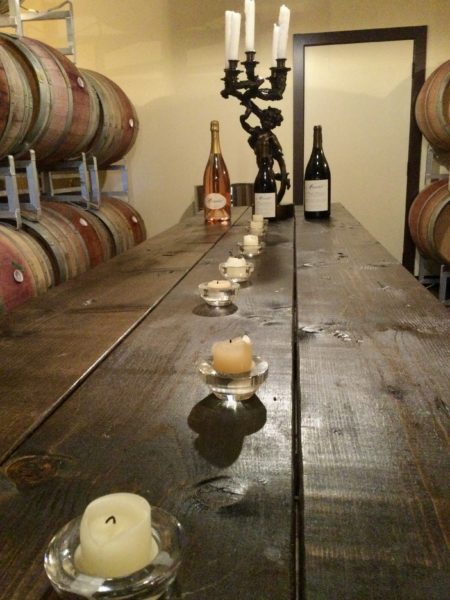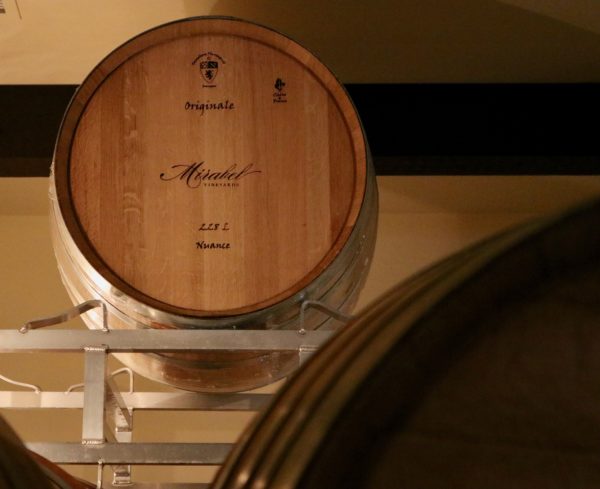 The good news is, despite the weird weather and everything else, 2020 is shaping up to be one of Mirabel's best wine vintages.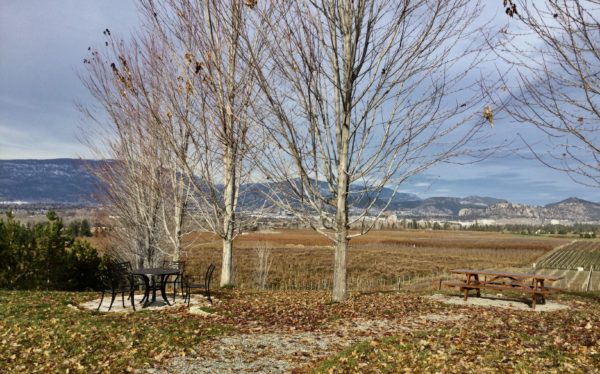 *Comments in italics belong to the winery.
(All photos – Sam Hauck)