READY FOR KICKOFF: 2021 SUPER BOWL SUNDAY WITH VIAGGIO HOSPITALITY GROUP
Red Card Sports Bar + Eatery and the Met Bar & Grill gear up to welcome football fans for the upcoming Super Bowl LV on February 7, 2021 with tasty food, drinks, and fantastic prizes
Sports season has descended upon us, and momentum is quickly building up for the biggest football night of the year. Viaggio Hospitality Group's roster of vibrant and comfortable sports-viewing establishments have prepared exciting experiences for the 2021 Super Bowl LV taking place on February 7, 2021, with kick off at 3:30pm.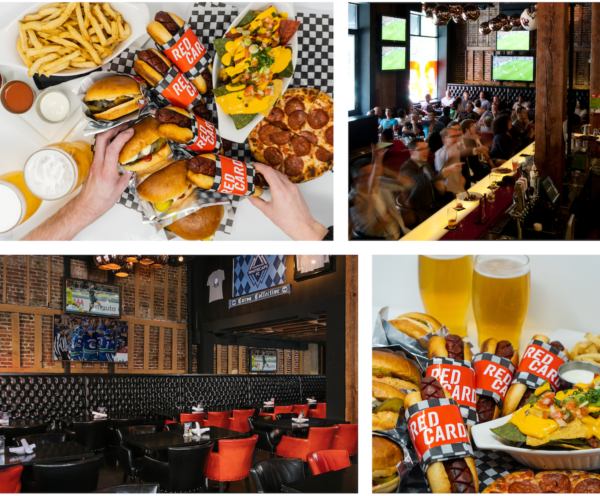 RED CARD SPORTS BAR + EATERY
The Super Bowl food-and-drink experience at Red Card will be just as thrilling as the football game played on the eatery's 16 HD plasma TVs and 2 106″ projector screens, with a state-of-the-art surround sound system.
Fans will enjoy an Enhanced Stadium Classics Platter ($50 per person entry), featuring Smash Burgers, juicy Hot Dogs, Mini Pizzas, Fried Pickles, Chips and Dip, Hot Nuts, perfectly golden Fries, and fluffy Mini Donuts. Each table will also receive a pitcher of beer from Labatt, awesome swag, as well as raffle tickets for prizes and giveaways throughout the night.
Guests will have a chance to win NFL jerseys, a Red Card Canuck experience, Molson brewery tour with dinner and drinks, a Phillips snowboard, and so much more.
Executive Chef Jesse Zuber is the mastermind behind the restaurant's recently launched Stadium Classics Platter that can feed up to four, available daily and perfect for hockey or UFC game nights. This popular menu item features mouthwatering Smash Burgers, Gameday Dogs, Rookie Nachos, and a mini Stadium Pizza.
Reservations can be made by calling 604-602-9570 or booking online.
Due to high-demand and Covid-19 restrictions, space is limited so we recommend booking in advance. If you're unable to make a reservation online, please call us!
Health and safety regulations in response to Covid-19 is our top priority at all of our venues. To review our health and safety measures, click here.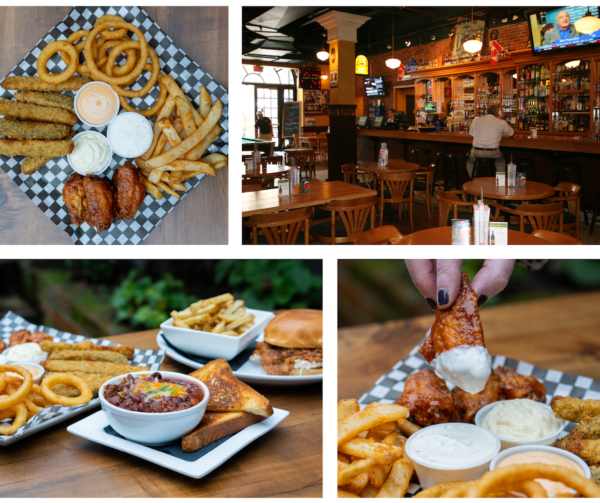 THE MET BAR & GRILL
Located in the heart of New Westminster, this cozy and historic tavern has an exciting line-up of food and drink specials, scratch cards, and giveaways for this year's Super Bowl.
Football fans can watch the game across the restaurant's 8 large HD TV screens, while tucking into delicious, special items including a Pulled Pork Sandwich with fries or soup ($15), piping hot Chili with Garlic Toast ($12)—additional chili or pork ($4)—and a Super Bowl Platter ($30) featuring deep fried pickle spears, beer fries, onion rings, and juicy chicken wings.
Drink specials will be ongoing throughout the day, such as a Bucket of Bud ($15) or Corona ($19). Half-time giveaways, boards, and scratch cards will also be taking place, and guests can pick up Bud Sleeves ($5) for a chance to win an amazing Gaming Package: an Xbox and Smart TV.
Seating is limited, and reservations can be made by calling 604-602-9570
Health and safety regulations in response to Covid-19 is our top priority at all of our venues. To review our health and safety measures, click here.
ABOUT VIAGGIO HOSPITALITY GROUP | A leader in providing outstanding food and beverage experiences, Viaggio Hospitality Group has an award-winning and diverse collection of restaurants and bars in British Columbia. From fine-dining establishments to casual eateries to exciting sports bar, there is something on offer for every type of guest. More information can be found online at www.viaggiohospitality.com.
Media release and images provided by Kelly Jordan Hamilton, Viaggio Hospitality Group.