Chef Bongo's Rosé Party 
Be the BEST DRESSED in Pink at the Party! WIN! 
2 two nights at Bench D'Or & Dinner for two at Bongo Bistro at Serendipity Winery
Saturday, August 17, 2019 | 6:00pm to 10:00pm | $55/person info@nullbongoclubs.com | 778-806-4880 | Bench D'Or (2587 Naramata Rd.)
Bongo Supper Club & Bench D'Or present: CHEF BONGO'S ROSÉ PARTY A LOVE AFFAIR with Rosé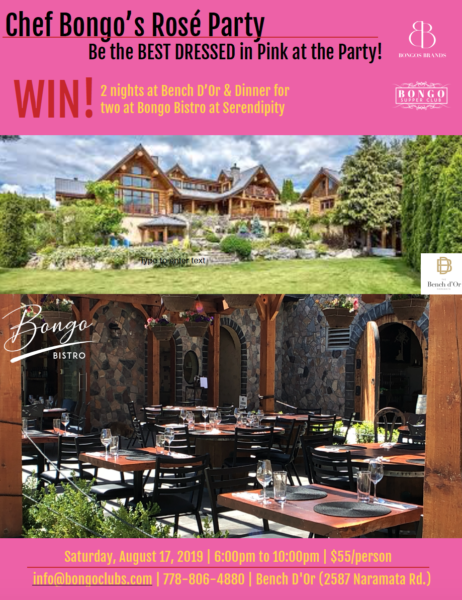 Chef Victoire Bongo, restaurateur, 4x – gold award- winning chef, author, and CEO of Bongo Brands is excited to announce in partnership with Robert & Juanita at Bench D'Or a summer party at the most luxurious estate on the Naramata Bench. For those who look at the world through rose-coloured glasses, come and enjoy this authentic experience.
Pretty in pink & gourmet! | Chef Bongo's Canapés | Entertainment | Breathtaking Location
Chef Bongo's Rosé Party Event: Chef Bongo's Rosé Party Date: Saturday, August 17, 2019 Time: 6:00pm to 10:00pm Cost: $55/person Contact: info@nullbongoclubs.com Phone: 778-806-4880 Location: Bench D'Or (2587 Naramata Rd., Naramata, BC)
RULES OF THE PARTY 1. Every ticket holder is to bring your favourite bottle of Rosé and add it to the Table of Rosé's. You can then sample from any Rosé at the table throughout the party. 2. Contest for best dressed in pink. Winner of best dressed in Pink will wine 2 night accommodations Bench D'Or and Dinner at Bongo Bistro on Serendipity Winery. 3. Make some friends, have an amazing time and enjoy the Rosé's. 
TICKETS INCLUDE 1. Canapés by Chef Bongo 2. DJ 3. Table of Rosé's 3. Breathtaking Ground of Bench D'Or 4. Chance to win 2 Nights at Bench D'Or and Dinner at Bongo Bistro on Serendipity Winery. For more information/press inquiries, visit www.bongorestaurants.com or email: 
info@nullbongoclubs.com | t: 778-806-4880 ext. 3
About Victor Bongo
A talented African-Canadian Chef, Victor Bongo, who gained a respectable reputation by challenging culinary standards and incorporating a variety of ethnic flavours into his exquisite dishes. His first book, "The Excellence of Chef  Victor Bongo " was published in 2009, in December 13, 2015 he launched his second cook book called "Born To Cook A Passion For Flavours" which has a great review by Bill Yosses the Pastry Chef of the White House.
Chef Bongo's cooking style can be described as a fusion of global cuisine that incorporates the latest socio-cultural trends sourcing local ingredients from the farm to the table.  Chef Bongo is a member of the Canadian Culinary Federation of Chefs and Cooks and of the World Association of Chef Societies.
He credits the foundation of his career to his mentor Edmund Liew, a 3-star Michelin Chef who was part of the winning Team Canada- Alberta at The World Culinary Cup in Luxembourg.
Chef Bongo has worked at several reputable organizations in Vancouver, including the Marriott Hotel, the Four Seasons Hotel, and the Bacchus Restaurant at the Wedgewood Hotel. He has also had the honour of working for the Holland America Cruise Lines. One of the highlights of his culinary career as an Executive Chef was working at The Raven Hotel and Gourmet Restaurant in the Yukon; this restaurant is rated as one of the best restaurants by the "Where to Eat in Canada" National Food Guide.
Several articles have been published in numerous magazines and newspapers about Chef Bongo's remarkable food creations, including The New York Times. Television producers have also taken an interest in Chef Bongo's career: he has been invited twice by CTV to appear at  the cooking show for City Cooks, and he has also been invited to present a cooking show segment for Global TV.
In 2012, the prestigious Pilsner Cookbook featured a recipe of his. Recently, Chef Bongo was featured on 24-hour Newspaper as the "Outgoing Chef" who livens up Establishment Lounge.
A contributing factor to Chef Bongo's success is that he is always willing to contribute and go beyond what is expected when participating in any event.  In 2013, he attended three significant events: Eat Vancouver, the Canadian Obesity Summit, and the Affiliation of Multicultural Societies and Services Agencies of B.C. Health Fair.
As part of his commitment and contribution to society in general, in 2014, he became involved in Doctor Greg's Super Chefs program, creating healthy children's menus for Westin Hotels around the world. Chef Bongo is currently working closely with Dr. Greg Chang of Super Chefs of the Universe, which is devoted to the prevention of childhood obesity. Chef Bongo and Dr. Greg Chang run a program that focuses on teaching children how to have healthy eating habits.
He has opened a company called 'Bongo Nation', appeared at the New York Times Travel Show, and been invited to join the Food Network celebrity stage.
Chef Bongo was given the "Chef of the Year Award", in the Yukon Territories for four consecutive years (2008-2011), in recognition of his unique food creations. In addition, he was awarded a "Gold Medal as the  youngest Accomplished Chef " in 2008 by the Canadian Culinary Federation of Chefs and in 2010, he was nominated as "One of the Top Ten Best Chefs in all of Canada" by the Chef's Congress. In 2012, he created a menu which won him the "Gold Plate Award".
In addition to his extraordinary work in the kitchen, Chef Bongo is dedicated to providing positive change in the community, both in Vancouver and in Africa. He is the Vice President of Chain De La Solidarite Nord Sud Foundation, a not-for-profit organization that provides assistance to people in developing countries around the world.
Board member director for The BC Chef Association
Proudly Happy To be The Ambassador for Canada for the Best Chef in The world . A part of an amazing group of Michelin Chefs around the world.
A summary of some of Chef Bongo's accomplishments during 2015 – 2016 have been:
§  2015 Westin Kids menu Refresh
§  2015 Launch of New Second Cook "Born To Cook A Passion For Flavour"
§  2015 VIP Invite Caesar Palace Las Vegas
§  2015 appearance Guest Chef Nubu Las Vegas
§  2015 appearance Guest Chef Gordon Ramsey Steak House Las Vegas
§  2016 New York Times Show Taste of the World Stage Cooking with Bill Yosses
[wdi_feed id="2″]