Bongo Supper Club & Bench D'Or present:
CHEF BONGO'S ROSÉ PARTY
A LOVE AFFAIR with Rosé
Chef Victoire Bongo, restaurateur, 4x – gold award winning chef, author, and CEO of Bongo Brands is excited to announce in partnership with Robert & Juanita at Bench D'Or a summer party at the most luxurious estate on the Naramata Bench. For those who look at the world through rose-coloured glasses, come and enjoy this authentic experience.
Pretty in pink & gourmet! | Chef Bongo's Canapés | Entertainment | Breathtaking Location
Chef Bongo's Rosé Party
Event: Chef Bongo's Rosé Party
Date: Saturday, August 17, 2019
Time: 6:00pm to 10:00pm
Cost: $55/person
Contact: info@nullbongoclubs.com
Phone: 778-806-4880
Location: Bench D'Or (2587 Naramata Rd., Naramata, BC)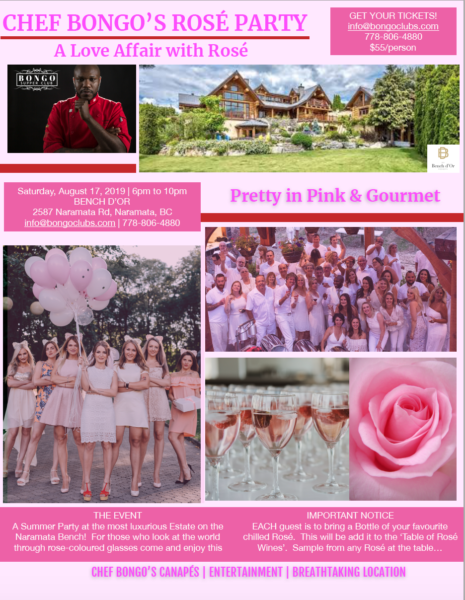 RULES OF THE PARTY
1. Every ticket holder is to bring your favourite bottle of Rosé and add it to the Table of
Rosé's. You can then sample from any Rosé at the table throughout the party.
2. Contest for best dressed in pink. Winner of best dressed in Pink will wine 2 night
accommodations Bench D'Or and Dinner at Bongo Bistro on Serendipity Winery.
3. Make some friends, have an amazing time and enjoy the Rosé's.
TICKETS INCLUDE
1. Canapés by Chef Bongo
2. DJ
3. Table of Rosé's
3. Breathtaking Ground of Bench D'Or
4. Chance to win 2 Nights at Bench D'Or and Dinner at Bongo Bistro on Serendipity Winery.
For more information/press inquiries, visit www.bongorestaurants.com or email:
info@nullbongoclubs.com | t: 778-806-4880 ext. 3
Media release and poster provided by Sathi Rajan.
[wdi_feed id="2″]