You are invited to choose and enjoy from two live concerts and dance nights, art show and sale, book sale, kids' story workshop, Latin American film and guest speakers as more than 23 performers and presenters from Buenos Aires to BC come together for: 
¡Festival Judío! A Celebration of Latin American Jewish Culture
Schedule of programs: ¡Festival Judío! A Celebration of Latin American Jewish Culture 
Saturday Aug 3 Tango Milonga 7 pm free group dance lesson Concert and dance 8 pm $20/$15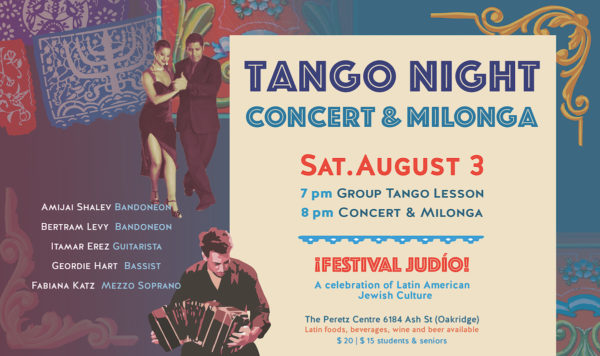 Thursday Aug 8 Klezmer + Samba + more Brazilian rhythms 7 pm dance lesson Concert 8 pm $20/$15 
5 Films, Jewish themes, English subtitles. Showtime: 7:30 pm $7/$5 students, seniors 
Aug 4: Los Gauchos Judíos [Argentina] Aug 5: The Fire Within [Perú] Aug 6: Nora's Will [México] Aug 7: An Unknown Country [Ecuador] NY based director Eva Zelig in for Q&A after Aug 9: The German Doctor [Argentina] 
5 Presentations by guest speakers 4:30 pm daily $7/$5 students and seniors 
Aug 4 (only) 1:00 pm for Children's story workshop with Silvana Goldemberg Aug 5 Los Judios y el Tango – – Tango: The Jewish connection with Amijai Shalev (English) Aug 6 The Song of Lilith/ El Canto de Lilith (English and Spanish) with Liliana Kleiner Aug 7 Absent but not forgotten/los Ausentes no son Olvidados (English and Spanish) with Helen Waldstein Wilkes and Dafne Blanco-Sarlay Aug 8 Transgenerational Therapy (Spanish and English) with Ruben Fistemberg Aug 9 The reality of the situation of the Jewish Community of Venezuela with Jack Goihman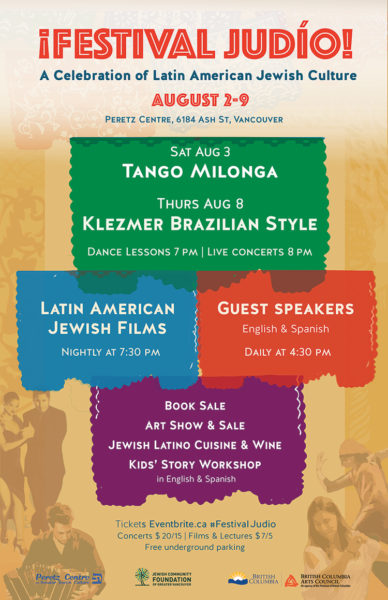 Latin foods, wine and beer available at events 
Art show and sale of work by Miriam Aroeste and Liliana Kleiner |Latin Jewish book sale 
TICKETS $5 to $20. See special event pass combos on Eventbrite.ca # Festival Judio Join us on Facebook for updates at: https://www.facebook.com/FestivalJudio/ Event organizer Contact: David Skulski generalmgr@nullperetz-centre.org 604-325-1812 Ext2

Dates: August 2 – August 9, 2019 Presented by Peretz Centre for Secular Jewish Culture Venue: Peretz Centre at 6184 Ash St Vancouver, BC Ample free parking underground for all events
Media release and images provided by David Skulski, Peretz Centre.
[wdi_feed id="2″]