Railtown Chefs, Co-Owners Dan Olson and Tyler Day Bring the Heat, Carve the Meat, Hold Court at The Return of Railtown's Southern-Inspired Barbecue and Streetside Parties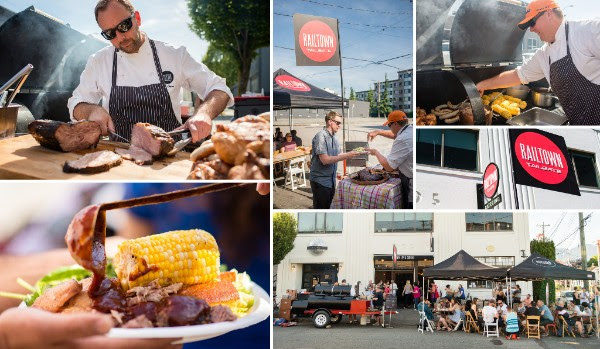 After a two-year hiatus, Railtown Cafe's perennially sold-out Saturday al-fresco-style Tailgate Barbecues are back for two exclusive events at their original location in the heart of Vancouver's historic Railtown District on August 18 and 25 from 4 to 9 p.m.
Railtown Chefs and Co-Owners Dan Olson and Tyler Day will fire up their custom-built, 12-foot smoker/barbecue barrel to heap plates high with mouthwatering, slow-smoked brisket and pork shoulder and beer-brined chicken and brats, as well as a choice of made-from-scratch sides.
 The Tailgate Barbecue menu includes:

35-hour Texas-style Beef Brisket 
Applewood-smoked Pork Shoulder
Beer-brined Maple Hill Farms Chicken 
D'Original Sausage Haus Brats
Corn on the Cob
Jalapeño Cornbread

 Plus, a choice of two side dishes:  

Carolina Coleslaw
Creamy Potato Salad
Classic Caesar Salad
Farmers' Market Field Greens
Tailgaters can also quench their thirst and stay 'hydrated' thanks to Railtown's rotating selection of local craft beers on tap or sip on house-made Sangria and Lynchburg Lemonade as well as wines available by the glass and bottle and Happy Hour specials featured from 4 to 6 p.m. on both days.
"Tyler and I are always talking about how much we've missed hosting the Tailgates, so it feels good to get back out there again," says Olson, who previously held two wildly popular rounds of the events in 2015 and '16. "A little honest, southern-style food, long summer days and a cold drink in hand just adds a great vibe to an already great neighbourhood."
The August 25 Tailgate Barbecue event also coincides with the second annual Monstercat Compound block party, which takes over the Railtown neighbourhood from 2 to 9 p.m. and features live music and DJs on two stages in addition to workshops, carnival games and art exhibits.
TICKETS
Tickets for the Railtown Tailgate Barbecue events on August 18 and August 25 are available for $29 per person ($19 vegetarian) plus tax, both online at www.railtowncafe.ca/events and onsite. All tickets purchased online in advance include a complimentary drink voucher (up to $6 value).
---
ABOUT RAILTOWN CAFE | Railtown Cafe's four locations offer sit-down and take-out breakfast, lunch and dinner in stylishly cozy and laidback settings and menus that bring together the best fresh, local and organic ingredients for a wide array of made-to-order gourmet sandwiches, handmade pastries and a build-your-own salad bar unlike anywhere else in the city. Originally launched in the Railway District of Vancouver's Downtown Eastside in 2012 by chefs Dan Olson and Tyler Day — who own and operate the complemental event coordinating and catering business Railtown Catering out of the same facility — Railtown Cafe expanded with the second outpost at 968 Howe Street in December 2016, a third at 1691 Main Street in April 2017 and a fourth at 429 Granville Street in September 2017. All locations in the Railtown Cafe family also offer a coffee bar featuring locally roasted beans, cold-pressed juices and an array of craft beer, wine and spirits.
For more information about Railtown Cafe, visit railtowncafe.ca, become a fan of /RailtownCafeon Facebook or follow @RailtownCafe on Twitter and @railtowncafe on Instagram.
Granville Street | 429 Granville Street, Vancouver BC V6C 1T2 | Monday–Friday 7:30 a.m. to 6 p.m. | Saturday–Sunday 11 a.m. to 4 p.m. | 604-559-5950
Main Street | 1691 Main Street, Vancouver BC V6A 2W5 | Monday–Friday 7:30 a.m. to 7 p.m. | Saturday 9:30 a.m. to 6 p.m. | Sunday 9:30 a.m. to 5 p.m. | 604-336-2251
Howe Street | 968 Howe Street, Vancouver BC V6Z 1N9 | Monday–Friday 7:30 a.m. to 6 p.m. | 604-428-8255
Railway Street | 397 Railway Street, Vancouver, BC V6A 1A4 | Monday–Friday 7:30 a.m. to 6 p.m.| Saturday–Sunday 11 a.m. to 4 p.m. | 604-428-0800