Applications now open for the new Pacific Screenwriting Program's Scripted Series Lab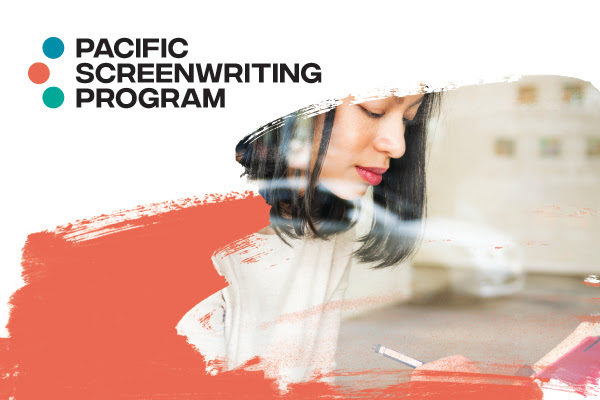 Organizations and leaders from across BC's media production sector announced the launch of the Pacific Screenwriting Program. The Program is billed as an intensive training ground that will provide support and career-advancement opportunities for active and aspiring screenwriters from across BC. The initiative is the result of generous support from Netflix, Creative BC, and the Canadian Media Producers Association, as well as strategic guidance from the Writers Guild of Canada.
"This announcement is the result of the BC-based film and TV community coming together to build on our potential to be global leaders in content creation. I've seen firsthand how the success of our provincial production sector has created a steadily growing demand for local film and television screenwriters," noted Omnifilm Entertainment's Brian Hamilton, who serves on the CMPA-BC Branch Council and has been tapped as the inaugural Chair of the new not-for-profit Pacific Screenwriting Program. "The goal of the Program is to foster and expand the vibrant screenwriter community in British Columbia, growing the sector and developing locally owned and controlled stories for export to the world."
Launching alongside the Pacific Screenwriting Program is its flagship training initiative, the Scripted Series Lab. Beginning in January 2019, the full-time professional development opportunity will train up to six BC-based, entry-level writers, helping them to hone their craft, strengthen their collaboration and presentation skills, and obtain a deeper understanding of the global scripted content industry. Applications for the Scripted Series Lab are now being accepted. An information night is being held on August 8. More information about the event can be found here.
"This program demonstrates the truly innovative and entrepreneurial spirit of our domestic production sector. Designed to maximize the impact of the Province's new tax credit for domestic screenwriters, this program will significantly increase the pool of skilled writers in British Columbia, and strengthen our local film industry as whole," said Lisa Beare, Minister of Tourism, Arts and Culture. "I look forward to seeing how these industry supports generate more original BC content in the years ahead."
The Scripted Series Lab is the Program's first training course, combining real-world story-room experience with one-on-one mentorship to equip writers with the skills, experience, and connections necessary to build a successful screenwriting career. The Program's longer term strategic planning envisions a range of offerings for screenwriters with varied levels of practical experience.
"This initiative is exciting for me personally because I've worked with exceptional Canadian writers and creatives throughout my career, particularly in the impressive production hub of Western Canada," said Chris Regina, Netflix director of scripted co-license and original television. "Fostering the next generation of screenwriters is important to us in our continued collaboration with Canadian creatives, bringing them into the Netflix family." Netflix's support of the Pacific Screenwriting Program comes from its fund to develop the next generation of Canadian creators and talent.
"The Pacific Screenwriting Program is a keystone for the increasingly focused ecosystem of support for BC storytellers," said Prem Gill, CEO of Creative BC. "This collaboration between Netflix, CMPA, the Writers Guild of Canada and Creative BC is a strategic complement to the province's recent inclusion of screenwriters in its Film Incentive BC tax credit. Together, these supports increase BC's domestic creators' competitive positioning as demand for screen-based content grows exponentially around the globe."
"We're pleased that screenwriters in B.C. will have the opportunity to further their careers through the kind of professional development offered by the Pacific Screenwriting program," said WGC Executive Director Maureen Parker. "One of the best ways for emerging screenwriters to learn is from experienced WGC showrunners, and this new program will help facilitate that process."
For details about how to apply for the inaugural Scripted Series Lab, click here. To learn more about the Pacific Screenwriting Program, please visit our website.
ABOUT THE PACIFIC SCREENWRITING PROGRAM
The Pacific Screenwriting Program was established in 2018 with the goal of building a vibrant screenwriter community in British Columbia. Based in Vancouver, the not-for-profit organization provides training and support to BC-based TV film and television writers at all levels, with the aim of generating a deep and sustainable pool of local talent for BC-based series and films. For more information please visit www.pacificscreenwriting.com
ABOUT NETFLIX
Netflix is the world's leading internet entertainment service with 130 million memberships in over 190 countries enjoying TV series, documentaries and feature films across a wide variety of genres and languages. Members can watch as much as they want, anytime, anywhere, on any internet-connected screen. Members can play, pause and resume watching, all without commercials or commitments.
ABOUT THE CMPA – BC PRODUCERS BRANCH
The CMPA-BC is a trade association representing member companies across British Columbia engaged in the production and distribution of television programs, feature films, and interactive media content. We are significant employers of BC creative talent and we assume the financial and creative risk of developing our stories and original content for Canadian and international audiences. Our members create content for distribution on traditional film and television, internet and mobile wireless platforms. www.cmpa.ca
ABOUT THE WGC
The Writers Guild of Canada (WGC) is a professional association of more than 2,200 English-language screenwriters. WGC members are the creative force behind Canada's successful TV shows, movies, and webseries, and their work brings the diversity of Canadian life and culture to the world's screens. The WGC supports Canadian screenwriters through negotiating and administering collective agreements with independent producers and broadcasters to ensure that screenwriters earn fair pay and benefits, and advocates for policies that foster Canadian programming and production. The WGC is also an essential professional hub for screenwriters, bringing them together as a community, and boosting their profile in the industry and beyond. For more information, visit www.wgc.ca or on Twitter, @WGCtweet
ABOUT CREATIVE BC
Creative BC is an independent agency created and supported by the Province of B.C. to sustain and help grow B.C.'s creative sector (film and television, digital and interactive media, music, and magazine and book publishing industries). The agency delivers a wide range of programs and services to expand B.C.'s creative economy. These include the administration of the provincial government's tax credit programs for film and television; development funding and export marketing support; and motion picture production services to attract inward investment and market B.C. as a destination for domestic and international production. The agency acts as an industry catalyst and ambassador to help B.C.'s creative sector reach its economic and creative potential both at home and globally. Stay up to date with initiatives from Creative BC: