Starbucks Canada Commits to Rescue 100 per cent of Food Available with National Expansion of FoodShare
This Earth Month, Starbucks is highlighting its planet positive initiatives, featuring its newest blend of whole bean coffee, new merchandise made from recycled materials and an interactive Earth Month game that takes Starbucks Rewards members behind the scenes of Starbucks sustainability journey.
National food rescue program makes progress towards Starbucks 2030 sustainability goals by helping to eliminate food waste, while addressing growing food insecurity in Canada.
Starbucks Earth Day Collection & Coffee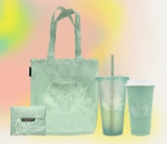 The new Earth Month Collection includes a to-go hot and cold cup, as well as a reusable tote made with post-consumer recycled materials. This smart (and stylish) collection is available in Starbucks stores for a limited time while supplies last.
Earth Day 16oz To-Go Hot Cup and 24oz Earth Day To-Go Cold Cup: Take soothing sips from these tonal mint-green cups in hot or cold options and reuse them over and over again.
Siren Waves Tote Bag: Support reusability with this gorgeous recycled mint-colored tote bag—carry your things responsibly. Made from 100 per cent post-consumer recycled PET.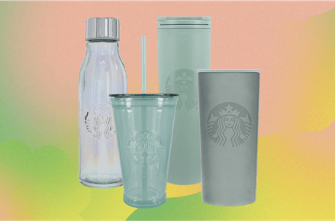 16 oz Mint Recycled Plastic Tumbler: This gorgeous mint coloured plastic tumbler is made with 100 per cent recycled plastic, and of that, at least 25 per cent of the recycled plastic is post-consumer, the remaining material is post-industrial recycled material.
12 oz Stainless Steel Tumbler with Recycled Plastic Lid: The lid on this tumbler is made with 100 per cent recycled polypropylene plastic and at least 25 per cent of the recycled plastic is post-consumer, and the remaining material is post-industrial recycled material.
Clear Luster Recycled Glass Water Bottle: Give your hydration habit a fashionable flare with this recycled glass water bottle. The glass is made with 100 per cent post-consumer recycled glass.
16 oz Recycled Glass Cold Cup:  Be the envy of those around you and feel like you are doing some good with this mint green 100 per cent post-consumer recycled glass cold cup.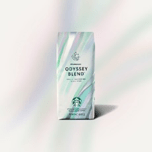 Starbucks Odyssey Blend Coffee: This is a complex medium roast that displays expressive citrus notes of tangerine zest, a sweet and syrupy body and a wild-honey floral finish.
Starbucks Odyssey Blend is crafted from beans sourced from West Java, Rwanda and Peru, each specifically chosen for how they embody the key pillars of coffee, people and planet, as well the innovative and responsible ways in which the farmers in the region grow, cultivate and process coffee.
Printed on each bag of Starbucks Odyssey Blend is a QR code that directs customers to the Starbucks Traceability page, where customers can learn more about the coffee's journey from bean to cup and the people and places behind Starbucks coffee.
Starbucks Earth Month Game
Available April 1-30, 2021, the new Starbucks Earth Month Game gives Starbucks® Rewards members a chance to win more than 140,000 prizes, support the World Wildlife Fund Canada (WWF-Canada), as well as learn more about the Starbucks Planet Positive commitment to become a resource positive company.
Game 1: Choice & Chance – In the "Choice & Chance" portion of the game, players can select an item for a chance to win prizes ranging from coupons for free non-dairy beverages for a year to money off select food items and merchandise. There will also be the chance to enter a sweepstakes to win grand prizes such as an electric bike prize package from Rad Power Bikes.
Game 2: Play & Plant – As part of the puzzle game, Starbucks is making a $25,000 prize donation to WWF-Canada to plant wildflowers and native plants that help build habitats for wildlife in the Southern Ontario-Quebec corridor
Today, Starbucks Canada announced it will further expand Starbucks FoodShare food rescue program nationally in partnership with Second Harvest, Canada's largest food rescue organization. The company has also reinforced its commitment to rescue 100 per cent of food available for donation to provide people in need with ready-to-eat meals, while helping to eliminate food waste from Starbucks stores.
Food insecurity has risen sharply with the pandemic in Canada, growing by nearly 39% in the first few months of the crisis, resulting in 1 in 7 Canadians struggling to feed themselves and their families.* In 2019, Starbucks announced FoodShare in more than 250 stores in the Greater Toronto Area. While COVID-19 challenges put a pause on the expansion plans last year, Starbucks Canada and The Starbucks Foundation donated over $1 million of food and cash in 2020 to food banks, including Second Harvest and Food Banks Canada, and remains steadfast on helping to combat hunger and minimize its contribution to the wide-scale problem of food waste.
Beginning next month, Starbucks will expand FoodShare with Second Harvest to all Ontario Starbucks stores, followed by additional market launches in British Columbia, Alberta, Saskatchewan, Manitoba, Quebec, Yukon and Atlantic Canada. The company expects the expansion to be complete by end of August.
"Food insecurity is an enormous challenge in Canada that worsened during the pandemic," says Luisa Girotto, vice president of Public Affairs, Starbucks Canada. "We want 100 per cent of our donatable food to go to those who need it most in the communities we operate in, while helping to eliminate food waste and make progress towards our aspiration of becoming a resource-positive company."
"We're delighted to see the expansion of Starbucks' food donation program, which reflects the strength of their commitment to keeping healthy, delicious food where it belongs: with people, not in landfill," said Lori Nikkel, CEO of Second Harvest. "As we continue to deal with the pandemic's impact, supporting the health of communities and the environment is crucial and we all have a role to play, now more than ever. Starbucks' leadership in food recovery will have a major, national impact."
Safely donating chilled, perishable food including breakfast sandwiches, paninis, protein boxes, yogurt, milk and dairy alternatives like soy, oat and coconut is critical and Starbucks and Second Harvest have implemented standards to ensure that all food maintains the correct temperature, texture and flavour so that when it reaches a person in need, it can be safely enjoyed.
How rescuing food is impacting lives
Since Starbucks FoodShare first launched in Ontario, the company has made over 20,000 donations, providing 382,986 meals to their local communities. Thousands of Canadian Starbucks partners (employees) have helped by donating food as part of their store closing routine.
"Partners take great pride in being the catalyst for this program. Every time they work a closing shift, they are reminded of their impact by putting food in the refrigerator to be recovered for people who need it instead of the trash," says Girotto.
The impact of Starbucks FoodShare can also start to be seen and heard in local communities across the country through the difference it's making on the non-profit organizations and the people they seek to help.
In 2020, Starbucks cCommitted to a resource-positive future, formalizing its sustainability commitment to cut its carbon, water, and waste footprints by half by 2030, aspiring to give more than it takes from the planet.
Starbucks FoodShare helps us limit avoidable food waste and diverting food surplus from landfill. To date, the program has prevented the release of more than 314,000 lbs of greenhouse gases and FoodShare will continue to be just one of the ways Starbucks is partnering with others to help take care of the planet we share.