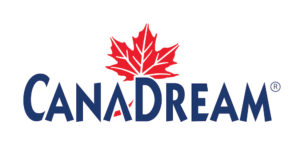 CanaDream announces new partnership with Parkland Corporation
CanaDream guests travel further for less: save up to 12¢ per litre on gas and benefit from
multiple savings and discounts
CanaDream, Canada's leading RV Rental and Sales Operator is excited to announce a new partnership with Parkland Corporation, Canada's largest independent supplier and marketer of fuel and petroleum products and a leading convenience store operator.
By teaming up with Parkland Corporation's loyalty program, JOURNIE Rewards, CanaDream guests will gain access to remarkable savings that offer discounted fuel of up to 12¢ per litre, at over 1,100 participating Chevron, Ultramar and Pioneer gas stations across Canada. All CanaDream guests will receive a new JOURNIE Rewards card when they pick up their RV rental granting them access to CanaDream's exclusive fuel discount as well as the opportunity to earn JOURNIE Rewards points which comes with a host of perks and benefits to save even more.
"We are delighted to announce this new partnership and to deliver even more benefits and excellent savings opportunities to our valued CanaDream guests," says Klaus Gretzmacher, VP of Tourism for CanaDream. "The partnership also creates compelling cross-marketing propositions for both our brands that we are excited to explore."
"We are proud to bring our two Canadian brands together, JOURNIE Rewards and CanaDream, so more Canadians can explore our great country," said Steve McClelland, Vice President, Loyalty Programs and Partnerships. "This new partnership will allow CanaDream customers and JOURNIE Rewards members to receive a 5% discount on their rentals, discounts on every fill, and collect JOURNIE Rewards points along the way at over 1,100 participating Chevron, Ultramar and Pioneer locations across Canada for the duration of their rental experience."
On top of regular JOURNIE Rewards membership benefits, every CanaDream JOURNIE Rewards card user will receive an additional 2¢ off per litre every time they fill up at a participating gas station while on their CanaDream RV trip [1]. When combining the CanaDream exclusive offer with JOURNIE Rewards membership benefits, customers can enjoy a total saving on fuel of up to 12¢ per litre.
Learn more at CanaDream.com through the dedicated partnership webpage here.
1] Subject to terms and conditions. Please learn more at the dedicated partnership webpage here.
About CanaDream
CanaDream is committed to providing Guests with a memorable RV vacation as they "experience Canada at their own pace" in a CanaDream motorhome. From small beginnings in the 1990s, CanaDream has grown into one of the largest RV rental and sales companies in Canada. The company's leadership position has been achieved through a combination of investments in experienced and well-trained Cast members at all locations, proprietary technology and continual investment, upgrading and maintenance of its systems and RV fleet. In 2017, CanaDream became part of the Apollo Tourism & Leisure Group of companies. CanaDream has recently been recognized as a Safe Travels company by the global leaders in travel safety, the World Travel & Tourism Council. The specially designed safety stamp allows travellers to recognize governments and companies around the world which have adopted health and hygiene global standardized protocols, ensuring they can experience #SafeTravels.
facebook.com/CanaDreamRV
instagram.com/CanaDreamRV
twitter.com/CanaDreamRV
About Parkland Corporation
Parkland is an independent supplier and marketer of fuel and petroleum products and a leading convenience store operator. Parkland services customers across Canada, the United States, the Caribbean region and the Americas through three channels: Retail, Commercial and Wholesale. Parkland optimizes its fuel supply across these three channels by operating and leveraging a growing portfolio of supply relationships and storage infrastructure. Parkland provides trusted and locally relevant fuel brands and convenience store offerings in the communities it serves.
Parkland creates value for shareholders by focusing on its proven strategy of growing organically, realizing a supply advantage and acquiring prudently and integrating successfully. At the core of our strategy are our people, as well as our values of safety, integrity, community and respect, which are embraced across our organization.
Media release and image provided by Annabel Hawksworth, Hawksworth Communications