Taste the Holidays with The Bench Bakehouse
Collect all your holiday treats at one stop!
'Tis the season for baked goodies and easy holiday shopping. The Bench Bakehouse at 1641 Commercial Drive is serving up traditional favourites like homemade Stollen and Fruit Cake, seasonal cookie boxes, fully assembled do-it-yourself gingerbread houses, cookie decorating kits, and bake-at-home goods. Read below for the full list of holiday treats.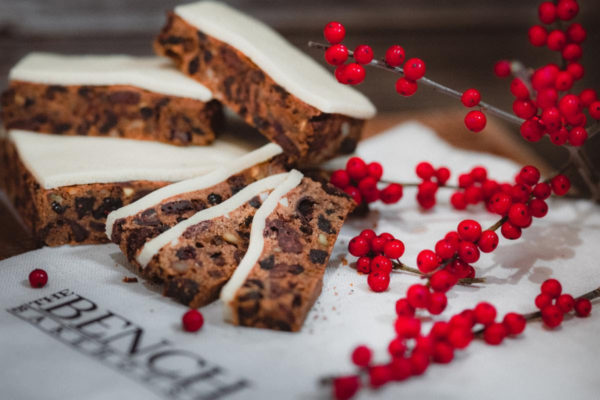 All holiday items are available starting on December 1. Order online in advance at thebenchbakehouse.com for pick-up throughout December or visit the store in-person. Regular hours for the month are Tuesday – Sunday between 9am and 5pm, with extended store hours on Thursdays and Fridays until 6 PM. The Bench Bakehouse will also be open on Mondays, December 20 and 27. Pre-ordering online is encouraged to ensure you get all the treats on your list!
Holiday Shopping at The Bench Bakehouse
The following seasonal handmade goods will be available while supplies last:
Seasonal Cookie Boxes – $15, $25, or $35
Some traditions are meant to be celebrated year after year. The Bench Bakehouse is once again offering their shortbread holiday collection with three new flavours: Double Chocolate, London Fog, and Lemon. Each box also comes with two other popular flavours (Hazelnut and Original), and cookie boxes are available to purchase in three sizes: mini with 10 pieces ($15), medium with 20 pieces ($25), and large with 30 pieces ($35). A vegan cookie box is also available with Oatmeal Hazelnut Chocolate Sandwich Cookies for $15. Order online at thebenchbakehouse.com or visit the store in-person.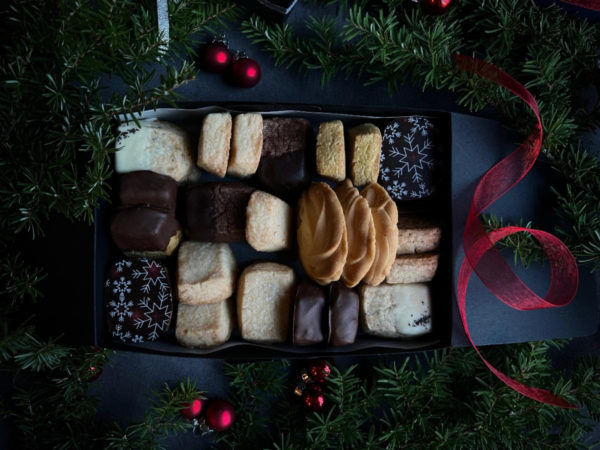 Stollen – $20
This classic German dessert is made with rich dough, skillfully prepared and studded with almonds, currants, and house made candied citrus that have been soaked in dark rum for months. Each Stollen is filled with The Bench's signature almond marzipan and dusted with sugar for the perfect taste of the season. Order it online at thebenchbakehouse.com or visit the store in-person.
Fruit Cake – $12 or $24
This Christmas cake is a December staple and takes months to prepare. Filled with house made candied citrus, pistachios, figs, and sour cherries that have been soaking in brandy, this dessert is finished with a layer of The Bench's almond marzipan. Purchase it online at thebenchbakehouse.com or in-person in two sizes: mini ($12) and large ($24).
Gingerbread House & Cookie Decorating Kits – $75 and $30
Skip the baking and construction and just decorate with the fully prepared Gingerbread House and Cookie Decorating Kits. Each house is $75 and comes fully assembled with bags of icing and all the candy trimmings. Cookie Decorating Kits come with an assortment of six cookies, bags of icing, and decorating candy for $30. Hanukkah-themed Cookie Kits are available from November 25 – December 6, while other holiday-themed kits are available throughout the month of December. Order each of these family-friendly activities online at thebenchbakehouse.com or pick them up in-person.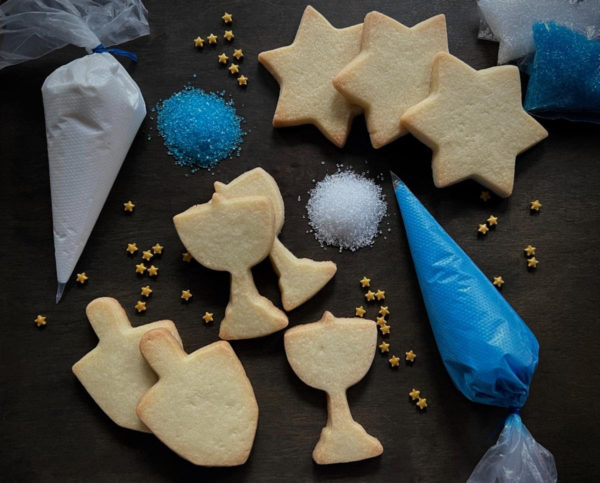 Hand Decorated & Assorted Cookies – $5 – $7
Purchase hand decorated gingerbread and sugar cookies for $5.50 each, or buy an assortment of cookies that includes shortbread, butter cookies, pfeffernusse and peppermint bark for $5 – $7. Buy everything online at thebenchbakehouse.com or visit the store.
Rum Balls – $6.50 per bag
Santa deserves something extra special on December 24, and these yuletide chocolate treats are packed with tons of holiday spirit. Each bag is $6.50. Pick them up at the store or order online at thebenchbakehouse.com.
Bake-At-Home Goods
Need to do all your bakery shopping in one trip? Visit The Bench Bakehouse or order online at thebenchbakehouse.com and stock up on goodies to keep frozen until you're ready to eat. Bake-At-Home goodies include the following:
Croissant and Pain au Chocolat ($14 – $15 for a four-pack) – Freeze, bake, and then indulge in warm chocolate croissants for the holidays.
Cinnamon Buns ($17 for a four-pack) – Buy frozen and then enjoy freshly baked and smothered in cream cheese icing.
Puff Pastry ($8.50) – Made from scratch with high-quality butter, The Bench Puff Pastry comes in a 12"x12" sheet ready to use in your favourite recipe.
Festive Café Drinks & Treats
When you visit The Bench Bakehouse in December, grab a festive warm drink or treat from the café. Specials include Eggnog Lattés and house made Mulled Apple Cider, Gingerbread Double Baked Croissants, and Eggnog Kouign-Amanns. Pastries range from $5 to $5.50 and are available in-store or for pre-order online, while drinks ($5) can only be purchased when visiting the café.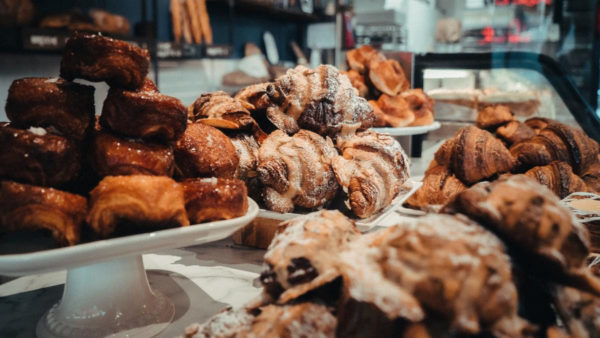 About The Bench Bakehouse
The talented husband-and-wife team of Matt and Tracy Steele modelled their shop after neighbourhood bakeries that charmed them in France. Each of them studied at famed culinary schools: Tracy at École Gastronomique Bellouet Conseil in Paris and Matt at the San Francisco Baking Institute. Together, Matt and Tracy produce exceptional naturally leavened bread, impressive French-style pastries, and tasty bakery classics in their open kitchen for all to admire. Conveniently situated on Commercial Drive in Il Mercato, The Bench Bakehouse has quickly become a cherished regular stop for locals.
Media release and images provided by Brooklynn Doucette, Town Hall Brands.