"In this series we bring you our #FavouriteThings Holiday Gift Suggestions which we personally recommend"
Welcoming back Upper Bench to #FavouriteThings Holiday Gift Suggestions with two great wine suggestions that are sure to please the wine lovers on your list.
Suggested wines for gift giving:
2019 Chardonnay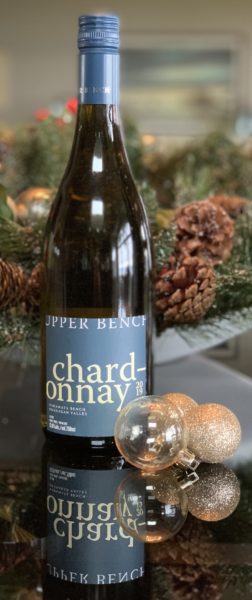 TASTING NOTES
Our Chardonnay is partially oaked, 50% is aged in French oak barrels for 3 months and 50% is in stainless steel tanks. The limited exposure to oak provides balance and structure without detracting from the fruit and terroir. If you have not enjoyed Chardonnay in the past, we encourage you to try this one; it will change your mind!
Nose: graphite, toffee, vanilla bean, peach, banana, buttered popcorn
Palate: peach, toast, lemon curd, gooseberry, minerality, honeycrisp apple, Asian pear
2018 Merlot

TASTING NOTES
This Merlot is smooth and easy drinking, but is full of flavour. It is one of our most popular reds here at Upper Bench.
Nose: blackberry, cassis, cigar box, cedar, lingonberry
Palate: black cherry, red currant, leather, mocha, fine tannins, brooding intensity
MINIMALIST WINEMAKING
Hand-tended vineyards and thoughtful winemaking.Have these award-winning wines shipped directly to your door!
Award-winning wine is grown in the vineyard. Upper Bench's hand-tended vines are meticulously farmed without the use of synthetic herbicides, fungicides, and pesticides. Known for producing big, bold reds and crisp dry whites that reflect the vintage and soil from the vineyard, Upper Bench's grapes are sourced from 9.5-acres of Estate Vineyard and select growers situated within the Naramata Bench sub-geographical indicator.
Hand-tended. Meticulously made. Award-winning. Minimalist Wines.