Ready, Set, Plan! Time to Mark Calendars for the 20th Anniversary of Dine Out Vancouver Festival
From January 14 – 31, celebrate the flavour, innovation, and resilience of Vancouver's restaurant industry
The dates are now set for the 20th anniversary of Dine Out Vancouver Festival, and the feasting and fêting promise to be epic. Canada's largest food and drink event — taking place January 14 – 31, 2022 — celebrates the flavour, innovation, and resilience of Vancouver's restaurant industry
During the 20th anniversary Festival, food-lovers can indulge in multi-course set menus offered at four price ranges: $20-$29, $30-$39, $40-$49, or $50-$59, or enjoy tailor-made promotions offered by participating restaurants. Guests can book a delicious array of gastronomic experiences with full confidence that health and safety protocols will keep them safe, including proof of vaccination required at all dine-in restaurants by B.C.'s Provincial Health Officer.
As always, the festival will also feature special events and local hotel offers. Top billing goes once again to the Vancouver World Chef Exchange, which sees select Vancouver restaurants host culinary luminaries from different destinations for one-of-a-kind dinners. This dinner series allows guests to take their tastebuds on a culinary journey, right here in Vancouver: during each event, the visiting and local chefs will team up to produce an unforgettable multi-course meal, taking inspiration from their respective menus, their own influences, and seasonal Pacific Northwest ingredients.
For a more casual al fresco Dine Out Vancouver experience, Street Food City should not be missed. The food truck festival takes over the entire plaza (šxʷƛ̓ənəq Xwtl'e7énḵ Square) in front of the Vancouver Art Gallery and features favourite bites from the city's top trucks.
Dine Out Vancouver Festival runs January 14 to January 31, 2022, with support from community partners. For more information, visit dineoutvancouver.com.
Key Dine Out Vancouver Festival Dates:
December 1, 2021 – Event tickets on sale at dineoutvancouver.com 
January 6, 2022 – Reservations open and menus available at dineoutvancouver.com 
January 14, 2022 – Dine Out Vancouver Festival begins – dig in!
January 15 – 23, 2022 – Check out Vancouver's favourite food trucks at Street Food City.
Mark your calendars now and continue to check dineoutvancouver.com for updated information. Diners can follow @DineOutVanFest on Instagram and Twitter and @DineOutVanFestival on Facebook for culinary inspiration. Follow along on #DOVF.
About Dine Out Vancouver Festival
Produced by Destination Vancouver, Dine Out Vancouver Festival is Canada's largest annual celebration of food and drink. Attracting more than 100,000 locals and visitors, the festival takes over the city with 18 days of menus at different prices ranges at hundreds of restaurants. The festival promotes local and regional ingredients, the wines of British Columbia, and the city's exceptional culinary talent. Dine Out's community partners are the Wines of British Columbia, Downtown Vancouver Business Improvement Association, Vancouver Hotel Destination Association, The Vancouver Sun/Province, Daily Hive, Colour Time, SMC Communications, Evo, and Westin Bayshore Vancouver. The BC Hospitality Foundation is Dine Out Vancouver Festival's Charitable Partner. Dine Out Vancouver Festival 2022 runs from January 14 – 31, 2022. @DineOutVanFest #dovf www.dineoutvancouver.com 
About Destination Vancouver
Destination Vancouver is the official destination marketing organization for Vancouver, British Columbia, Canada. The not-for-profit, member-based organization represents over 800 tourism businesses in Metro Vancouver and beyond. Destination Vancouver markets Vancouver as a premier leisure, business, meetings and group travel destination in strategic markets around the world. www.destinationvancouver.com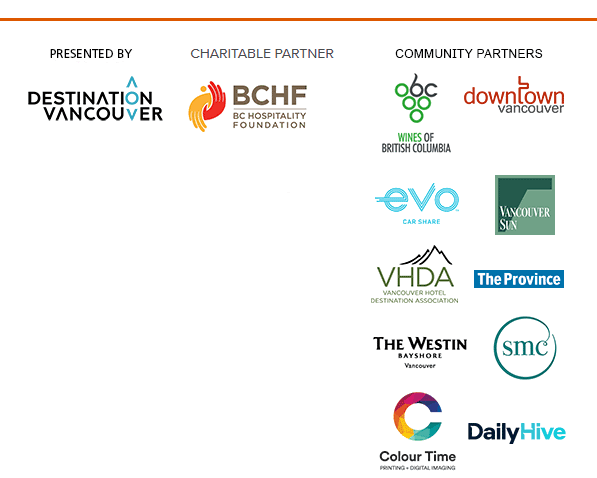 Media release provided by Sabrina Tey, Destination Vancouver.