"In this series, I'll share which B.C. wine pairs best with select recipes from the best chefs in B.C." 
This recipe comes to us courtesy of Chef Sarah Maw, Friends of Dorothy Lounge. This is a great "stick to your ribs" recipe with some twists to make it company ready. Fort Berens Cabernet Franc makes a classic pairing you are going to love.
"The inspiration behind this dish would be my love for fusing different cuisines together in one dish. Lamb merguez is North African and basil pistou is French inspired. These 2 combined are a match made in heaven for a balance of spice and tang." Chef Sarah Maw.
Lamb Merguez Meatballs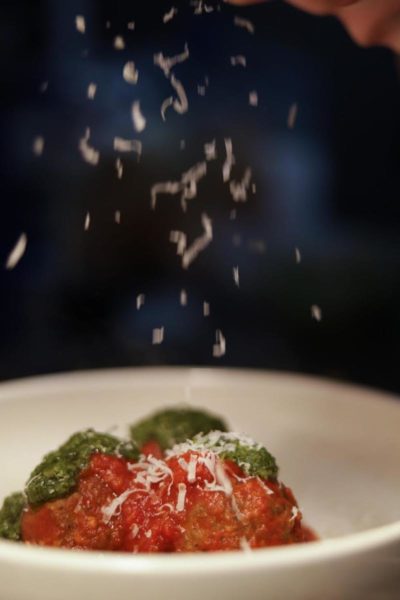 Lamb Meatballs
1150g ground lamb
20g salt
3g sugar
1.5g cayenne pepper
9g garlic
2.5g black pepper
8g paprika
8g oregano
30ml red wine
30ml ice water
Basil Pistou
3 cups fresh basil
½ cup extra virgin olive oil
½ tsp salt
1 tsp lemon juice
1 garlic clove
Parmigiano-Reggiano (to taste)
Weigh the meatball ingredients on a kitchen scale for accuracy, and then emulsify these ingredients in a mixer with the paddle attachment.
Weigh out meatballs to 60g balls on a sheet pan with parchment paper.
Cook at 320 degrees F for 15-20 minutes or until the meatballs reach 145 degrees F. Serve meatballs in your favourite tomato sauce.
For the basil pistou, blend garlic in the food processor until minced. Add the rest of the ingredients except oil into the food processor.
Once blended, slowly add all the oil until pistou reaches desired texture.
Serve on top of meatballs with shaved Parmigiano-Reggiano cheese.
Serves 6
Chef Sarah's suggested wine pairing:
Fort Berens Cabernet Franc 2019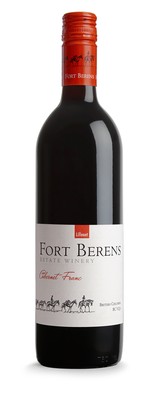 Tasting notes:
On the nose, this dark burgundy wine has notes of blueberries, dark red cherries, and dark chocolate. This juicy and fruit-forward, medium-to-full-bodied wine is soft with pronounced tannins and beautiful blackberry flavours.
Winemaker's notes:
Made with predominantly estate grown grapes that were harvested late in the season for optimal ripeness. The extended hanging time created a ripe, smooth tannin structure. Punch downs and pump overs ensured good colour and flavour extraction. It was barrel-aged for 15 months in a combination of seasoned French and American oak barrels, and then bottle-aged for an additional 6 months before release.
Cellaring advice:
This wine is currently showing its youth, so it is best to decant it if you enjoy it now. It will evolve and soften in the coming months. With proper cellaring, this wine will age beautifully until 2027.
Food pairings:
Enjoy this wine with your favourite barbeque meals including grilled steak and portobello mushrooms, with roasted lamb in tomato sauce, or with the lamb merguez meatballs recipe provided.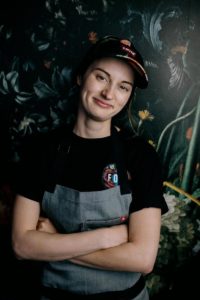 "This dish will be sure to satisfy all your cravings for a hearty meal to enjoy with a glass of Cabernet Franc from Fort Berens. This full-bodied Cabernet Franc evolves into a rich complex experience when being sipped with the lamb. The high levels of tannin in this red wine bind with the proteins of the meat and clear your palate making your mouth ready for the next bite. This mouth-watering pairing is sure to be at the top of your list for your at-home wine paring dinner parties."
Chef Sarah Maw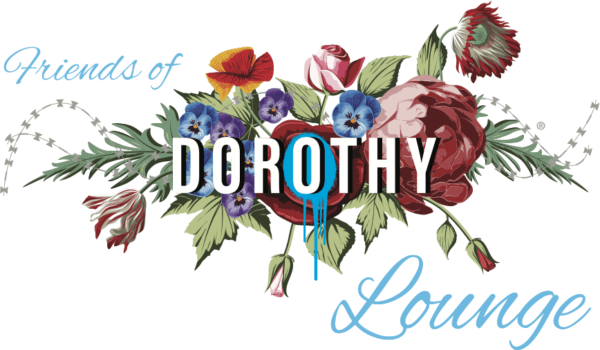 There's no place like Friends of Dorothy, a delicious & delightful lounge where you can find signature cocktails, upscale dishes, and fabulous entertainment. The Louis the XIV meets punk chic lounge is nestled in Kelowna's downtown core. FOD features a variety of amazing entertainment 7 nights a week from drag performances to comedy. Patrons to the lounge can feel at home in a place that straddles a classy VIP experience and a zany, be-yourself atmosphere.
Recipe and images provided by Kim Lawton, DogLeg Marketing. Photos: by Meg Froehler. I received complimentary wine to facilitate an upcoming #FavouriteThings Holiday Gift Suggestions feature and this #ThisWineThatDish feature. The recipe is from Sarah Maw, Chef at Friends of Dorothy Lounge.