Janice is in charge of our October session, and this year, she decided to focus on Chateauneuf du Pape.  This is a style of wine from the southern Rhone Valley, one of the oldest wine-making regions in France.  Some people suggest it was first established over 6 000 years ago.  It lies in southern France, close to Provence and just north of Marseille.
Chateauneuf du Pape is one of 17 designated regions along the Rhone, and one of 9 in the southern Rhone.  Each one is known to express their singular character or 'terroir'.  It is widely regarded as the benchmark of the southern Rhone and received its name in 1309 after Pope Clement the fifth moved his headquarters from Rome to Avignon.  It is home to just under 8 000 acres with about 75% planted in Grenache, unlike the north where Syrah rules.
The land here is characterized by large rounded stones (galets roulés) on top of sandy soils or limestone-rich clays.  It is very sunny here, receiving as much sunshine as Los Angeles on an annual basis.
Concrete vats can be found along with stainless steel for fermentation.  Oak barrels are often used for varieties other than grenache as it is prone to oxidation.  Wines that are aged in oak can have smoky-sweet and spicy tones.  Most red wines here undergo malolactic fermentation.
Grenache, traditionally, isn't destemmed prior to fermentation.  This can result in some bitterness, but it also helps with its age-ability.
Chateauneuf du Pape wines are almost exclusively blended.  Traditionally, thirteen grapes were allowed in the blend, now that has been increased to eighteen. These are primarily Grenache, Syrah, Mouvedre, and Cinsault.  Other permitted grapes include Counoise, Muscardin, Vaccarese, Terret Noir, Clariette, Grenache Blanc, Roussanne, Bourboulenc, Picpoul, Picardin Noir, Picpoul Noir, Picardin Gris, Clariette Rosé, Grenache Gris, Picpoul Rosé, and Picardin.
Wines from other regions, especially the New World, often create similar blends of Grenache, Syrah, and Mouvedre and are labelled as labelled GSM.
Chateauneuf du Pape wines typically age well for 10 – 20 years, depending on the vintage and the producer, though are often quite presentable after 5 – 10 years after their vintage.
In many regions of France, vintages can vary greatly depending on the weather that year.  However, in Chateauneuf du Pape, there is much less variation and grapes tend to reach full ripeness in most years.  Nonetheless, some years do stand out:
Exceptional – 2011 and 2016
Very good – 2005, 2007, 2009, 2010
Good – 2012, 2015, 2017, 2018, 2019
With Chateauneuf du Pape wines, you can expect aromas and flavours of any of the following; raspberry, black currant, blueberry, strawberry, earth, leather, dust, violet, sage, rosemary, thyme, green olives, smoke, tobacco, cedar, clove, vanilla, and toast.  What is often not mentioned, is that these wines can also have barnyard/funky odours, a result of Brettanomyces yeast (Brett) that is often found in the region.  A very small amount of Brett can add to the complexity of a wine.  If it seems too high, decanting/breathing for a couple of hours often reduces it to an acceptable level.
Because of the warm weather, Chateauneuf du Pape wines will have higher alcohol than is typically found in French wines, typically levels of 14% or more.  This often adds to the body as does a touch of residual sugar, though this is often undetectable due to the moderately high acidity.  The level of acidity and the savoury, smoky, gamey notes distinguish these wines from similar big wines, such as Australian Shiraz.
There are four tiers of quality for Chateauneuf du Pape.  From the top down, they are:
AOP Chateauneuf du Pape
This is the top-level and often includes the name of a specific village
AOP Villages
Village wines are more complex, have lower yields, and slightly more alcohol than the entry wines and have good ageing potential.
Cotes du Rhone Village
Mid-level wines that originate from one of the 18 most highly rated communes of the region.
Cotes du Rhone.
Entry-level wines that make up 50% of the overall production of the region.  They must meet a minimum of 11% alcohol.
All of these are wines that show their best when paired with food.
The wines for our flight had all been decanted for one hour that afternoon (longer would have been better).  They were all young, and by all rights needed more time to come into their own.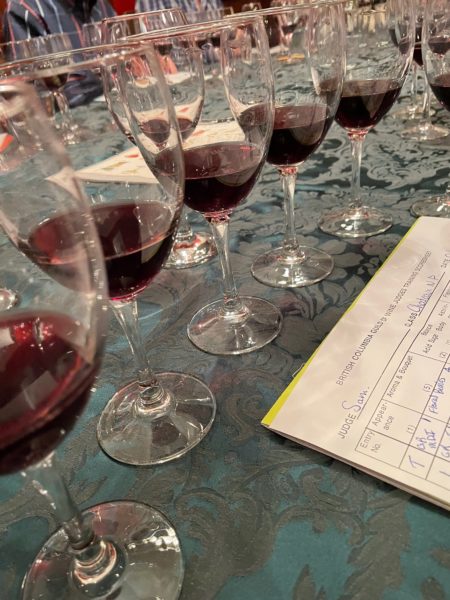 The Flight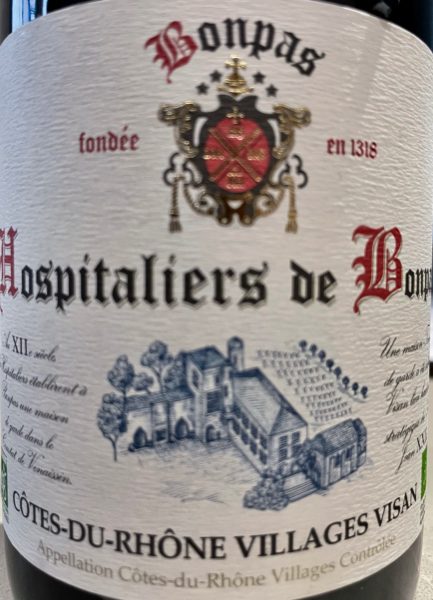 Taster
Hospitaliers de Bonpas                       2019                $16.99
Cotes du Rhones
Quite decent for the price.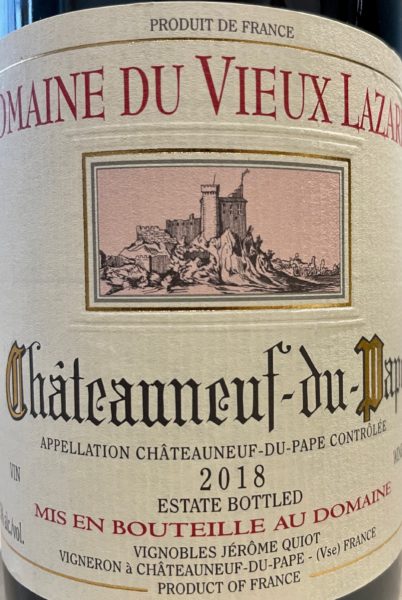 Domaine du Vieux Lazaret               2018                $42.99
Chateauneuf du Pape                                                          WS 92 points
60% Grenache, 25% Syrah, 10% Mouvedre, 5% Cinsault
My #3 as well as the group's. Floral, smoky, rosemary.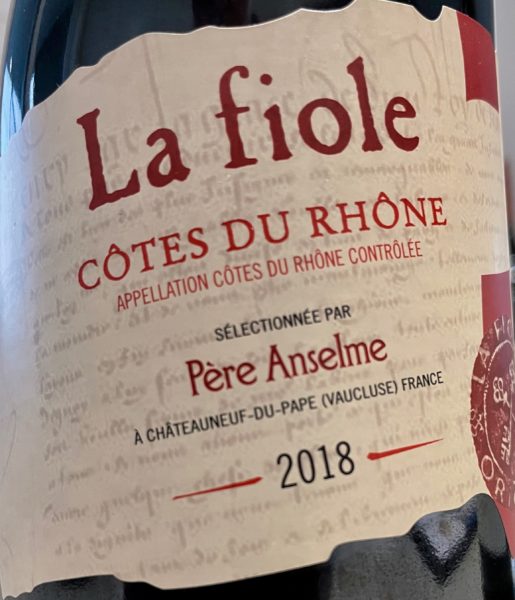 La Fiole                                                NV                    $19.99
Cotes du Rhones
85% Grenache, 15% Syrah
Tied for #4 and the group.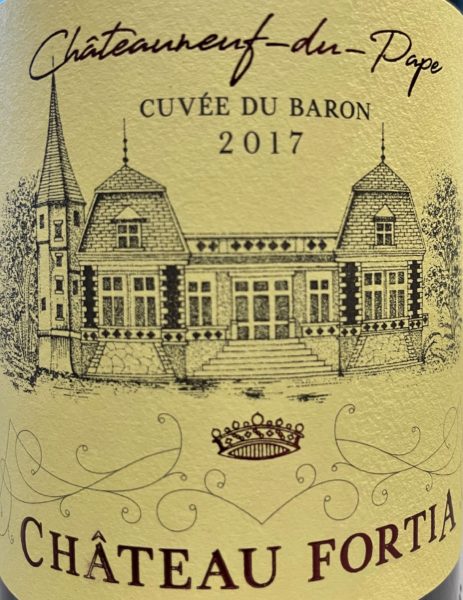 Chateau Fortia 2017                                                    $69.00
Chateauneuf du Pape                                                        WS 90
I found the nose very closed and the finish quite warm and slightly bitter.  #7 for me and the group.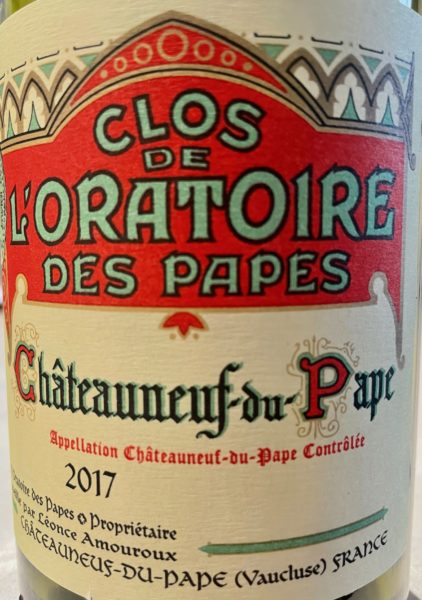 Clos de l'Oratoire des Papes 2017                             $47.99
Chateauneuf du Pape                                                             WS 91
80% Grenache, 8% Syrah, 7% Mouvedre, 5% Cinsault
Additional notes:  "Their 62 acres of vineyards include all three of Châteauneuf-du-Pape's soil types including galets roulés (rounded stones over sandy-clay), safres (sandy soils), and eclats calcaires (limestone-based clays). Ogier converted to organic farming in 2006 and uses a horse-drawn plow.  Grapes for Clos de l'Oratoire des Papes are fully destemmed to increase lush flavours, and wines age in large used oak barrels. The blend is typically about 80% Grenache (from sandy soils – so more aromatic) and blended with about 10% Syrah, 5% Mourvèdre, and 5% Cinsault."
My number 6 and the group's.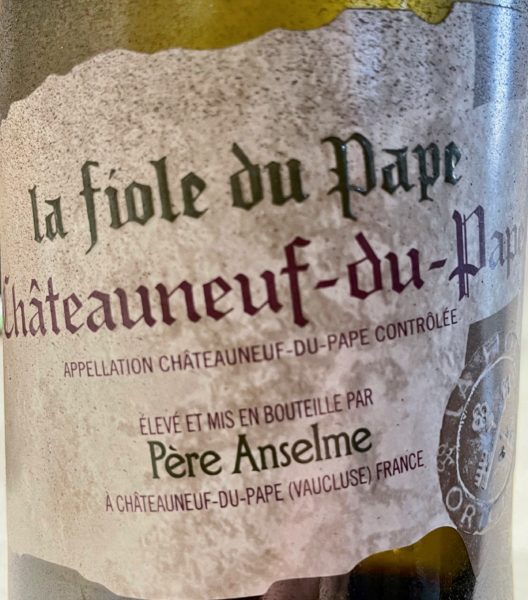 La Fiole du Pape                                   NV                 $53.99
Chateauneuf du Pape                                                       WS 88
Grenache, Syrah, Mouvedre, Cinsault since 1952
Well balanced with a medium-plus finish.  My second favourite as well as the groups.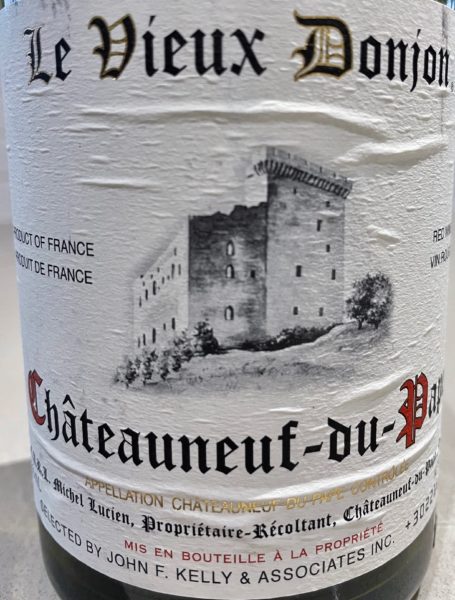 Le Vieux Donjon 2015                                              $65.00
Chateauneuf du Pape
75% Grenache, 10% Syrah, 10% Mouvedre, 5% Cinsault
Tied for 4th place.  A bit too soft, with sweet fruit and a tannic finish.  Number 5 for the group.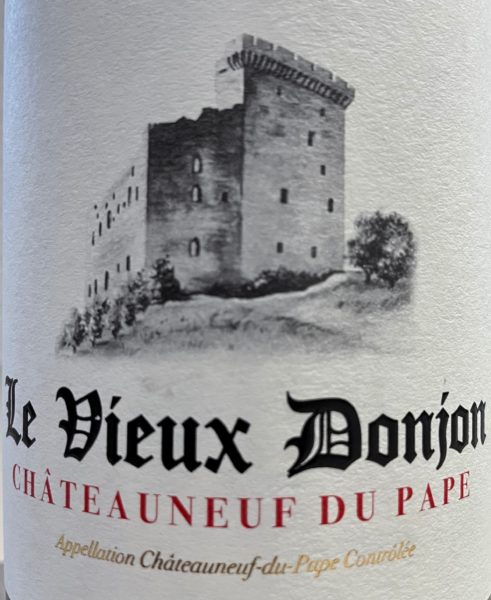 Le Vieux Donjon 2019                                           $69.00
Chateauneuf du Pape                                                   WS 96
75% Grenache, 10% Syrah, 10% Mourvèdre, 5% Cinsault
My favourite wine of the night as well as the group.  Very approachable right now.  Lots on the nose, well balanced, and a medium-long finish.
What was surprising about this session, was that there was more consensus than usual.  We usually have much more varying opinions.
Among many sommeliers and others in the wine trade, Chateauneuf du Pape wines often rank as some of their favourites due to their complexity and versatility.
(All photos – Sam Hauck)