When someone asks if you like red wine, what do you think of?  French Bordeaux? Australian Shiraz? Napa Valley Cabernet Sauvignon? Argentinean Malbec?
What about Grenache?
Grenache is a red grape variety of note from the Rhone Valley (as well as Spain where it is known as Garnacha), that has spread across the world.  You might think that you never tried Grenache before, but have you tried a GSM blend?  GSM stands for Grenache, Syrah and Mourvedre, and the most famous GSM blends are from Châteauneuf-du-Pape.  The Australians also do a very full bodied GSM.
But let's get back to Grenache. Grenache is a lighter bodied red grape with softer tannins and low acidity.  It typically has red fruit flavours of strawberries and cherries, can have some pepper spice, cinnamon, and caramel.  It can really perk up your taste buds after you have been drinking heavier Cabernet Sauvignons or Syrahs.
Pairing Grenache with Food
With this flavour profile, what food pairings would work well? With the pepper and cinnamon spice, dishes with a bit of spice would be nice, like a Hungarian Goulash. With the lighter tannins I think some vegetarian bean-based dishes could also work.  Or maybe just enjoy it before dinner with an assorted array of cheeses; a mild cheddar, Gouda, or Swiss.
If you want to try it with BBQ, I'd suggest you open a GSM blend, which is a bit more full-bodied, such as Chapoutier La Bernardine Chateauneuf-du-Pape from France or d'Arenberg The Stump Jump GSM from Australia.
A Few Grenache Recommendations
I recently attended an Australian wine tasting and came across a few Grenache I liked.  Here is one of them.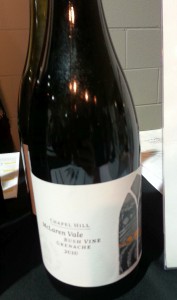 Chapel Hill Winery Bush Vine Grenache 2010, Australia ($29.99)  – Nice nose with aromas of cherries, kirsch and caramel.  Medium plus body, dry, with light tannins.  Roses and cherries on the palate, with spice on the finish.  A really nice wine. I have tasted previous vintages of this wine and I get consistent quality.
A few more Grenache or Garnacha that you may like Las Rocas Garnacha, from Spain, Sorrento Dry Grown Grenache from Australia, and Stag's Hollow 2012 Grenache from BC.
So the next time you are in your local wine shop, Give Grenache a Chance!