Cornucopia, Whistler's Celebration of Food + Drink, finished almost one month ago, but why does it matter?  Well there were many very good BC, and foreign, wines that attendees were given a chance to taste at various dinners, walk-about events, and seminars.  I spent many hours in seminars over the 2 weekends at Cornucopia and would like to recommend 5 wines that I really liked, so that you can enjoy them with your family and friends over the holiday season.  Many of these wines are not available in the BC Liquor stores, but you can get them through private stores.
Besides these wines, I would like to say that the quality of the seminars at Cornucopia was fantastic, and highly recommend anyone that loves or is curious about wine to attend next November.
My 5 Favourite Wines from Cornucopia
Audrey et Christian Binner Riesling 2012, Alsace, France – Deep pear skin colour.  Lots of honey, dried stone fruits and nuttiness on the nose.  Medium body with a buttery mouth feel.  Medium acidic prickle on the tongue.  Flavours of honey, ripe pears and other stone fruits, together with some spiciness on the tongue, minerality and nuttiness.  This is an excellent wine that I enjoyed, and have great support from the other attendees of the seminar.
Rating: 4.5/5 stars.  This was a "natural" wine, made without adding any additives or artificial ingredients, other than the grape must and indigenous yeasts.  Read more about my Natural Wine Experience at Cornucopia.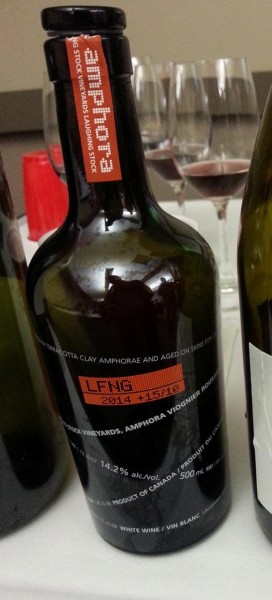 Laughing Stock Amphora Wine 2014, BC ($26) – Two Rhone grapes, Viognier and Roussanne, were used to produce this wine. They were fermented in terracotta clay Amphorae, and of course used wild fermentation.  Sweet spices, flowers and lychee aromas in the glass.  Dry, medium minus body, soft with lower acidity on the palate.  Light intensity flavours of baby powder, stone fruit and sweet spice, followed with some light tannins and pepperiness on the finish.
Rating: 4.5/5 stars.  A BC Natural wine!
Cantina Valpantena "Torre del Falasco" Valpolicella Superiore Ripasso DOC 2012, Italy – A Ripasso wine is made in the Veneto region of Italy, where the red grape skins used in making Amarone, after fermentation are added to Valpolicella wine that is fermenting, giving it a "second pass" or "Ripasso".  These wines tend to be bigger with more fruit than a regular Valpolicella, but not as big as Amarone.  It is a nice mid-point between the two wine styles. This wine had deeper garne colour with some bricking.  Sweet dark fruit and sweet spice on the nose.  Full body, dry, round, with medium mouth feel and higher acidity.  Ripe purple fruit and raisins, with nutmeg spice on the palate.  Some woodiness and spice toward the finish.
Rating: 4.5/5 stars.  I had this wine at the Barbarian Pizza Party.  Worked well with the Funghi (mushroom pizza).  Should also pair with a risotto, a rich pasta sauce, or roast lamb.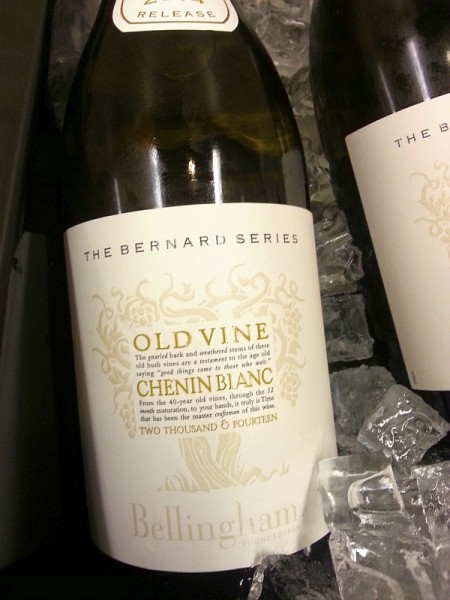 Bellingham Bernard Series Old Vine Chenin Blanc, 2012, South Africa ($22.99) – Available in BC Liquor stores, Chenin Blanc is a white grape that does exceptionally well in South Africa.  The home for this grape is the Loire Valley in France, but South Africa would be it's second home.  An exceptionally rich wine.  It has a very intense nose with tropical fruit and oak.  You may mistake the nose for an oaked Chardonnay.  Soft, silky, waxy, with medium acidity on the palate.  Tropical fruit, honey and nutmeg, with long length.  Delicious.
Rating: 4.5/5 stars.  Use anywhere you would use an oaked Chardonnay, like roast chicken dinner.
Catena Zapata Catena Alta Malbec, 2011, Argentina ($49.99) – Available at BC Liquor stores, this wine will impress the big red wine lovers.  Inky garnet in colour.  Light intensity nose, with flowers, nutmeg, and dark fruit.  Full body, round, with a heavy mouth feel.  Dark ripe fruit, plums, flowers, nutmeg, peppery, with a hint of milk chocolate.  Silky tannins.
Rating: 4.5/5 stars.   Try with grilled short ribs and grilled eggplant, or a beef stew.
Happy Holidays!