For those of you that attended the Vancouver International Wine Festival, there was a winery from Italy showing off their range of Proseccos.  And it had a Canadian connection that I did not know about.  The winery in question is Giusti Wine, from Veneto, Italy. Veneto is known for their Proseccos, Italian style bubble that is typically made lighter bodied, with more fruit and flower flavoured, compared to the more austere Champagnes and Cavas.  Prosecco is one of the fastest growing wine segment in North America.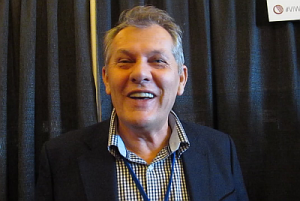 Joe Giusti, owner of Giusti Wine, was born in Italy, but moved to Canada, and worked in Vancouver for many years, raising his children and sending them to UBC, before he felt the tug to move back to Italy and set up vineyards and a winery as his father had in the past.  I first came across Giusti's wines last fall, when his red wines, an Amarone and Ripasso, first passed my lips.  I was so enamoured with Joe's wines, that I wrote an article about it, which you can read here.
When I saw that Giusti Wine was at the VIWF, I knew I wanted to make a stop and try their red wines, and was pleasantly surprised when there was only a range of Proseccos to try. There were 4 to taste at the Festival, with 3 being made from the Glera grape (the traditional Italian grape for Prosecco), and one made from a blend of Pinot Noir and Chardonnay (think Champagne grapes).
Below are my tasting notes for the 4 Proseccos.  Enjoy.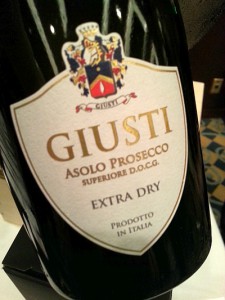 Giusti Rosalia Prosecco DOC, NV –  Rosalia Prosecco is 100% estate fruit and 100% Glera (Prosecco) grapes from their vineyards. Nice flowers and citrus on the nose. Light body, high acidity and light small bubble.  Light flavours of citrus, lees, and some bitterness. Dry.  Elegant.
Giusti Prosecco DOCG Brut, NV – Very nice red apple nose.  Medium body and mouth feel.  Medium sized bubble.  Red apple flavours. Very tasty.  Note that Brut is the driest of the proseccos.
Giusti Prosecco DOCG Extra Dry, NV – Extra Dry is next driest after Brut.  This wine has a light citrus nose.  Very high acidity on the palate together with citrus and citrus rind flavours.
Giusti Prosecco Cuvee, NV – this wine is not made with the Glera grape; rather Pinot Noir and Chardonnay.  Cuvee is their top level Prosecco, and this one has the wine spending 9 months of the lees to add more flavour complexity to the wine.  It had a light lees, citrus and apples aromas.  Light creamy bubble with high acidity and very citrusy flavour. Nice.
I am not sure if/when all these Proseccos will be made available generally in BC, but I know that the Prosecco DOC Rosalia NV is already here in BC.  And yes, I did buy some of these wines at the Festival.  Cin cin.