New Year's Eve is just around the corner, you are having a party with family and friends, but what festive wine to buy?  Champagne, Cremant, Prosecco, other?  Fortunately there is a wide variety of sparkling wines from around the world that you can choose from.  Below are a couple that won't set you back too much, and are quite enjoyable.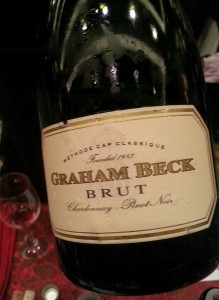 Graham Beck Non-Vintage Brut, South Africa (BC $22.99) – In South Africa, they call their sparkling wines, "Methode Cap Classique".  Graham Beck is a long-time quality producer of sparkling and still wines, and they have a commitment to protecting the biodiversity of our planet.  A blend of Chardonnay: 53%, and Pinot Noir: 47%. This wine was light honey and stone fruit on the nose. Lighter bodied, dry with small creamy bubbles.  Citrus with some toastiness. Mouth watering finish.  Good quality.
Luc Belaire Rare Rose, France (BC $34.99) – This is a blend of Grenache, Cinsault, and Syrah grapes. Very light salmon colour.  A very nice nose, with aromas of red cherries and sweet apple.  Medium body, slightly off dry, with higher acidity.  Sweet apple and red cherries with some bitterness on the finish.  Quite mouth filling.  Small, light, creamy bubble.  Delicious.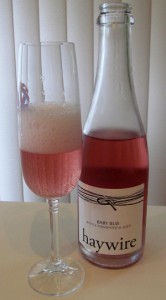 Haywire "Baby Bub" 375 ml bottle (also comes in a 750 ml bottle) – This is a sparkling rose wine, made from Pinot Noir and Chardonnay. that you can take on a picnic, and share with your significant other, while enjoying a nice meal and beautiful BC scenery.  It is a pale red cherry in colour and has a very nice creamy, light pink bubble when being poured.  It has medium intensity nose, with light lees, sour red cherries, and strawberry aromas. The lees aroma coming from the bottle fermentation and aging. It is dry, but quite fruity so gives it a feel of being slightly off-dry.  I like the combination of light acidic prickle on the tongue with the slightly creamy bubble.  It has bright fruit flavours of red fruits, red cherries and strawberries, followed by green apple.  It has a mouth-watering finish with sour cherries and green apples, and some minerality.  Medium plus length.  A best of BC bubble that shows creamy bubble, acidity and bright red fruit flavours.