"In this series I will be reviewing wines shared with friends"
From time to time I am the fortunate recipient of wines sent to me to review. It is especially nice to share these wines with friends. Not only does it make for lively conversation, and often diverse opinions, but it also makes for a very enjoyable occasion. So thanks to my wine loving friends who join me from time to time.
For this second review in the series we tasted the Michel Gassier Lou Coucardié AOC Costières de NîmesCostières de Nîmes Red 2012 from the Rhône Valley.
Lou Cocardié Red 2012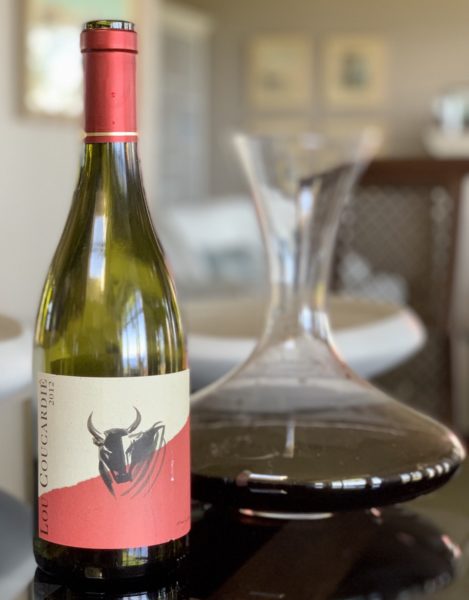 Terroir
Rolled pebbles and red clay.
Winemaking
Selection of calcareous terroirs and parcels of old vines with naturally small yields. Manual harvest with double sorting and incorporation of whole cluster (30%). Skin contact maceration at cold temperature for fruit extraction. Long macerations (30 days) & manual punching down of the cap. Malolactic fermentation in once used barrels. Aging in neutral French oak barrels on lees for 12 months. One single bottling run without filtration.
Tasting Notes
Appearance: Its dark colour, almost black, announces a wine of great concentration.
Nose: Powerful and extremely complex, it displays a wide array of aromas such as dark berries, spices, eucalyptus and vanilla welded in great harmony.
Tasting: Rich and velvety, without being heavy, this wine pulls its finish in an aerial display of fresh fruit and ripe tannins.
Food Pairings
Cheeses: Alsation munster, Stilton, livarot
Meats: game, bison, mutton
Garden: cabbage, capes, white beans
Herbs: thyme, bay leaf, oregano
Method: stewed, braised, slow cooked
Sauces: red wine, marrow, mushroom
Decant two hours before serving at 18 degrees celsius
This was a pleasing wine that everyone enjoyed. As per the suggestion the wine was decanted well in advance of the arrival of the guests, after time in the wine fridge to ensure a slightly lower than room temperature for serving.
This red blend of Mourvère, Grenache and Syrah was a crowd pleaser with scents of blackberries and a hint of blueberry and cranberry. The wine has medium body with pronounced tannins. It paired well with a selection of charcuterie and fromage. Robust with lingering ripe fruit and black pepper notes. Smooth and well balanced.
About Domaine Gassier
We strive to make wines that express the nuances of their soils and the sincerity of their winemaker.
Our leitmotif: to craft wines of balance and minerality. Always in search of vineyards capable of preserving the freshness, growing them in organic farming, and minimizing interventions in the cellar, our wines are a very personal reflection of their appellation or grape variety. Each bottle brings a little piece of our corner of the world, a sensory journey and a unique experience where pleasure and curiosity are aroused.
Lou Coucardié
We feel that this cuvée represents the essence of a winemaker's work. It is baptized after our regional bull – the noble adversary in our ancestral tradition of bull games where man is pursued by beast, not the other way around. Strong and courageous, he represents our ideal.
Wine notes courtesy of the winery. My notes (in bold italics) I received complimentary wine to facilitate this feature. All opinions are my own. If you would like to be featured on MyVanCity.ca please email myvancityval@nullgmail.com for details.