"In this series I will be reviewing wines shared with friends"
From time to time I am the fortunate recipient of wines sent to me to review. It is especially nice to share these wines with friends. Not only does it make for lively conversation, and often diverse opinions, but it also makes for a very enjoyable occasion. So thanks to my wine loving friends who join me from time to time.
For this first review in the series we tasted the Château Pesquié, Terrasses AOC Ventoux Red 2019.
Château Pesquié Red 2019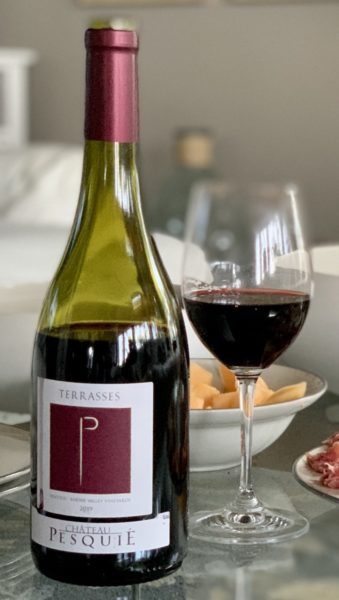 Description
The Terrasses cuvees are, for each colour blends of different soils and varietals present throughout the estate. They reflect the balance and generosity of the terroir to which the cool climate of Mont Ventoux brings identity and coherence. Profoundly anchored in the Ventoux terroir, Grenache and Syah express themselves here, with brilliance, indulgence and suppleness.
Winemaking
The grapes are crushed and destemmed. We obtain optimal colour and aroma after a fifteen day maceration Traditional wine making is followed by a long rest. Then the wine is naturally clarified through a series of decanting at select times, no fining. No ageing, bottled at the estate.
Tasting notes
Colour: Deep ruby colour.
Nose: Intense nose with spicy notes (especially black pepper) and red berries.
Mouth: This very balanced wine offers very round tannins and fresh berries aromas, with some floral and spicy flavours.
Food Pairings: Simple dishes such as pizza, kebab, charcuterie, vegetable pies or salad to more ambitious cuisine like terrines, poultry guine fowl, turkey roasted or grilled meats.
Serve at about 17 degrees Celsius
A blend of Grenache and Syrah with scents of dates, purple plums, cut hay and tobacco. Good depth with medium tannins. A beautiful ruby colour with medium body. This wine is a bargain. I paired the wine with a slightly sharp flavoured French camembert, ripe melon with prosciutto and baguette.
$19.99 Available at @bcliquorstores on sale for $18.99 until October 30th
About Château Pesquié
At the foot of Mont Ventoux, in the southeastern Rhône Valley, Château Pesquié is a family wine estate at the heart of the Ventoux appellation. Three generations of the Chaudière family have put all their passion into producing wines with the characteristic freshness and finesse of this exceptional terroir.
Situated between the Alps and the Mediterranean, the vineyard of Château Pesquié enjoys an extraordinary micro-climate. The influence of the mountains, the altitude, and the cool temperatures at night are perfect for making wines with great balance and finesse. The estate is at the heart of the Mont Ventoux Regional Natural Park and a biosphere reserve listed by UNESCO for its exceptional biodiversity. The protection of this ecosystem and its breathtaking landscape is evidently a priority for the Chaudière family.
For fifty years, three generations of the Chaudière family, who own the Château, have worked with the same desire to explore and fully express the terroir of AOC Ventoux. The vineyard is certified organic by Ecocert. Alexandre and Frédéric Chaudière, the latest generation in charge of the estate, tend their vines according to biodynamic principles, with care and precision. This late-ripening terroir is characterized by its geological richness and a predominance of limestone.
Wine notes courtesy of the winery. My notes (in bold italics) I received complimentary wine to facilitate this feature. All opinions are my own. If you would like to be featured on MyVanCity.ca please email myvancityval@nullgmail.com for details.