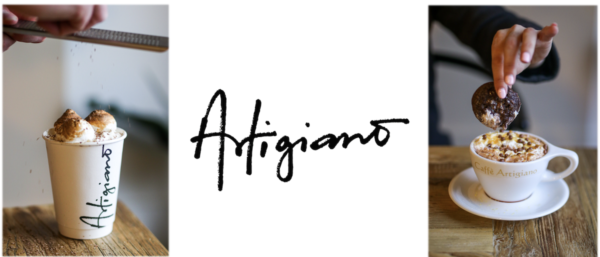 ARTIGIANO CAFE'S TO PARTICIPATE IN HOT CHOCOLATE VANCOUVER
Custom creations to be served at 10 locations January 15 – Feb 14, 2022
Artigiano is pleased to announce a record participation of 10 of its cafes in this year's Hot Chocolate Festival taking place across Greater Vancouver January 15 – Feb 14, 2021.
Over the course of the four-week celebration, more than 40 vendors with 65+ locations across Vancouver and Lower Mainland will offer unique hot chocolate creations complete with paired treats. Artigiano's participating cafes will serve two custom hot chocolate drinks priced at $7.50.
FLUFFERNUTTER HOT CHOCOLATE
Hand crafted chocolate peanut syrup, whipped marshmallow with shaved chocolate.
Served with a fluffernutter cookie: peanut butter, marshmallow, chocolate chips
SALTED CARAMEL MISO HOT CHOCOLATE
Salted chocolate syrup, miso powder, Vancouver Island salt, Callebaut pearls, caramel sugar. Served with a salted dark cho`colate chip cookie: white miso, Maldon salt, cocoa, chocolate chips.
For more information visit: https://hotchocolatefest.com.
CONNECT
Instagram: @hotchocolatefest / @caffeartigiano
Facebook: /caffeartigianoca
ABOUT ARTIGIANO
A pioneer of Canada's coffee culture, Artigiano brought superior coffee, latte art skills, and just a touch of European bravado to Vancouver over 20 years ago. Our dedication to the craft of coffee-making has attracted a very loyal following, created its own class of coffee aficionados, and garnered international barista awards that put us on the world stage. Launched as a single, standalone café [on Vancouver's Hornby Street], Artigiano now owns and operates 17 cafés in B.C. and three in Alberta, each one recognized for its superior coffee, artisanal savoury and sweet goods, and welcoming environment.
Media release and images provided by Kate MacDougall, Camber Communications