Accor to Open the First
MGallery Hotel & Residences in Mexico in 2024
MAYALIAH TULUM HOTEL & RESIDENCES – MGALLERY HOTEL COLLECTION WILL OPEN IN TULUM, MEXICO JOINING A STORIED COLLECTION OF OVER 100 DISTINCTIVE BOUTIQUE PROPERTIES WORLDWIDE
Accor, a world-leading hospitality group, in partnership with Inmobilia, the leading premium real estate developer in Southern Mexico, announced the signing of definitive agreements for the development and management of the first MGallery Hotel & Residences in Mexico. Scheduled to open in 2024, Mayaliah Tulum Hotel & Residences –
MGallery Hotel Collection will be a luxurious eco-chic jungle oasis where nature and culture converge, providing an extraordinary and immersive experience for travelers in the heart of Tulum.
Joining MGallery's global network of more than 100 unique addresses in over 30 countries around the world, Mayaliah Tulum is one of the most anticipated additions to the brand' s exclusive collection of singular, distinctive boutique properties to date, and will feature 45 beautifully appointed guest rooms and 95 branded residences.
"We are thrilled to continue expanding our portfolio in North & Central America, and for the opportunity to bring the MGallery Hotel Collection brand to Mexico, with Accor's very first hotel in the paradise of Tulum," said Heather McCrory, CEO of Accor North & Central America. "Nestled between the jungle and sea, drawing inspiration from the stunning destination, the hotel is set to become an enchanting sanctuary, promising travelers rich experiences and adventures of local discovery and exploration. With its own unique personality and special story to tell, the property will be a remarkable addition to MGallery's distinctive collection of boutique hotels."
Located within the premium award-winning and innovative community of Aldea Zamá, long regarded as being the best location in Tulum, Mayaliah Tulum Hotel & Residences
– MGallery Hotel Collection will harmoniously coexist with nature; surrounded by the jungle of the Tulum ecological reserve and nearby Mayan archaeological wonders, just minutes from the beach and city center. Guests will enjoy enchanting and memorable experiences that draw upon the spirit of the destination, inspired by the Mayan culture and local community, and complemented by authentic and excellent service.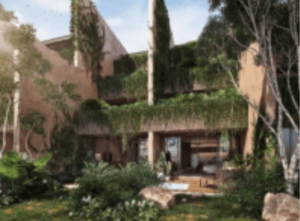 The property's design vision is inspired by the lush tropical flora and fauna of the destination – nature is the design – with all aspects of the property carefully planned with biophilic design principles in mind. Ever growing plants and rippling water features will envelope the exterior and interiors will be adorned with locally crafted furnishings inspired by natural elements, ultimately creating an alluring and luxurious jungle sanctuary. Arkham Projects, in collaboration with Filipao Nunes, have been selected to lead the master planning, architecture and interior design to create the stunning and exciting destination of Mayaliah Tulum.
Influenced by the unique stories and personality of the hotel, Mayaliah Tulum will offer several elevated dining experiences at its four restaurants and bars, including a rooftop bar, that will showcase innovative Mexican cuisine and inventive cocktails that highlight local ingredients.
With a holistic approach to health and wellbeing, Mayaliah Tulum will also have a pool, a world-class spa and fitness center that encourages guests to indulge in mindful rejuvenation with luxurious treatments and other revitalizing offerings.
Adding to the vibrant artistic and cultural community of Tulum, the property will have a distinct dedicated space for indoor and outdoor art exhibitions and will also feature a stylish Tulum-inspired market, bringing together talented local vendors with a selection of one-of-a-kind creations and entertainment, for guests to enjoy.
Mayaliah Tulum will include 95 one-and two-bedroom branded residences and owners will enjoy access to all hotel amenities along with an exclusive owner's lounge, a relaxing pool, and coworking space. MGallery branded residences' owners will be invited to join the Accor Ownership Benefits Program, presenting them with global VIP status as a Diamond Tier Member of ALL-Accor Live Limitless, one of the most appealing lifestyle loyalty programs in the world.
The property will also exceed local energy efficiency and sustainable building guidelines, in accordance with Accor's established global commitments to the environment, and will be EDGE Certified.
"Over the past 20 years, Inmobilia's goal has been to create the best communities with unique experiences alongside distinguished partners to develop exclusive and lucrative investment properties. Our important partnership with Accor to introduce MGallery, one of the most exciting and innovative brands in hospitality, to Mexico — and consequently to Tulum — is in line with our mission of creating luxurious and sophisticated developments,' said Roberto Kelleher Vales, CEO of Inmobilia. "With this property, as is our vision with the rest of our portfolio, we aim to create a community that provides a comforting refuge from the chaos of busy city life, while also fostering a connection between residents and visitors with the environment and history of the destination. We visualize and build communities that have a palpable sense of community and Mayaliah Tulum will deliver upon our value proposition."
"We continue to experience significant growth in Mexico, particularly within the luxury and lifestyle segments. The introduction of the MGallery Hotel Collection to the market brings value to our current portfolio and invites additional growth opportunities in our region," added Mark Purcell, Senior Vice President, Development, Accor North & Central America. "With a solid pipeline of over 10 properties set to open in Mexico within the next four years, we are pleased to count on our esteemed partners, such as Inmobilia, to continue creating exceptional hotels that benefit from Accor's global expertise."
MGallery is a collection of storied boutique hotels for explorers who are fueled by passion, curiosity and an interest in the world around them. Each address is remarkable for its singular personality and deeply rooted in the destination's history. Poised for further growth, with over 50 hotels in varying stages of development, the MGallery brand is expected to open an additional 30 properties worldwide within the next two years.
Most recently, two MGallery Hotel Collection properties debuted in North America: Hotel  Belmont Vancouver in early December 2021 and Berkeley Park Hotel in Miami in March 2021. Other notable properties in the MGallery Hotel Collection include Hotel Molitor Paris, INK Hotel Amsterdam, Queens Hotel Cheltenham in England, Santa Teresa Hotel Rio de Janeiro, Muse Bangkok Langsuan in Thailand, among others.
Accor currently has 32 properties in Mexico, with over 10 properties in the pipeline, across several brands ranging from luxury and lifestyle to midscale and economy. Mayaliah Tulum will soon be a noteworthy addition to Accor's portfolio in Mexico that at present includes Sofitel Mexico City Reforma, Fairmont Mayakoba, Novotel Mexico City Toreo, among others.
ABOUT MGALLERY HOTEL COLLECTION
The MGallery Hotel Collection brand thoughtfully selects and curates unique properties around the world, forming a storied collection of boutique hotels with true soul where captivating stories are lived and shared. With more than 100 properties, each MGallery tells a unique story inspired by its own remarkable past or the destination it calls home. From bespoke design and sensorial mixology to well-being dedicated to everyday self-care, MGallery hotels are places where guests can enjoy an exquisite travel experience. MGallery Hotel Collection guests live a distinctive story through their delightful visits to these stylish, thoughtful and decidedly singular hotels. Well-known properties in the MGallery Hotel Collection include Hotel Molitor Paris, INK Hotel Amsterdam, Queens Hotel Cheltenham in England, Santa Teresa Hotel Rio de Janeiro, Hotel Lindrum Melbourne in Australia, Muse Bangkok Langsuan in Thailand, and Hotel des Arts Saigon in Vietnam. MGallery Hotel Collection is part of Accor, a world leading hospitality group consisting of more than 5,200 properties and 10,000 food and beverage venues throughout 110 countries.
mgallery.com | all.accor.com | group.accor.com
ABOUT ACCOR
Accor is a world leading hospitality group consisting of more than 5,200 properties and 10,000 food and beverage venues throughout 110 countries. The group has one of the industry's most diverse and fully integrated hospitality ecosystems encompassing more than 40 luxury, premium, midscale and economy hotel brands, entertainment and nightlife venues, restaurants and bars, branded private residences, shared accommodation properties, concierge services, co-working spaces and more. Accor's unmatched position in lifestyle hospitality – one of the fastest growing categories in the industry – is led by Ennismore, a creative hospitality company with a global portfolio of entrepreneurial and founder-built brands with purpose at their heart. Accor boasts an unrivalled portfolio of distinctive brands and approximately 260,000 team members worldwide. 68 million members benefit from the company's comprehensive loyalty program – ALL – Accor Live Limitless – a daily lifestyle companion that provides access to a wide variety of rewards, services and experiences. Through its Planet 21 – Acting Here, Accor Solidarity, RiiSE and ALL Heartist Fund initiatives, the Group is focused on driving positive action through business ethics, responsible tourism, environmental sustainability, community engagement, diversity and inclusivity. Founded in 1967, Accor SA is headquartered in France and publicly listed on the Euronext
Paris Stock Exchange (ISIN code: FR0000120404) and on the OTC Market (Ticker: ACCYY) in the United States. For more information visit group.accor.com, or follow Accor on Twitter, Facebook, LinkedIn, and Instagram.
ABOUT INMOBILIA
Inmobilia (BMV: INMOBCK) creates communities. As a leading company in a key sector of Mexico's economy, it develops innovative proposals that seamlessly blend with the environment and offer luxury, high quality and sustainable options. In sum, more than 7,800,000 m2 of developments support Inmobilia's expertise and great track record in creating lifestyles and transforming skylines. Inmobilia has been operating for more than 20 years based on the expert knowledge of the high-end and fast growing markets where it invests, with clear foresight of the latest real estate trends, and the transformation of the landscape and creation of experiences of a luxurious and exclusive lifestyle. All this has provided Inmobilia with valuable longitudinal experience in the design, development, commercialization, production and operation of various types of award-winning real estate projects, including residential, commercial, business and hospitality areas mostly in southern Mexico, but more recently nationwide and in two foreign countries.
inmobilia.mx
Media release and images provided by Kelvin McDermott, Chimera Collective.