Six Indigenous Women Shaping Tourism in B.C.
In honour of International Women's Day and this year's theme of Break the Bias,Indigenous Tourism B.C. is celebrating six women championing Indigenous tourism across the province.
These Indigenous women are shaping the future of B.C. and Canada's tourism sector as advocates in their communities. Through their contributions in travel, they are challenging stereotypes, preserving their heritage, and creating new economic opportunities for communities. Their commitment extends beyond their Nations, creating positive change and promoting reconciliation between Indigenous Peoples and non-Indigenous allies.
As leaders in tourism, they promote Indigenous-owned experiences, encouraging travellers to stand in solidarity for reconciliation, educate themselves on the wrongs of the painful past, and contribute to an Indigenous-led vision for a healthy future.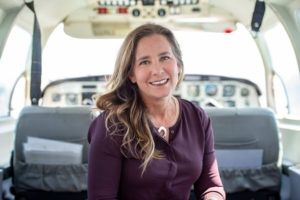 Teara Fraser
Founder & CEO of Iskwew Air
Métis pilot, entrepreneur and hero to many, Teara is a powerhouse leader launching Canada's first Indigenous woman-founded and led airline – Iskwew Air – in 2019. Iskwew – meaning "woman" in her ancestral Cree language is Fraser's celebration of her Indigenous heritage and fundamental belief in the power of gender equity. Her new venture was slow to take flight due to the pandemic stalling travel and tourism. Still, Fraser was resilient and pivoted Iskwew Air from carrying passengers to flying essential goods to remote communities. Her mission to connect remote communities with her airline continues today as tourism bookings begin to increase and borders open. Turning heads with her ambition, D.C. Comics included a feature on Fraser alongside the likes of Brené Brown and Beyoncé as part of their Wonderful Women in History graphic novel, available in stores now.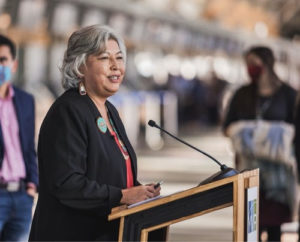 Brenda Baptiste
Chair of the Board, Indigenous Tourism BC
A recent recipient of the distinguished Order of British Columbia, Brenda Baptiste has long had a vision and belief tourism can balance socio-economic development for Indigenous people. A member of the Osoyoos Indian Band (OIB), Baptiste graduated as a Registered Nurse specializing in Indigenous health, focusing on community development. Baptiste was instrumental in the OIB with the marketing and development of Nk' mip Desert Cultural Centre – a 12 million dollar capital project. Baptiste was also the Director of the Aboriginal Business Showcase for the Four Host Nations during the 2010 Olympics. Her passion and vision for building opportunities help guide ITBC's strategy today. "Indigenous cultural tourism needs to become an economic opportunity for B.C.'s Indigenous communities, a "pride-of-nation" and a powerful path to reconciliation for Indigenous communities," says Baptiste. "With this in mind, our focus for travel in 2022 is to showcase truth and reconciliation through tourism."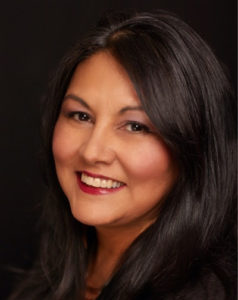 Sharon Bond
Owner & CEO/Founder of Kekuli Cafe
Sharon Bond had the vision and tenacity to build a restaurant that embodied an Indigenous atmosphere, ambiance, and food unlike anywhere else. For years Bond spent evenings, weekends, and free time selling the traditional First Nations' bannock bread from her roadside stand in West Kelowna, B.C., slowly digging herself out of debt in the hopes of getting a loan to start her dream restaurant. Her vision came to fruition when All Nations Trust Company, an Indigenous-owned financial institution, provided her with the loan to develop her restaurant – The Kekuli Cafe in Westbank, B.C. The cafe breathed new life into the Indigenous culinary scene with traditional Indigenous ambiance, pow wow music, Indigenous art, jewellery, and Indigenous cuisine, including her infamous pillowy bannock. Bond is known to say, "Don't panic; we have bannock." Today, Bond has expanded with a second cafe in Merritt, B.C, along with the newest location opening in Kamloops, B.C. this spring.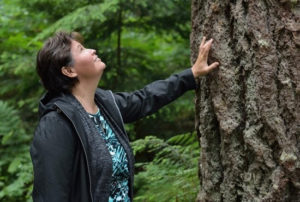 Candace Campo
Owner & Operator of Talaysay Tours
Drawing from her training as an anthropologist and school teacher, Candace Campo, ancestral name xets'emits'a (always be there), started her company Talaysay Tours in 2002. The cultural and eco-tour company provides engaging, educational and authentic Indigenous experiences, including walking tours, outdoor adventures and tea ceremonies in and around Vancouver, Squamish and the Sunshine Coast or online via zoom.
While Campo serves as the head guide, storyteller, and educator-facilitator, Talaysay Tours has 10 Indigenous guides who lead these experiences. Passionate about sharing, these guides impart knowledge, ancient and contemporary stories, legends, and Indigenous ways of living as guests take in the sights of old-growth forests, wildlife, beautiful northwest coast views, and flora and fauna of the season. Travellers worldwide have taken part in the eco-tours, and Campo is equally passionate about sharing her knowledge locally.
Supporting women is incredibly important and fulfilling for Campo, and this inspired her to create experiences for women to help build their skillset on land, on water and provide a safe space for women to connect and enjoy a supportive environment. Working extensively with schools and teachers to educate students in Indigenous culture, they share their ways of living and outdoor education: canoeing, kayaking, hiking, snowshoeing, nature walks, Coast Salish art.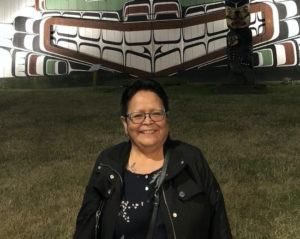 Linda Morven
Chief Executive Officer, Nisga'a Village of Gitwinksihlkw
Formerly the Chief Health Services Officer for the Nisga'a Valley Health Authority, Linda Morven spearheads the management, planning, and coordination of activities and business affairs of the Nisga'a Village of Gitwinksihlkw.
The Nisg̱a'a Village of Gitwinksihlkw (formerly Canyon City) is developing its tourism infrastructure as per its Tourism Strategy and Official Community Plan to help build an economy, bring people into its community, and work toward supporting entrepreneur development. In collaboration and with the support of her Chief and Council, Morven is a vital part of the movement, being community builders at heart. "It's how we were raised."
Recently, the community opened a new Welcome House café and gift shop, and phase one of the Sasaak's hiking and biking trails during the pandemic. Many initiatives are planned for the smaller northern village, and Morven believes there is no limit to what the community can achieve. "We can make the Main Street Experience of the Nisga'a Village of Gitwinksihlkw a reality. This is where economic ventures and the community can thrive," says Morven.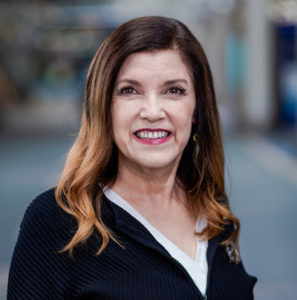 Mary Point
Manager, Indigenous Relations, Vancouver International Airport
Mary is passionate about her vision to connect everyone coming to B.C. with an Indigenous experience to educate and inform visitors about her Musqueam culture. Before joining YVR, she was the manager of the Musqueam Cultural Centre and also worked throughout British Columbia developing strategic partnerships with a range of First Nations communities and local businesses. Instrumental in key alliances with Indigenous nations and promoting Indigenous Tourism, Mary drove the development of and partnership with YVR Airport and ITBC to host an interactive digital kiosk, so all international departures would have a touchpoint with BC's Indigenous culture.
Mary seamlessly weaves culture and protocol into best practices for those seeking to do business with First Nations individuals and organizations, ensuring partnerships are authentic to Indigenous culture. With a depth of experience in strategic communications, partnerships and community relations, Mary combines all her strengths and passion to champion Indigenous culture with YVR Airport.
About Indigenous Tourism BC:
Indigenous Tourism BC (ITBC) is a non-profit, Stakeholder-based organization committed to growing and promoting a sustainable, culturally rich Indigenous tourism industry. Through training, information resources, networking opportunities and cooperative marketing programs, ITBC is a resource for Indigenous entrepreneurs and communities in BC who are operating or looking to start a tourism business. ITBC works closely with tourism, business, educational and government organizations to help BC's Indigenous tourism businesses offer quality experiences and actively promote these experiences to visitors and residents. www.indigenousbc.com
Media release and women's images provided by Nine Point Agency. Feature image courtesy of Indigenous Tourism BC.