Since opening during the pandemic we have come a long way, and this year we are more excited than ever to share that our new releases have been awarded bronze, silver, and double gold at this year's WineAlign and All Canadian Wine Championships.
As a small family-owned and operated winery, we couldn't be more thrilled to learn that others are recognizing and enjoying our wines after all the hard work put in.
2021 Gewürztraminer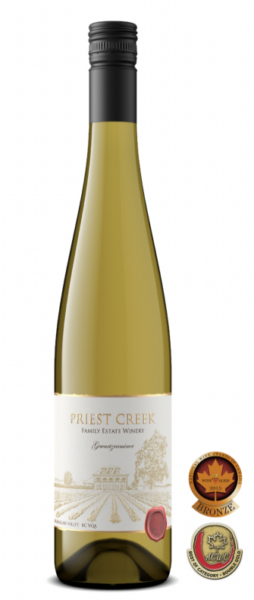 WINEMAKING
This wine is sourced from our estate's oldest vines which are now 30 years old. The terroir consists of South-Western facing slopes with predominantly sandy soil and a notable amount of limestone. The grapes were hand-harvested, then crushed and destemmed before a gentle two-hour press. The fermentation took place over nine days, and the wine was cold stabilized before bottling.
TASTING NOTES
Enticing aromas of rose and blossom jump from the glass with an aromatic elegance. On the palate, a silky-smooth body brings forth notes of lychee, jasmine, and honeysuckle with a touch of acidity that delicately dances on the tongue. The finish lingers with a hint of candied ginger spice.
PAIRINGS
This wine pairs exceptionally well with the complex spice notes found in Thai cuisine, we recommend a green Thai curry. Other suggested pairs are Quiche Lorraine, and lychee tuna tartare.
2020 Pinot Noir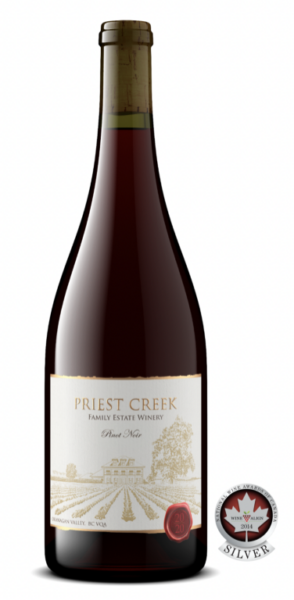 WINEMAKING
The grapes were sourced from the South East Kelowna bench on South facing slopes with predominant limestone and sand soils. The grapes were hand harvested, crushed, and destemmed at the winery before being transferred to stainless steel tank for alcoholic fermentation. The wine underwent malolactic conversion and was transferred to new French Oak puncheons for 15 months of maturation.
TASTING NOTES
Our 2020 Pinot Noir is light and smooth on the palate. The nose presents with notes of dried rose petals, vanilla, and blueberry. Although light-bodied, the palate packs a punch with bright red berries and hints of dark berries. Delicate spice notes of clove and pepper dance along the finish with lingering subtle vanilla notes.
PAIRINGS
We recommend pairing this flavorful Pinot Noir with carnitas tacos, or seasoned pork chops.
Priest Creek Family Estate Winery
Priest Creek Family Estate Winery's desire is to provide a collection of premium wines that can be shared today or cellared for the future. Founded through Darren and Jane, their wish was to raise their children on a vineyard, bringing them back to their farming roots. We are located on the Southeast Kelowna Wine Trail in the beautiful Okanagan Valley, boasting beautiful mountain vistas from each direction.
Information and images courtesy of the winery.