"In this series we bring you our #FavouriteThings Holiday Gift Suggestions which we personally recommend"
This is liqueur that deserves the designation of "a classic". So delicious and so versatile. Your shelf should have a bottle of Grand Marnier Cordeon Rouge ready to enjoy! Grand Marnier makes just the perfect gift for rhe holidays!
Grand Marnier® CORDON ROUGE LIQUEUR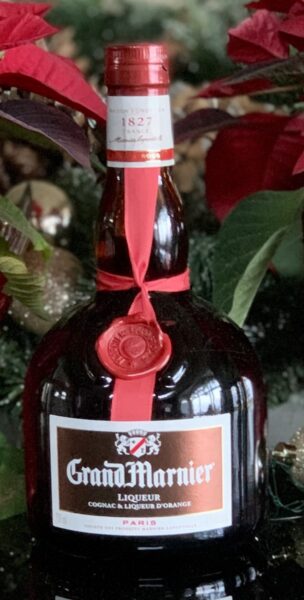 TASTING NOTES
colour
Bright topaz, brilliant with gold and amber tints.
aroma
Attractive orange notes with nuances of candied zests; vanilla flavours from the cognac.
flavour
Full and ample; bitter oranges aromas balanced by cognac notes of hazelnuts and toffee. The finish is long and harmonious.
BEST WAY TO SERVE Grand Marnier® CORDON ROUGE LIQUEUR
The powerful and complex aromas and flavors of Cordon Rouge are perfect for grand cocktails.
ENJOY GRAND MARNIER® CORDON ROUGE COCKTAILS
Grand Marnier takes cocktails to a more sophisticated level, straying from conventional luxury with a creative, unique and refined twist.
Grand Marnier®
COCKTAILS
Grand Marnier takes cocktails from ordinary to unforgettable, adding a layer of sophistication to some of the world's most well-loved drinks.
HOW TO MAKE GRAND MARNIER® OLD FASHIONED
ingredients
1 part Grand Marnier® Cordon Rouge
1 part Russell's Reserve Bourbon
3 dashes aromatic bitters
Large ice cube
Orange twist garnish
make it
Build cocktail in the double rocks glass. First, dash aromatic bitters directly into the glass. Next, add Grand Marnier Cordon Rouge, followed by the bourbon.
Add large block ice cube and stir until well incorporated and cold
Garnish with orange twist, expressing oils over the surface of the cocktail and placing it on lip of cocktail glass. You are now ready to enjoy an Old Fashioned with Grand Marnier.
HOW TO MAKE GRAND MARNIER® SIDECAR
ingredients
1.5 parts Grand Marnier® Cordon Rouge
1.5 parts Cognac
0.5 parts Fresh lemon juice
make it
Combine Grand Marnier® Cordon Rouge, cognac and fresh lemon juice in a cocktail shaker with ice.
Shake vigorously until well chilled. Strain into prepared coupe glass and serve. Grand Sidecar cocktail is ready.
More Grand Marnier® Cordon Rouge cocktaill recipes here.
legacy
The history of Cordon Rouge is inextricably linked to that of Grand Marnier. One day, Louis-Alexandre had the inspiration to blend cognac, the finest of all spirits and the pride of southwestern France since the seventeenth century, with aromatic orange essence. He took more than a decade to create, improve, and refine the liqueur that the world would one day know as Grand Marnier Cordon Rouge liqueur. It was 1880 when the legend was born.
Notes courtesy of Grand Mariner® Images: MyVanCity. I received complimentary product to facilitate this feature.