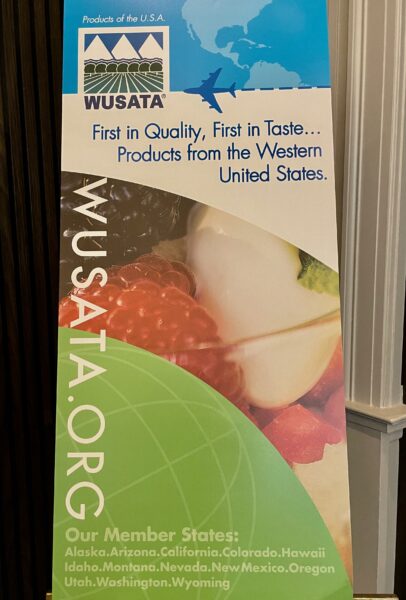 This is the third of a four-part series featuring U.S.-crafted cider, distilled spirits, and wine.  The trade mission made stops in Calgary and Montreal.
With producers stretching from Arizona to Alaska, common themes in the room focussed on deep commitments to using local products, giving back to the community, reflecting terroir, sustainability, and regenerative practices.
Many of these people had previously held careers in law, banking, and engineering, but yearned for something that would allow them some artistic expression.
Fourteen vendors took part in this trade mission – one each from Arizona and Alaska, four from California and Oregon, three from Colorado, and five from Washington.  They consisted of four distilleries, one meadery, eight cideries, and two wineries.
Today we look at the four distilleries.
Arizona Distilling Company
Arizona
This company makes an extensive lineup of spirits in Tempe, Arizona.  Now in their eleventh year, they are the second oldest distiller in Arizona and the largest producer of Arizona's first Bourbon.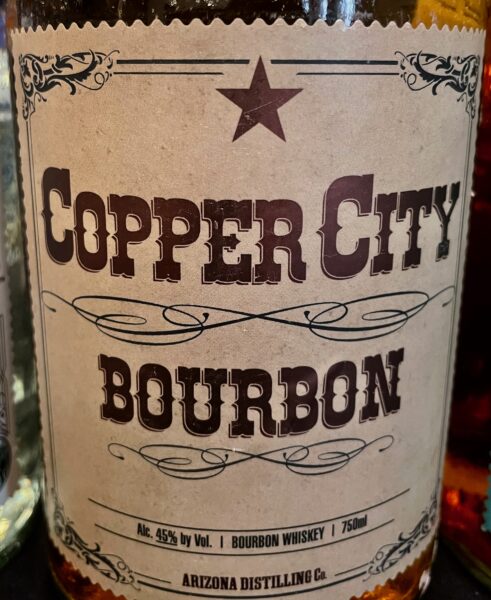 Arizona Distilling has embraced the outlaw old west look for its products.  Their Single Barrel Cask Bourbon is finished in oak barrels that previously held red wine.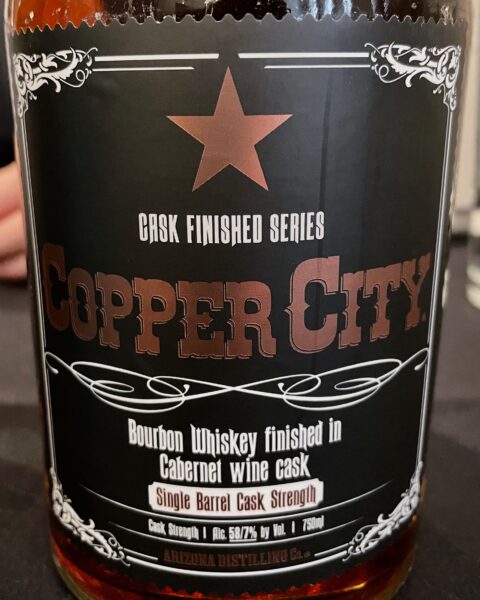 Many people do not know that the state of Arizona produces amazing barley and wheat. Arizona Distilling is the first Arizona grain-to-bottle producer to use desert Durham wheat which does well in the hot arid climate.   They were the first recipient of the San Francisco World Spirits Competition to win double gold medals in three separate categories – for their gin, vodka and specialty whiskey.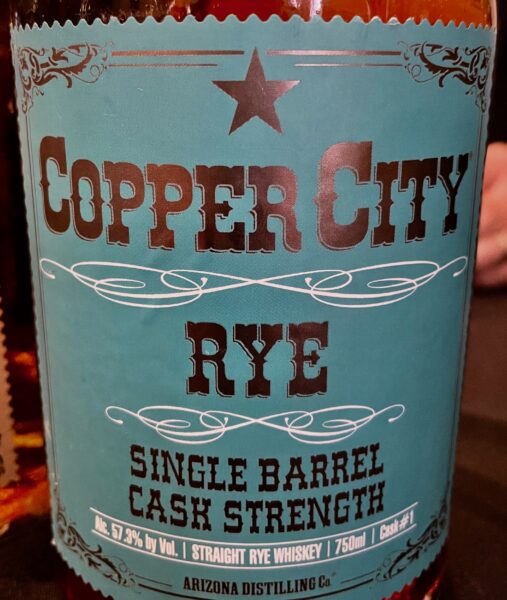 Arizona Distilling uses sustainable bottles that are made from recycled glass and they have moved to regenerative desert grains.
Malt whiskey from 2014 is another of their gold medal winners.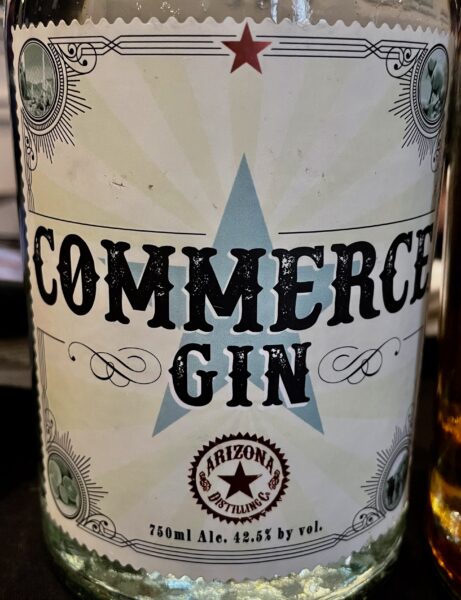 Commerce Gin is made from locally sourced Arizona botanicals.
I learned a lot from Jon about distilling, temperature and moisture control and achieving ideal alcohol levels for each of their products.
For more information, contact:
Jon Eagan
Azdistilling.com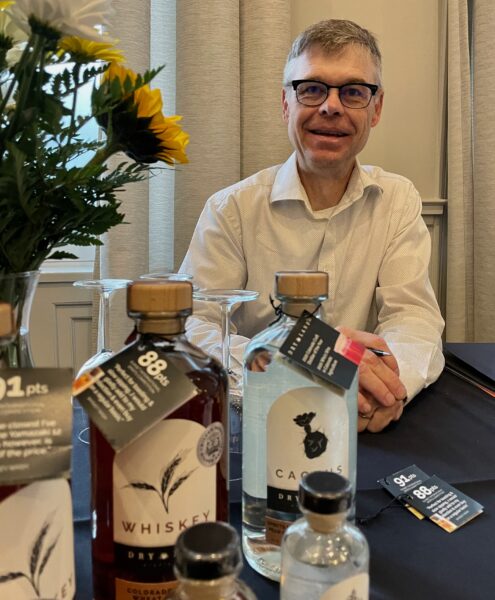 Dry Land Distillers
Colorado
Dry Land Distillers make some unique spirits including single-grain wheat whiskeys, a prickly pear cactus spirit and the first truly native Colorado gin.
This company is just five years old.  Nels was a consulting firm employee when he and the other principals felt that there was a niche for a Colorado distillery that focused on local ingredients.  Colorado is a dry semi-arid region so classic grains such as corn and barley do not do well in the area.  The company worked closely with botanists from the University of Colorado to identify grains that were native or suitable to Colorado.  They identified a type of wheat that was undergoing a rebirth called white Sonora.  The Noble Grain Alliance told them that it was one of the oldest wheat strains in North America.  The genetic profile shows that it goes back about 2500 years in the American southwest.  They believe they were the first to malted it.
Experiments began in their basement.  These tests showed that it could be used to produce good-quality spirits.  There are very few single-grain malted wheat whiskeys available.  It is currently quite uncommon as traditional grains have gained a foothold in more recent years.  Wheat is more expensive to buy and the process is more difficult, the alcohol content lower and the yields lower compared to corn which is higher in sugar.   Wheat has no husks or hulls and has higher glutenous content, which makes it harder to work with.   Through lab analysis, they discovered how to use temperature controls to control the activation of enzymes.  Their mash temperatures are quite low compared to the norms.  Dry Land also did a lot of research into developing a proper yeast strain to give them the desired results.  This is a true 100% Colorado product.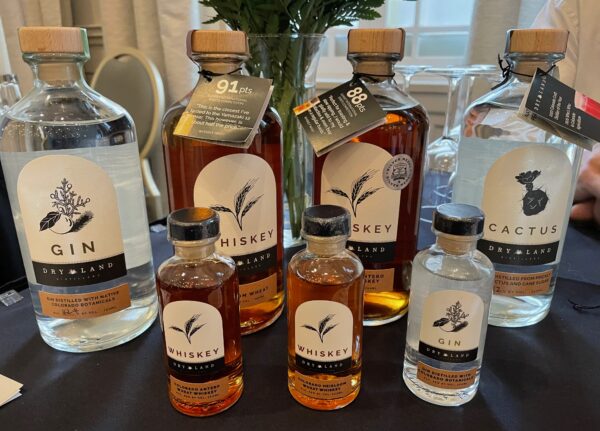 The prickly pear cactus spirit is a homage to where they live.  It was a long journey from looking at the agave-based spirit that would have required importation and all the associated problems, and then he stumbled across local cactus and found that the Colorado State University had done a five-year project to see if there was a commercially viable application for it.  A professor shared his research findings with Nels.  They found that it was prolific, had high nutritional content, liked alkaline soils, was dryland tolerant, improved the soils, attracted beneficial insects, and created a habitat for animals.  In addition, there is enough starch and sugars in the pads and the fruit to be a suitable substitute for agave.  It is prolific in Colorado.  They smoke the pads to break down the sugars and starches, then mash and distill.  The sugars are seasonally based, in the rainy season, the pads are plump.  In the dry season, they are dried and shrivelled so they have to work to even that out.
Dry Land is working with three growers and has started a long-term project to see if local indigenous groups might want to get involved in prickly pear cactus cultivation.  Production is about 5 barrels a month for this product.
Dry Land was the recipient of the 2020 Colorado Craft Distiller of the Year and many other awards.
For more information, contact:
Nels and Teresa Wroe
Drylanddistillers.com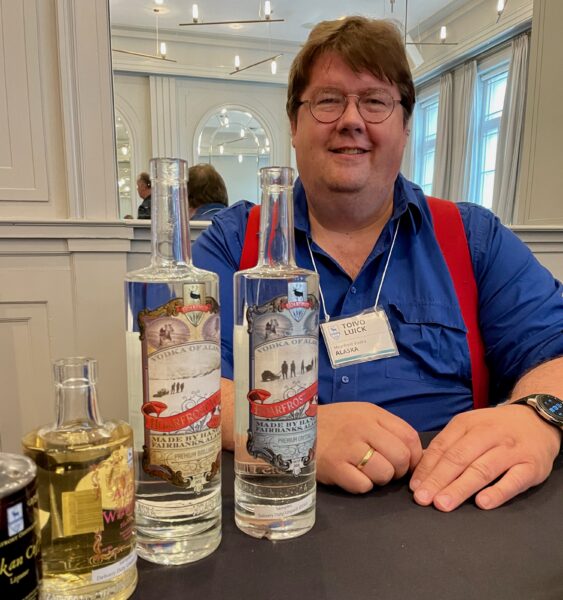 Hoarfrost Vodka
Alaska
Toivo and Natalya Luick's Hoarfrost began as a vodka distillery and later branched out and added native berry liqueurs to their portfolio.
This Alaskan family-owned company's chief focus is on world-class vodka for export.  Trained as a chemist, Toivo had studied vodka making as a hobby since 1992.  When they opened the distillery, he designed a unique fractionating column and activated carbon filtration column because he wanted something bigger and more robust than what was available commercially.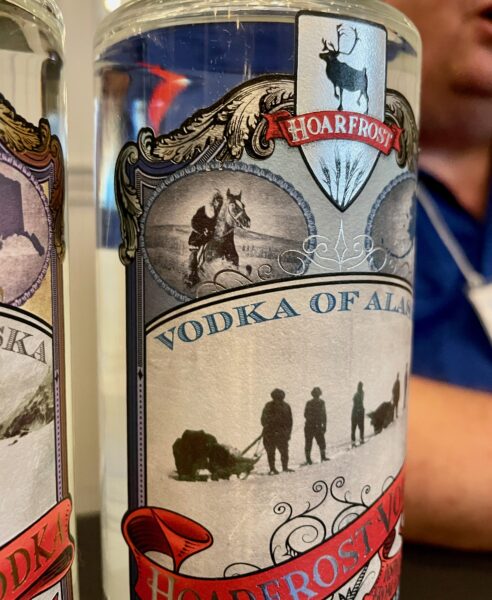 Hoarfrost uses 100% Alaskan ingredients.  The label and bottle design harken back to the early days of Alaskan exploration.  The label is his design and he was helped by a graphic artist.  The centre shows the first expedition to climb Mount Logan and the men transporting their goods by pushing sleds up the snow-covered mountainside.  Toivo aimed to capture the frontier of the Alaskan lifestyle with these antique photos.  In the top left corner of the label is a small circular inset photo of his mother riding her horse through the snow of Fairbanks in the early sixties.
Contrary to what many believe, not all vodkas are made from potatoes (actually very few).  Most are made from grains.  Hoarfrost's process begins with a farmer who supplies them with all of their barley. (Alaskan potato farming tends to mostly go for seed potato as it is virus-free and scab free so there is little available) and he much prefers grain alcohol.   Grain growing is very active in Alaska as it is used for animal feed.   He gets 4000 pounds delivered at a time. They mill and ferment it, distilling it three times.  His carbon trapping system is key to achieving their level of quality.  The top-level Brilliant Vodka is filtered 5 times and due to their rigorous selection process, they only get 50% as much product.  Toivo is very proud of his product and would like to taste them blind in Russia, but that will have to be put on hold for a while.
His liqueurs all have very different recipes to achieve just the right flavour profile.  Some need more fruit or a lengthier maceration, some need slightly higher alcohol levels to bring out the best flavours.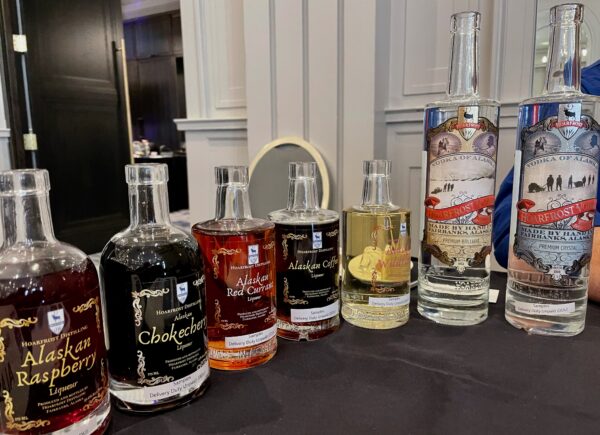 His Alaskan Raspberry is made from local hand-picked berries and is their best seller.  It is different though from Chambord, the French raspberry liqueur.  This liqueur is fresh and tasty, not overpowering nor too sweet.  It is sure to be a big hit with everyone.
Choke Cherry was delightful and I am told it pairs well with light tonic water.
Red Current Liqueur is very tasty and well-balanced.  Harder to get people to try this one as many are not familiar with what a red currant is.
Hoarfrost also makes Gooseberry and Black Currant liqueurs as well.
It was fascinating chatting with Toivo.  I learned a lot from him about distillation and making vodka.
For more information, contact:
Toivo and Natalya Luick
Hoarfrost.vodka
(no photo available)
Wood's High Mountain Distillery
Colorado
This distillery was founded by brothers PT and Lee Wood in 2012.  PT had been inspired for years by a dream of making distilled spirits, but he wasn't able to realize it until state legislation changed in 2007 to allow for small-scale distillation.  PT and brother Lee quickly got down to business, found a building, bought equipment, and learned all they could about the business.  They managed to get their hands on an old German-built pot still that harkened back to the 1880s.  They named 'her' Ashley and she was soon cranking out small batches.  In December 2012, Wood's Mountain Distillery opened its doors to the public.
Products include malt whiskey, rye whiskey, several varieties of gin, potato vodka, ready-to-drink canned cocktails, and Elderflower liqueur.  All are made from local ingredients and pure mountain water.
For more information, contact:
Lee Wood
Woodsdistillery.com
Thanks to Elisa Daun, Trade Specialist for the Washington Department of Agriculture for organizing this tour and to Henry Vega of Montreal-based Congressum for the invitation.
(All photos – Sam Hauck)