Visa Infinite Dining Series 
Experience some of the best restaurants and chefs in your city
If your card says Visa Infinite, you get access to chef-curated events at top restaurants through the Visa Infinite Dining Series.
Each in-person event features:
A multi-course meal at some of the country's most notable restaurants.
WELCOME TO THE VISA INFINITE DINING SERIES, WINTER 2023
Winter is the season of luxuriously bold and deeply satisfying flavours, best savoured with good company. This collection of carefully curated Visa Infinite Dining Series experiences features collaborative feasts and Prix Fixe tasting-style menus paired with exciting wines and cocktails at some of the country's most highly sought-after tables. We hope you enjoy these exclusive dining experiences cooked up just for you.
The best way to explore the complex savoury and spicy flavours of Roy Oh's Korean Kitchen is with this value-driven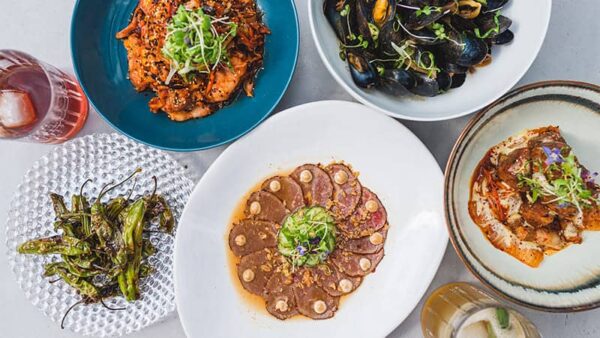 PRIX FIXE TASTING MENU
Welcome Drink:
Parabolic Cava Brut Nature, Adernats, Spain
Albacore Tuna Tataki with Yujacha Dressing, Thai Chili, Kaenip Oil, Pickled Red Onion
Spicy Lamb Potstickers with Garlic Chili Oil, Black Vinegar, Soy
—
Korean BBQ with Choice of Protein, Served with Rice and Side Dishes
Striploin with Sesame Oil
—or—
Soy Marinated Ribeye
—or—
Black Truffle Chicken
—or—
Spicy Baby Back Ribs
—
Misugaru Creme Brûlée
$65/person
ROY'S KOREAN KITCHEN
Prix Fixe Dinner Menu
Tuesday Mar 14
Wednesday Mar 15
Thursday Mar 16
Friday Mar 17
ABOUT THE VISA INFINITE PRIX FIXE SERIES
Book your reservation and enjoy delicious prix fixe menus curated by top chefs and restaurant teams at some of Canada's favourite restaurants. Discover exciting new restaurants or revisit your favourites and experience what the restaurant does best in the most accessible way. Preview the menu, choose your reservation from the list of dates and times, and pre-pay for your table in advance to confirm your spot for an evening that is as effortlessly simple as it is delicious.
ABOUT ROY'S KOREAN KITCHEN
Calgary loved Chef Roy Oh's first restaurant, the small-plates-focused Anju. Now at the friendly, upscale-casual Roy's Korean Kitchen, he's returning that love with a menu of irresistible drinks and snacks that capture all the complex savoury and spicy flavours of his heritage, but with a contemporary twist. He serves classics like beef bulgogi alongside dishes that incorporate international traditions such as tortellini or tacos. It's all made for sharing and best enjoyed with his list of creative cocktails. This special prix fixe experience is the best way to experience all this talented chef does best.
Note: This is a prix fixe menu with no substitutions. Additional menu items or drinks may be ordered and paid for separately. Reservations are booked for two hour blocks. Venues are not suitable for young children. Please note that the food in the image above is a representation of the restaurant's style of cuisine, not a representation of this prix fixe menu. While this is a set menu, some ingredients may differ based on seasonality and availability. Any changes will be communicated at least seven days prior to the reservation.