Visa Infinite Dining Series 
Experience some of the best restaurants and chefs in your city
If your card says Visa Infinite, you get access to chef-curated events at top restaurants through the Visa Infinite Dining Series.
Each in-person event features:
A multi-course meal at some of the country's most notable restaurants.
WELCOME TO THE VISA INFINITE DINING SERIES, WINTER 2023
Winter is the season of luxuriously bold and deeply satisfying flavours, best savoured with good company. This collection of carefully curated Visa Infinite Dining Series experiences features collaborative feasts and Prix Fixe tasting-style menus paired with exciting wines and cocktails at some of the country's most highly sought-after tables. We hope you enjoy these exclusive dining experiences cooked up just for you.
Chefs from Restaurant Pearl Morissette meet at newly opened Novella for a dinner event that is sure to be one for the history books.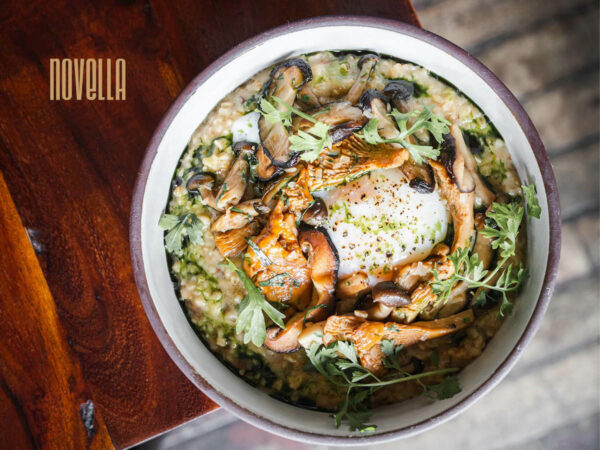 A star-studded chef collaboration as Novella hosts Restaurant Pearl Morissette 
Novella
2650 Main St
Vancouver, BC
V5T 3E6
In-Person Dinner
$225 per person (taxes extra) Includes:
• Canapés
• Multi-course meal
• Cocktail and wine pairings
• Gratuity and ticketing fees
ABOUT THIS VISA INFINITE DINING SERIES IN-PERSON EXPERIENCE
Novella is writing a whole new chapter on collaborative cooking and dining. The newest restaurant from the team behind Published on Main just opened at the end of 2022—by day a coffee bar and by night, a dinner spot. For this event, Chef Ashley Kurtz, formerly the Chef de Cuisine at Michelin-starred St. Lawrence, and Gus Stieffenhofer-Brandson, Executive Chef at Michelin-starred Published on Main, welcome guest chefs Daniel Hadida and Eric Robertson from Niagara's Restaurant Pearl Morissette, currently No. 4 on Canada's 100 Best and recently listed on La Liste's Top 500. This quartet of some of Canada's most creative and skilled chefs will serve up a dinner that will be one for the books, all to be enjoyed with low-intervention wines from Pearl Morissette, who together are founded on a holistic approach to regenerative practices and processes.
ABOUT NOVELLA
Novella is the latest release from the team behind Michelin-starred Published on Main, which is currently the No. 1 restaurant on Canada's 100 Best. Novella is at once a coffee bar, breakfast spot, neighborhood grocer, and dinner destination with a goal of connecting guests with small producers. The kitchen is led by the talented Chef de Cuisine, Ashley Kurtz, with an able assist from the skilled team at Published, overseen by Executive Chef Gus Stieffenhofer-Brandson.
ABOUT DANIEL HADIDA AND ERIC ROBERTSON
The Co-Executive Chefs at Restaurant Pearl Morissette share an agrarian philosophy, a globe-trotting, Michelin-starred résumé and now the kitchen at one of Canada's finest farm-to-table restaurants. Daniel Hadida joined the winery as Chef in 2015 and opened the restaurant in 2017. Previously, he had spent time working on organic and biodynamic farms around France and Belgium, which is where he met Eric Robertson while working at Michelin-starred In De Wulf in Dranouter. It is here that they met Chef Kurtz, and the three kept in touch while abroad, sharing experiences as Canadian chefs with similar culinary backgrounds and passions. In 2017, Chef Robertson joined Chef Hadida at Restaurant Pearl Morissette and the rest, as they say, is history.
Note: This event may have communal seating. Any changes to this event will be communicated at least 7 days prior to the event. Events run approximately 3-4 hours and venues are not suitable for young children. Please note that the food described above is a representation of the restaurant's style of cuisine; actual dishes on the menu may differ based on seasonality and availability.
Click here to explore more delicious dining events with the Winter 2023 Visa Infinite Dining Series.