Visa Infinite Dining Series 
Experience some of the best restaurants and chefs in your city
If your card says Visa Infinite, you get access to chef-curated events at top restaurants through the Visa Infinite Dining Series.
Each in-person event features:
BA multi-course meal at some of the country's most notable restaurants.
WELCOME TO THE VISA INFINITE DINING SERIES, WINTER 2023
Winter is the season of luxuriously bold and deeply satisfying flavours, best savoured with good company. This collection of carefully curated Visa Infinite Dining Series experiences features collaborative feasts and Prix Fixe tasting-style menus paired with exciting wines and cocktails at some of the country's most highly sought-after tables. We hope you enjoy these exclusive dining experiences cooked up just for you.
Dine to a Latin-Caribbean beat at the exciting, new Fortuna's Row Supper Club.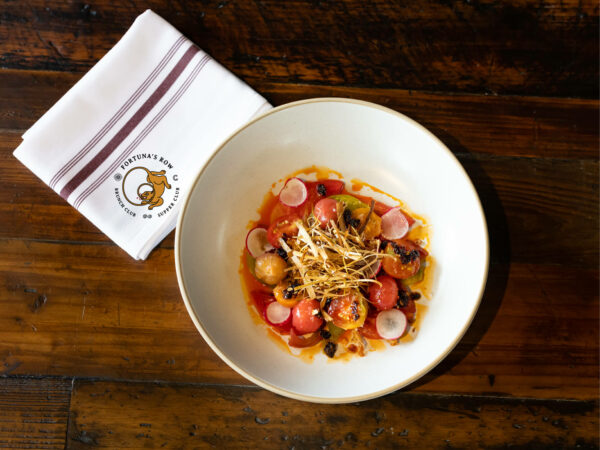 Fortuna's Row sizzles with Latin-Caribbean flavour.
Fortuna's Row
421 Riverfront Ave
Calgary, AB
T2G 0C2
In-Person Dinner
$195 per person (taxes extra) Includes:
• Canapés
• Multi-course meal
• Cocktail and wine pairings
• Gratuity and ticketing fees
ABOUT THIS VISA INFINITE DINING SERIES IN-PERSON EXPERIENCE
Warm up a chilly winter's night with a chef collaboration that celebrates killer cocktails and the sun-soaked cuisine of Latin America and the Caribbean at one of Calgary's hottest restaurants, Fortuna's Row Supper Club. The evening begins in Standing Room Only, the moody, low-lit cocktail bar and lounge. Guests will sip on in-house creations developed by Syndicate Hospitality Group's Beverage Director Ivana Lovric, one of Calgary's leading mixologists who is known for her fresh, well-balanced flavours. Then guests move into the dining room where Chef Mikko Tamarra welcomes guest Chef Tre Sanderson, winner of Top Chef Canada Season 10, for a seated feast of savoury small plates and woodfire-grilled meats inspired by the traditions of Peru, Mexico and Jamaica. This is where the party really gets started in the towering, beautiful dining room of one of Calgary's most exciting new spaces. Emceed by Mijune Pak, food and travel personality, and Top Chef Canada judge, this is a thrilling collaboration not to be missed.
ABOUT FORTUNA'S ROW SUPPER CLUB AND MIKKO TAMARRA
Just opened in Autumn 2022, Fortuna's Row is a dynamic contemporary Latin American brunch and supper club located on Calgary's riverfront—and already one of the most sizzling hot spots in town. The latest project from Syndicate Hospitality Group has a cool industrial- warehouse-meets-Tulum-beach-club vibe that is almost as much of a draw as the delicious fare created by Chef Mikko Tamarra, who's past experience includes stints at top restaurants including Pujol in Mexico City and Astrid y Gaston in Lima. Best known for his pop-up Con Mi Taco, he brings his expertise cooking at top restaurants throughout Latin America to a menu that celebrates the abundance of Mesoamerica. Authentic dishes made from fresh ingredients are cooked over live fire, and pair beautifully with the exceptional cocktails crafted by Ivana Lovric, SHG's Beverage Director and formerly the Bar Manager at Shelter Cocktail Bar.
ABOUT TRE SANDERSON
Trevane "Tre" Sanderson is the most recent winner of Top Chef Canada. A first- generation Canadian with Caribbean roots, he brought inspiration from his Jamaican heritage to his performance on Season 10, and his fascination with other cuisines to his role in some of Toronto's best kitchens, including Baro and Hotel X. He is thrilled to be recognized as Top Chef Canada's first Black winner.
Note: This event may have communal seating. Any changes to this event will be communicated at least 7 days prior to the event. Events run approximately 3-4 hours and venues are not suitable for young children. Please note that the food described above is a representation of the restaurant's style of cuisine; actual dishes on the menu may differ based on seasonality and availability.
ABOUT THE VISA INFINITE PRIX FIXE SERIES
Book your reservation and enjoy delicious prix fixe menus curated by top chefs and restaurant teams at some of Canada's favourite restaurants. Discover exciting new restaurants or revisit your favourites and experience what the restaurant does best in the most accessible way. Preview the menu, choose your reservation from the list of dates and times, and pre-pay for your table in advance to confirm your spot for an evening that is as effortlessly simple as it is delicious.
Click here to explore more delicious dining events with the Winter 2023 Visa Infinite Dining Series.