Visa Infinite Dining Series 
Experience some of the best restaurants and chefs in your city
If your card says Visa Infinite, you get access to chef-curated events at top restaurants through the Visa Infinite Dining Series.
Each in-person event features:
A multi-course meal at some of the country's most notable restaurants.
WELCOME TO THE VISA INFINITE DINING SERIES, WINTER 2023
Winter is the season of luxuriously bold and deeply satisfying flavours, best savoured with good company. This collection of carefully curated Visa Infinite Dining Series experiences features collaborative feasts and Prix Fixe tasting-style menus paired with exciting wines and cocktails at some of the country's most highly sought-after tables. We hope you enjoy these exclusive dining experiences cooked up just for you.
Michelin stars will light the Calgary sky when Major Tom welcomes the award-wining chefs from
SingleThread Farm and State Bird Provisions.
Major Tom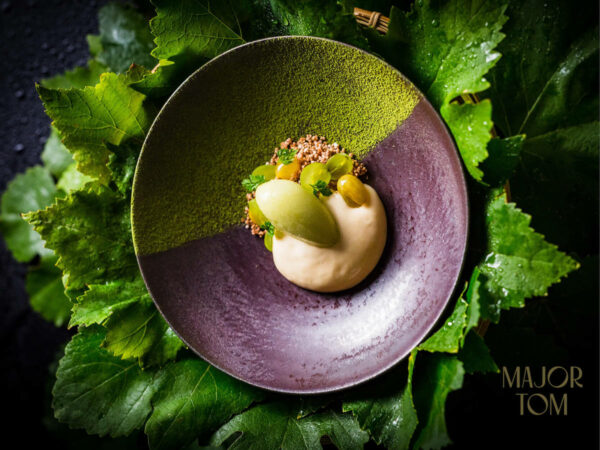 Michelin stars dazzle this Major Tom, SingleThread, State Bird chef collaboration – WAIT LIST
Calgary, AB
February 27th
Book Major Tom
Wait List
In-Person Dinner
$275 per person (taxes extra) Includes:
• Canapés
• Multi-course meal
• Cocktail and wine pairings
• Gratuity and ticketing fees
Major Tom
700 2 St SW #4000
Calgary, AB
ABOUT THIS VISA INFINITE DINING SERIES IN-PERSON EXPERIENCE
Since it opened 40 storeys above downtown Calgary, Major Tom has become one of the city's—make that the country's—most exciting dining experiences. In fact, Canada's 100 Best named it Canada's Best New Restaurant and enRoute listed at No. 8. Now, the wildly talented team welcomes chefs from three of California's most exciting Michelin-starred restaurants to a rare and extraordinary dinner. Chef Kyle and farmer Katina Connaughton showcase their ingredient-driven, Japanese-influenced dishes from their three-Michelin- starred, World's 50 Best-anointed SingleThread Farm. Bringing even more creative bounty from the Golden State is James Beard Award-winning Stuart Brioza, Chef and Co-Owner of starred State Bird Provisions and The Progress. Chef JP Pedhirney, Concorde Entertainment Group's VP of Culinary Operations will co-host with the skilled team at Major Tom, including Chef de Cuisine Garrett Rotel, Pastry Chef Jordan Hartl, and Blair Clemis, Concorde's newest Culinary Director who was previously Executive Chef of Model Milk and Pigeonhole. This seven-course meal will be paired with elegant wines and Woodford Reserve Bourbon cocktails and will be the sort of event guests will talk about for years to come.
Click here to explore more delicious dining events with the Winter 2023 Visa Infinite Dining Series.
ABOUT MAJOR TOM
Named the country's best new restaurant by Canada's 100 Best—and placing 12th overall— Major Tom floats 40 floors above the world in a panoramic dining room designed by Frank Architecture and Interiors. Since it opened in 2021, Major Tom has been Calgary's most in-demand dining experience, largely thanks to the talent leading the kitchen. Chef JP Pedhirney, VP of Culinary Operations for the Concorde Entertainment Group, oversees operations at Major Tom and 17 other restaurants including the award-winning Lulu Bar and Bridgette Bar. He is joined in the kitchen by Blair Clemis, Concorde Culinary Director, Garrett Rotel, Major Tom's Chef de Cuisine, and Pastry Chef Jordan Hartl. At Major Tom, they are influenced by the great dishes of the past, specifically those from the old-world era of Manhattan-style dining with Albertan ingredients.
ABOUT SINGLETHREAD
The husband-and-wife proprietors of the three-Michelin-starred SingleThread Farm, Restaurant and Inn (currently #49 on the World's 50 Best Restaurants list) have created a Northern California destination that combines Chef Kyle's unique take on Japanese Kaiseki-style cuisine with fresh ingredients grown on Katina's smallholding. Chef Kyle brings with him experience from several years cooking in Japan for the famed chef Michel Bras and in numerous traditional Japanese restaurants, as well as a stint as Head Chef of Research and Development for Heston Blumenthal's Fat Duck Experimental Kitchen. He and Katina met at 15; she began her first foray into farming while living in a rural agricultural community in Hokkaido, Japan, and now oversees SingleThread Farm's five-acre property, greenhouses, heirloom orchards, and beehives, as well as the foraging program and floral department.
ABOUT STATE BIRD PROVISIONS & THE PROGRESS
Stuart Brioza is the Chef and co-owner of State Bird Provisions, The Progress and The Anchovy Bar in San Francisco, as well as a co-author of State Bird Provisions: A Cookbook. A recipient of multiple James Beard Foundation Awards (including Best Chef: West 2015) and Michelin stars, Brioza and his restaurants provide a unique environment where people can expect interesting food, distinctive wines and meaningful service. To do this, they remain focused on, support and respect the foundations of their businesses: their staff and purveyors.
Note: This event may have communal seating. Any changes to this event will be communicated at least 7 days prior to the event. Events run approximately 3-4 hours and venues are not suitable for young children. Please note that the food described above is a representation of the restaurant's style of cuisine; actual dishes on the menu may differ based on seasonality and availability.
Partnered with

Informaion and image courtesy of Visa Infinite.