ANCORA WATERFRONT DINING AND PATIO BRINGS BACK ROSÉ MONDAYS
AS WELL AS A NEW TEQUILA MENU ESPECIALLY FOR THURSDAYS
Join Ancora Ambleside every Monday for returning rosé event, 'You Had Me At Rosé'
with an exclusive menu to be enjoyed. Brand new Tequila Thursdays menu has been
created just for tequila lovers to indulge in each Thursday.
Ancora Waterfront Dining and Patio Ambleside location brings back much loved rosé event for patrons as well as a brand new tequila menu to be enjoyed each Thursday – Tequila Thursdays. Guests are encouraged to try both menus as all selections have been carefully thought out to ensure the fullest experience with lots of variety.
TEQUILA THURSDAYS
2oz each
DON JULIO OLD FASHIONED 25
*limited time only*
butter washed don julio anejo, agave syrup, orange bitters
AJI VOLADOR 19
bold and spicy
aji amarillo infused mezcal, aperol, maraschino, lime
MANGO DIAMANTE 18
fruity, layered, earthy
maestro dobel diamante tequila, dry curacao,
white pepper mango syrup, lime
CHIBASHITTA 16
bright and bittersweet
blanco tequila, golden beet infused campari,cointreau, red beet purée, lemon,
cassis, solstice bitters
CLASSIC MARGARITA 14
tart and refreshing
blanco tequila, cointreau, lime, agave
upgrade to a cadillac +10
FLIGHTS
PREMIUM 99
Clase Azul – Central Jalisco – vanilla, pepper, wood
Don Julio 1942 – Ciénega – cooked agave, vanilla, pepper
Padre Anejo – Los Valles- sweet, caramel, oak
Gran Patron – Ciénega – earth, oak, vanilla
MID RANGE 28
La Gritona – Southern Los Altos- raw agave, smooth, cinnamon
Maestro Dobel – Los Valles – white pepper, citrus, cooked agave
Tres Agave – Los Valles – organic, earth, pepper
El Mayor – Southern Los Altos – green agave, smoke, spice
MEZCAL 47
Sombra – San Juan – savory, complex, citrus
Casamigos – Santiago Matatlan – smooth, subtle, sweet
Madre – Santiago Matatlan – sage, earth, lingering
Brije – San Martín Tilcajete – citrus, grass, toasted
Menu: Tequila Thursdays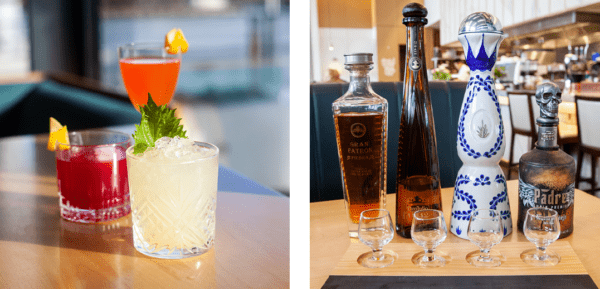 YOU HAD ME AT ROSÉ
ROSÉ MONDAYS
NIKKEI ROSÉ SANGRIA 12
sandhill rosé, capel pisco, triple sec, watermelon chili, 7up
SPARKLING
SERENA 1881 PROSECCO ROSÉ BRUT 12 | 60
ROSÉ
MIRABEAU CLASSIC 15 | 75
CELEBRATING
HENRIOT BRUT 208
PERE VENTURA BRUT CAVA 60
SUMMERILL CIPES SPARKLING BRUT 65
LOUIS ROEDERER ESTATE SPARKLING BRUT 136
FEATURING
ALAIN GUINEAU 84
HEIDI SCHROCK & SOHNE 'TOUR DE ROSE' 112
POGGIO AL TERSORO 'CASSIOPEA' 100
ASTOBIZA 60
LA CREMA 62
BODEGA GARZON ESTATE 54
LARGE FORMAT
CHATEAU LA NERTHE 174
Menu: Rosé Mondays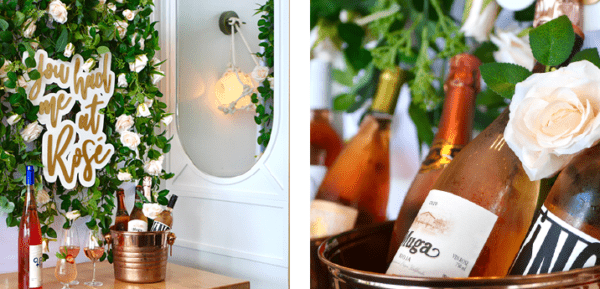 ABOUT VIAGGIO HOSPITALITY GROUP | An award-winning leader in providing a collection of upscale and casual restaurants, bars, nightclubs, hotels, private liquor stores, golf course, and brewery throughout British Columbia. Each establishment is its own unique concept but all are unified in exceptional service, quality offerings, and genuine hospitality – there is something on offer for every type of guest. More information can be found online at www.viaggiohospitality.com.
Media release and images provided by Kelly Jordan Hamilton, Viaggio Hospitality Group.