Burdock & Co Featured in TIME's 2023 List of the World's Greatest Places
TIME has released its third annual list of the World's Greatest Places, and MICHELIN-starred Burdock & Co is featured within the Vancouver profile. The accolade recognizes 50 extraordinary travel destinations around the world, along with recommended experiences for each.
To assemble its coveted list, TIME solicits nominations across a variety of categories – including restaurants, museums, parks and hotels – from editors and correspondents across the world, as well as dozens of industry experts. Each nomination is evaluated, with priority placed on quality, originality, innovation, sustainability and influence.
Vancouver has been included in TIME's list of the World's Greatest Places, with special attention paid to its eclectic cuisine and diverse dining landscapes. Burdock & Co, located in Vancouver's Mount Pleasant neighbourhood, is one of three restaurants spotlighted by TIME's editors. The atmospheric eatery is a love letter to the Pacific Northwest, celebrating its tangle of islands, coastlines and valleys with ingredients sourced from local growers, farmers and foragers. The restaurant's ever-evolving menu is complemented by a curated list of responsibly made wines paired expertly to each dish.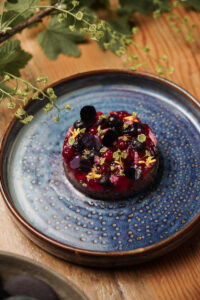 "On behalf of the entire team at Burdock & Co, we are thrilled and deeply honoured to be recognized as a recommended experience in TIME's 2023 World's Greatest Places," said Andrea Carlson, chef and owner of Burdock & Co. "Following on the heels of our MICHELIN Star, this news is further validation of the hard work and dedication demonstrated by our team daily. I firmly believe that if you are passionate and committed, there's nothing you can't achieve – and this global recognition is absolute proof of that."
To see the full list of TIME's World's Greatest Places for 2023, visit www.time.com/worlds-greatest-places-2023.
For more information about Burdock & Co, or to reserve a table, visit www.burdockandco.com.
About Burdock & Co
Burdock & Co is Chef Andrea Carlson's uncompromising vision of what a restaurant can be. Located in Vancouver's charming Mount Pleasant neighbourhood, Burdock & Co. presents a creative menu of seasonally inspired dishes that celebrate the abundance of ingredients harvested by growers, farmers and foragers in the Pacific Northwest. The menu is complemented by responsible wines that tell the story of their unique terroir. www.burdockandco.com
Media release and images provided by Gemma Bishop, Gather Public Relations.