"In this series I will be sharing my take on which BC Wine pairs well with some inspirational recipes"
It wasn't that hard to find a Riesling on my shelf, even though the picking was random. My #BCWineGoals continues as I pick a wine rack option out of a hat (1 in 4 chance) and then pick a shelf. I have such a love affair with Riesling; Tantalus, Synchromesh, Orofino, Wild Goose, and many others that I dare not list in case I miss one. I think you get the idea that I am a Riesling lover.
The challenge was finding a recipe that fit, and turned out I went to an old standby that works for either family or company. More of a summer, in season, dish made easy thanks to the availability of the ingredients year round. Maybe not the prettiest dish, but boy, is it good!
Roasted Vegetable Penne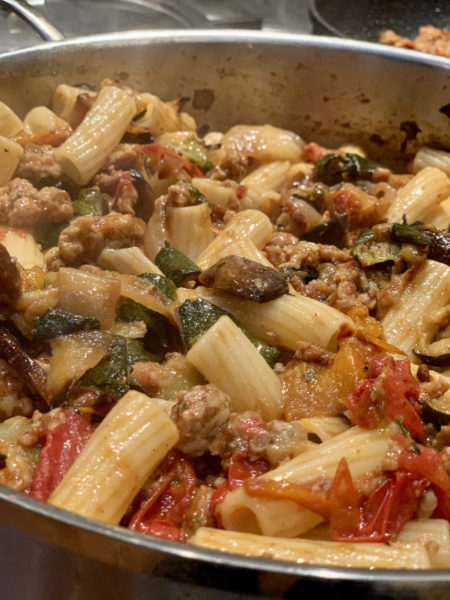 good quality olive oil
large sweet onion
zucchini
mushrooms
grape or cherry tomatoes
bell pepper (orange or red)
salt & pepper to taste
Italian sausage
Penne or pasta of your choice
Grated Parmesan cheese for topping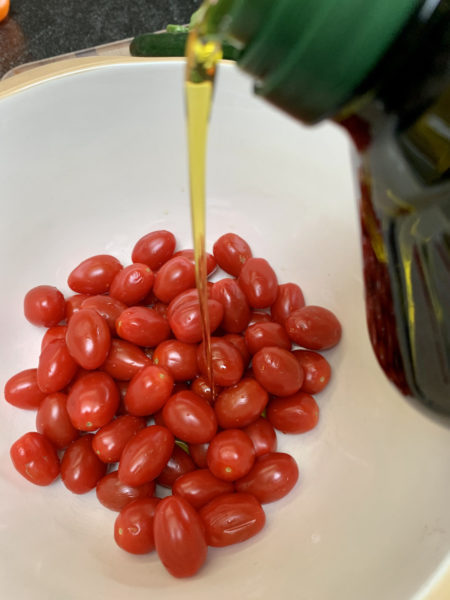 Prep the onion first because it takes longer than most of the other veggies to roast. Peel and slice it into large pieces. Toss it in the olive oil and roast on a parchment lined cookie sheet at 425
The bell pepper can also take a bit longer than the other vegetables so I do that next. To avoid using too many cookie sheets I wait until the onion is about half roasted and add the bell pepper at one end of the cookie sheet, not mixed together.
While the onion is roasting prep the rest of the vegetables, chopping into larger pieces to reserve the juices. Make sure there is enough parchment paper to catch the juices. Lightly salt, add pepper to taste. Roast on separate cookie sheets until caramelized and starting to release their juices.
As soon as they come out of the oven I use a sharp knife and slice them right on the cookie sheet. If you wish you can roast all the vegetables earlier in the day. Roast them separately to retain their flavours.
In a medium high fry pan start to brown the sausage meat. (you can also use sausage links, discarding the casing)
Using a large pan or casserole dish mix all the roasted vegetables and cooked sausage meat together.
I use a mix of mild and medium Italian sausage meat so each bite is a bit different, but feel free to adjust to your liking, mild, medium or hot.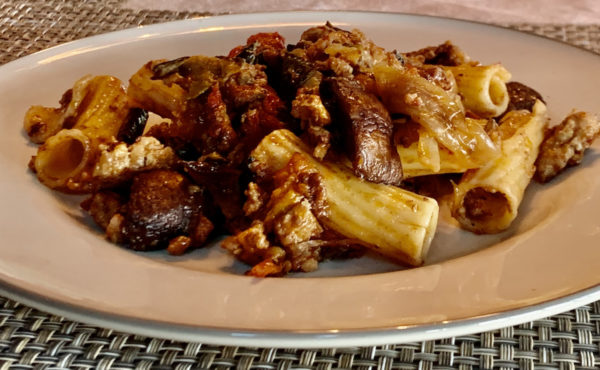 Cook the penne for at least one minute less than directions. Once ready scoop at least a cup of pasta water just in case.
You can either serve with the roasted vegetables on top of the penne or mix together. Top with Parmesan if desired. Nice with Ciabatta bread served with Olive Oil and Balsamic.
Suggest BC Wine pairing:
Tantalus Riesling 2019

There is something about the purity of Riesling that keeps us wrapped around its finger; but pure doesn't always equate to great. It still needs plenty of fostering in the vineyard and delicate handling in the cellar to allow that presence to shine through unimpeded.
It is our cellar team's faith in our viticulture, and in their years of working with our parcels of fruit, that allows this noble variety to express such vibrancy – and most of all to achieve balance.
A shimmery light yellow hue, this wine exudes a complex aroma, evolving in the glass beautifully. Upon opening it leaps out with Meyer lemon and lime zest, there is a touch of the tropics here too – mango and pineapple. The aroma settles into a halfway point of stone fruits; fresh nectarine and apricot.
The palate is focused and yet broad and mouth-filling, quintessential flavours of Kiwi fruit and passion fruit, fresh Granny Smith apple and green melon. The hallmark Tantalus acidity is there in spades but the wine has weight and persistence to provide lovely tension.
The fruit for our 2019 Riesling was hand-picked at optimal ripeness from a variety of blocks, some of which date back to the late 70's. Gently whole-bunched pressed, once in the cellar, ferments were inoculated after a short settling period with a variety of yeasts. Each parcel was fermented separately in stainless steel tanks with individual ferments handled uniquely as part of the overall "blend" and in order to achieve the best point of balance expressed from the vintage. The wine was aged cold on gross lees in separate batches before blending and bottling in the last week of February 2020.
A top Riesling producer from Kelowna, Tantalus has a long history dating to 1927 and the Pioneer vineyard. The spectrum of Riesling grape flavours can be found here from green apple to citrus to tropical. A real treat and as Riesling is the #1 food wine, will go with everything from corn-on-the-cob to potato salad to ham steaks to spicy recipes to grilled fare.
FOOD PAIRINGS
Riesling is Aromatic & Off-Dry
Examples of great pairings: Fruit Salad, Ceviche, Gravalax, Pasta with Spicy Tomato Sauce, Sushi, Raw Fish, Spicy Chicken Stir-fry, Fresh Cheese, Cream Cheese, Chocoloate-dipped Strawberries, Crepes Suzette, Spicy Seafood hotpot and pho
I was definitely concerned about this pairing and whether or not it would work. Expect enticing aromas of fresh tropical fruit, kiwi, lime, stone fruits and a moderately light hint of diesel. Great acidity level that balancesd all those flavours and spice in the dish.
"Ever so slight diesel, apple pie, cinnamon, lemon and pineapple scents. Smooth, light, clear colour. Tart, granny smith apples, superb. Light with body. So drinkable on its own. My #1″ (these are my notes from the BC Wine Flights review, read more here)
Sold out at the winery. $24.46 at BC Liquor Stores
Tasting notes and bottle shot courtesy of the winery. BC Liquor Store tasting notes (in blue) Tasting notes in italics, Valerie van der Gracht, MyVanCity.ca
To read all of my reviews on the wines from the BC Local Wine Flights tasting experience, click here.