Paradise or The Impermanence of Ice Cream is a masala of life, death, cultural traditions, puppetry and environmental concerns with a shot of Bollywood disco music thrown in for good measure.
Jacob Rajan plays Kutisar, a man who has died but is not quite ready to transition to paradise.
Instead, he enters a weird, in-between life and death space where he returns to Mumbai as a young man – perhaps an actual memory or a glimpse of his life as it might have been. During this time, Kutisar meets seven individuals, all played by Rajan, who have a profound effect on him. He experiences some exhilarating highs, devastating lows and has a few regrets. Through his friend, who owns an ice cream shop, Kutisar also unexpectedly discovers a possible explanation for the mysterious disappearance of India's vanishing vultures.
Through Rajan's lively and enthralling performance and intricate puppetry, this is a contemplative piece of theatre that leaves you pondering on the impermanence of life.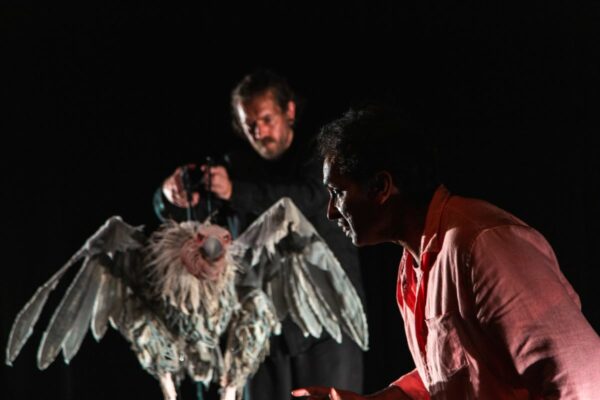 Until April 2, 2023 at The Cultch Historic Theatre.
Writer/Actor: Jacob Rajan
Writer/Director: Justin Lewis
Dramaturge: Murray Edmond
Set Design: John Verryt
Costume Design: Elizabeth Whiting
Puppet Design/Build/Puppeteer: Jon Coddington
Composer & Sound Design: David Ward
Lighting Design/Production/Stage Manager: D. Andrew Potvin
******************************************************
About Indian Ink Company:
The artistic partnership of Jacob Rajan and Justin Lewis is now comfortably in its second decade. Inspired by a love of mask and story they continue to pursue their idea of the 'Serious Laugh'—opening mouths with laughter to slip serious ideas in. With a series of remarkable productions of intimate scale that blend western theatrical traditions with eastern flavours they've shaped Indian Ink to become one of New Zealand's most successful theatre companies —13 national and international awards, significant critical acclaim, standing ovations and sell out seasons in New Zealand and overseas. Since 1997 over 510,000 people have had their lives enriched by these original plays. The aim is to leave an indelible imprint on your heart; that's why they're called Indian Ink.
Photo credit: Ankita Singh