Contributed by BJ Oudman
California is home to glitz and glamour, not just in Hollywood, but also in the wine world. There are rockstar wines that most of us can only dream of buying, but the state is vast and offers a lot of variety in wine styles and yes, price points. The fourth largest wine-producing region in the world (after Italy, France, and Spain), 615,000 acres are under vine, compared to 11,000 in BC. There are 130 varietals planted across the state, while BC has 85. But the same varietal from one region can taste dramatically different from that in another, partly due to the presence of 147 American Viticultural Areas (AVA's) contained within six different growing regions. These regions include Far North, North Coast, Central Coast, Southern California, Inland Valleys, and Sierra Foothills.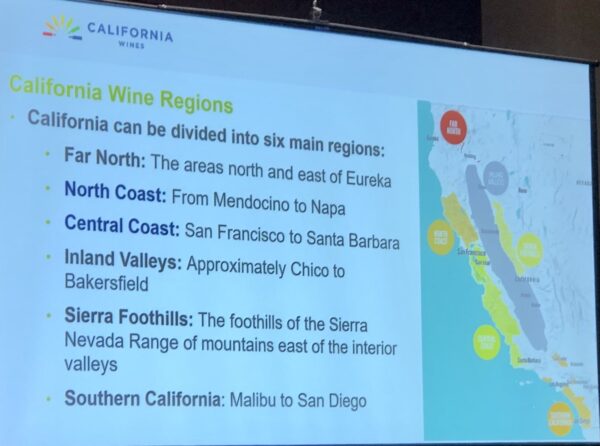 I attended the California Wines: Eureka in the Glass seminar during the Vancouver International Wine Festival in April. This year festival theme was South America, but California had a significant presence, and winemakers in attendance were enthusiastic about sharing not just their wine but their passion. A common thread amongst all was the sense of responsibility to "leave the earth better for the next generations". 82% of California wine is made in a sustainable winery while 60% of the planted acres are certified sustainable. "California has been forward-thinking for decades, but we in BC have only been focusing on this for the past 18 months", explains moderator DJ Kearney, one of Canada's premier wine educators.
Much of California's land development can be attributed to tectonic plate activity. California sits on the seam of the Pacific and the North American plates. During the process of subversion (a topic that requires its own expert explanation), the complex geography of valleys, mountains, and soils that diversifies the topography was created.
Despite the stereotype, not all of California is hot. With a long coastline, many regions, including Sonoma, are affected by the California current, which transports cold Alaskan water south, resulting in cooler winters and warmer summers, as well as producing coastal fog. Gaps on the coast create funnels that cool some inland regions and prolong the ripening time. One example is the Petaluma Gap in Sonoma, home of some of California's best Pinots, due in part to the grapes forming a thicker skin in response to the cool wind. The Stewart Family, owners of Quail's Gate in West Kelowna, also own Lake Sonoma Winery, where some of the vines they work with are affected by these winds. We tasted the 2021 Sonoma Coast Pinot Noir ($36), an earthy, gutsy example of California Pinot.
Lodi, located in the Inland Valleys region, is home to 20% of California's grape acreage. Of the 85 wineries, most are family-owned, one of which is by two brothers, Michael & David Phillips. Their best-selling "Freakshow" Cabernet Sauvignon, with production of 250,000 cases, is a people pleaser and affordable at $30/bottle. Lodi wines have fewer tannins than coastal wines, making them generally more approachable in a younger vintage.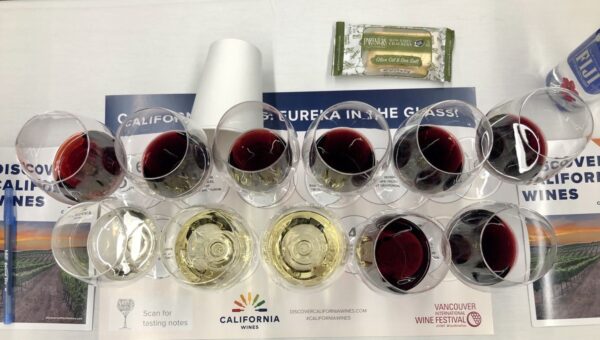 A few other fun facts were divulged during the session. Sparkling wine is the fastest-growing category in California, which is a good thing to balance the increase in demand for times of celebration or "bubbles just because". We all raised a glass of Gloria Ferrer NV Blanc de Blancs (a bargain bottle at $36) to toast the return of in-person events and the ability to share special moments. Somewhat relevant, there are 90,000 acres of Chardonnay in California, 75% of which are the Wente clone. The clone was brought back from France (specifically Meursault) in 1912 by Ernest Wente, son of the founder of Wente Vineyards, Carl Wente, that dates back to 1883. The winery is the longest, continuously family-run winery in the US, with the current winemaker being 5th generation Karl Wente. We tasted the 2021 Wente Vineyards, Livermore Valley, "Riva Ranch" which was big and buttery with a good acidic balance, "perfect for crab cakes" hinted by DJ.
A nice contrast in style was the 2020 Bonterra "The Roost" Chardonnay Single Vineyard from Mendocino County ($45). It had spice on the nose, lemon curd, baked apples, pears and pronounced mineral on the palate, and DJ calling for veal blanquette. Bonterra is a certified organic winery; five of its ranches are also certified biodynamic. While organic entails avoiding the use of chemicals, biodynamic goes beyond. It involves returning to ancient farming practices, introducing animals to the vineyards, and paying attention to astrological and lunar cycles. Bonterra produces the world's first organically farmed carbon-neutral wines and is also BCorp certified.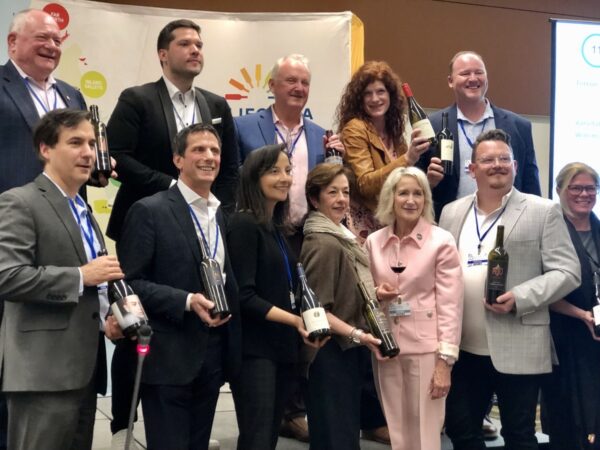 During the seminar, we tasted eleven wines, six of them Cabernet Sauvignon, each with a unique profile. At the International Festival Tasting, a regional tasting station featured California Wines: A Golden State of Mind. My standouts were the 2019 WALT Sonoma Coast Chardonnay, 2019 Chalk Hill Sonoma Coast Chardonnay, 2021 The Calling Pinot Noir, 2020 Paul Hobbs Russian River Pinot Noir, and the 2015 Rodney Strong Symmetry Meritage.
Thank you to Vancouver Wine Festival for all the educational events and this opportunity for in-depth discussion about California wines. The takeaway was that I must get down there, explore the lesser-known regions, and enjoy the influence of unique geography and terroir in my glass.