The annual BC Best Sommelier Competition, run by the Canadian Association of Professional Sommeliers British Columbia Chapter (CAPS BC) brings together the region's best talent and brightest minds in wine to tackle a rigorous written exam and a hands-on practical test that will put the top finishers through their paces.
The candidates will sit for the morning's exam, and the top three scorers will move on to be tested further at the live competition. They will be tasked with all sorts of practical wine service challenges, like decanting, sparkling wine service, menu pairing, spotting errors on a wine list, and blind tasting / identification.
As a spectator the Competition really begins once the exam processes has concluded. The excitement starts to build as all 16 candidates enter the Captain's room to great applause. The candidates are acknowledged and the announcement of the three top candidates takes place.
The three finalists are announced, in random order, and again the spectators noisily share the enthusiasm of what is to come. I can't image the stress and nervous anticipation of these three worthy opponents that have now reached this point in the competition. The candidates are sequestered in suites without access to cell phones or any communications to maintain the integrity of the competition and called out one by one to participate in the next level of the competition.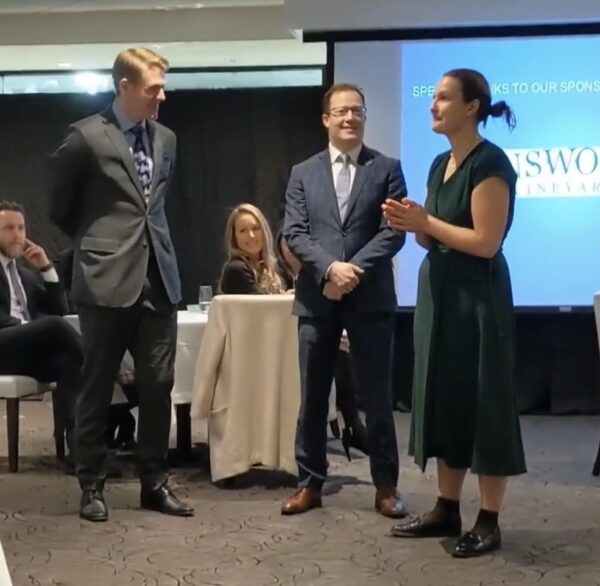 It was very interesting to be a first time observer of the live competition. Each competitor was to perform the same tasks which included "three tables". The first table was a cocktail bar with a single patron who asked to a Hanky Panky cocktail, this was prepared and served. Second table, with four seated patrons, asked for a sparkling wine and a Fitzpatrick was suggested. At this point the guest revealed another bottle of sparkling wine for corkage and requested it be served at a certain temperature, along with the other wine. Third table, with there seated patrons, were being served a magnum of Osoyoos Larose. There was quite a bit of back and forth, including the use of a candle, during the presentation and serving of this wine into two decanters.
At each juncture of the serving patrons were also asked if they required other beverages or suggestions for pairing the wines with dishes.
Each competitor had their own style from slightly casual to rather theatrical. In one case a great deal of pomp was shown in terms of the selection of glassware and the inspection of same.
All three competitors were highly professional, polite, reserved and showed experience and competency in their endeavours and dealings with each guest.
At tables two and three a random request for a recommendation was solicited.
In addition there were two blind tastings; one included three beverages, the first a white wine, the second a cocktail and the third a beverage served in a black glass. The competitors were to name each beverage as well as provide more specific details such as sugar content, ingredients in the cocktail and each one spent some time evaluating each beverage. It appeared that the white wine reached the most comments with the beverage in the black glass giving the competitors the most trouble.
There was also a slide presentation with images of a vineyard, stressed grape leaves and individuals in the wine world, all to be identified within a 10 second interval. Following this slides with wines as you might find them on a restaurant wine list but, apparently to the trained eye, an error in the description of the wine, either vintage, terroir, etc. The 10 seconds seemed to speed by during this segment.
The competition concluded with two wines, one white and one red, for blind tasting following a protocol and series of required information about each wine.
The 2023 candidates:
Adriano Cartuliares
Sommelier/Wine Director
10acres
Alexandre Roger
Wine Director
Black+Blue Steakhouse
Andrew Forsyth
Sommelier
L'Abattoir
Arisa Nishida
Junior Sommelier
Il Caminetto
Christina MacKay
Wine Director & GM
La Fabrique St-George
Daniel Hinchey
Tasting Room Manager
Poplar Grove Winery Inc.
Ian Casterton
Head Sommelier
Botanist
Jaimie-Leigh Bourne
Sommelier
Hawksworth
Jonathan Hunwick
Sommelier
Westin Bayshore
Justin Isidro
General Manager & Sommelier
Kissa Tanto
Kelcie Jones
Sommelier
Burdock & Co.
Kristi Linneboe
Sommelier
Elisa
Lucia Nahacka
Wine Director
NOX restaurant
Monika Dabrowska
Sommelier
Noel Hollett
Assistant Wine Director
Elisa
Reverie Beall
Wine Director
AnnaLena
PRIZES:
All 16 candidates received a bottle of Unsworth Charme de l'Ile Rosé and Cambria Katherine's Vineyard Chardonnay
BEST TASTER:
Bottle of Henriot Blanc de Blancs Champagne
THIRD PLACE:
A three pack of premium California wines from E&J Gallo Fine Wines
Magnum of Boutinot 2019 Cote Sauvage Cairanne
Magnum of Quails' Gate Pinot Noir
Magnum of Henriot Champagne
An Invite to BC Sommelier Boot Camp
A trip for 2 to Vancouver Island and a night at Blue Grouse winery with Dinner at Unsworth winery
SECOND PLACE:
A three pack of premium California wines from E&J Gallo Fine Wines
Magnum of Boutinot 2019 Cote Sauvage Cairanne
Magnum of Quails' Gate Pinot Noir
Magnum of Henriot Champagne
An Invite to BC Sommelier Boot Camp
A 2-night stay at Quails' Gate for four guests at Bazett House and dinner at Old Vines Restaurant.
FIRST PLACE:
Title of BC Sommelier of the Year 2023, and a chance to represent BC at The Best Sommelier of Canada Competition in October.
A three pack of premium California wines from E&J Gallo Fine Wines
Magnums of Boutinot 2019 Cote Sauvage Cairanne and 2016 Les Deux Barriques
Magnum of Quails' Gate Pinot Noir
Magnum of Henriot Champagne
An Invite to BC Sommelier Boot Camp
Courtesy of the Chianti Classico Consortium, return flight to Italy and
A One Week VIP Sommelier experience in the heart of Chianti!
PLUS $2000. in Delta Airline travel vouchers, courtesy of VIWF.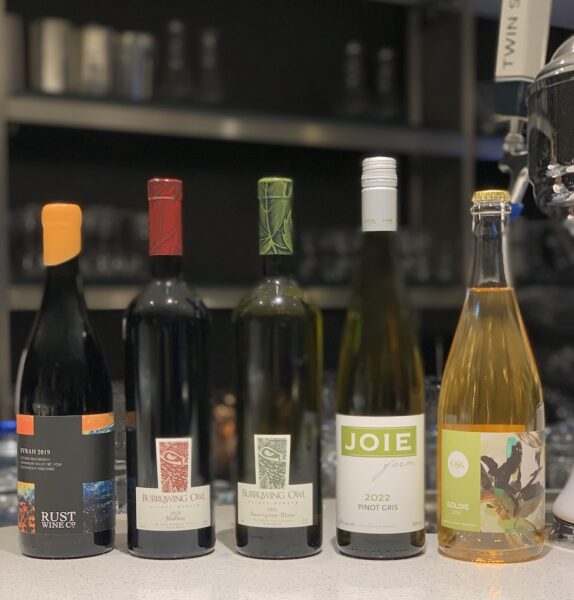 During the afternoon there was a cash bar with proceeds going to CAPS BC with wine donated by the followng sponsors.
While the judges were delibertating the spectators and competitors adjourned to the Canucks Lounge where we enjoyed passed canapés and snacks with complimentary wines provide by the wineries.
Wines poured for spectators at the competition:
~ Burrowing Owl, Rust Winery, Unsworth Winery, Joie Winery, Blue Grouse, Quails'Gate, Monte Creek
~ Creek and Gully Cider donated by The Hawksworth Restaurant Group
The reception was sponsored by the Wine Growers of BC.
VERY Special Thanks to 
Shane Taylor and Michael Doyle of Canucks Sports and Entertainment and The Top Table Group who generously provided the venue and all the related services for the event!
By now it is no secret the overall winner and the 2023 BC Sommelier of the Year is Kelcie Jones from Burdock and Co.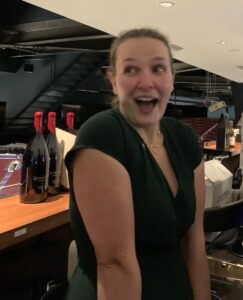 Kelcie Jones
Kelcie is currently Wine Director for the Michelin-starred Burdock & Co, joining the team after opening the beloved Elephant on Powell as Wine Director and General Manager last year. She was also Wine Director at Chambar in Vancouver for half a decade and is a Stage 2 candidate with the Institute of Masters of Wine as well as a WSET Diploma holder. In early 2023 she opened This is Wine School with two friends and sommeliers, an alternative wine school offering WSET courses and more creative classes to both novices and industry professionals alike.
Past winners include:
Jayton Paul – (Published on Main – 2022)
Peter Van De Reep – (Campagnolo – 2020)
Matthew Landry – (The Stable House Bistro – 2019)
Sean Nelson – (Vij's – 2018)
Shane Taylor – (CinCin Ristorante + Bar – 2017)
Alistair Veen – (Tap Restaurant – 2016)
Jason Yamasaki – (Chambar – 2015)
Judges for the 2023 CAPS BC Best Sommelier competition:
DJ KEARNEY
DJ is a Vancouver-based wine educator, consultant and global wine expert. Her decades in the wine industry have embraced teaching, wine writing and criticism, judging and speaking. DJ holds the WSET Diploma, the ISG Sommelier Diploma and has spent four years in the Master of Wine program. She is a WSET educator working for many global wine bodies and has trained hundreds of sommeliers throughout North America. + So much more!
BRYANT MAO
Bryant is a decorated sommelier with over 20 years of hospitality experience. His time leading the wine programs for the Hawksworth Restaurant Group over the past eight years and at London's Michelin-starred Chez Bruce for four years before has made him a specialist in the fine wines of the world, and granted him access to the most exciting new regions and producers in the market. Sommelier of the Year from Vancouver Magazine in 2015 and from Canada's Top 100 in 2020.
MICHAELA MORRIS
Michaela is an international wine writer, educator and speaker based in Vancouver. She contributes regularly to Decanter, Meininger's Wine Business International, Quench, Vintec Club and Taste magazine. She also judges at global competitions such as Decanter World Wine Awards and Vinitaly's 5StarWines. Michaela holds the Wine & Spirit Education Trust Diploma and is a Certified Italian Wine Expert through Vinitaly International Academy.
BC Chapter for the Canadian Association of Professional Sommeliers
Our mission, as the BC Chapter for the Canadian Association of Professional Sommeliers is:

To raise awareness of the sommelier profession and its value in the hospitality industry and to the general public.
To enhance the role of sommelier and promote the culture of wine through instruction, competition, accreditation and events.
To provide a professional forum to encourage community, networking and education for our members.
We have three membership levels. Accredited Sommelier, Associate Sommelier, and Student.  You do not have to be a "Certified Sommelier" to be member of CAPS. 
We hold periodic tastings of fine wines, beers, and spirits which are open to all members. Tastings are sometimes available to non-members for an additional fee.  
We work with other sommelier and wine educator organizations around the world, like the Association de la Sommellerie Internationale (ASI) to promote our goals and to ensure mutual recognition of sommelier qualifications.
The Canadian Association of Professional Sommeliers (CAPS)
Made up of a team of industry professionals from such fields as restaurants and hospitality, to education, to wine agents as well as journalists, the Canadian Association of Professional Sommeliers, founded in 1989 has as its aim to promote the profession of sommelier by working alongside industry leaders in the wine and spirits industry in Canada. Each province is responsible for individual sommelier education and certification programs offered in their territory and is in charge of the organization of provincial competitions.
The Canadian Association of Professional Sommeliers (CAPS) is a pan-Canadian association, which brings together individuals within the sommelier profession, restaurant services, and other sectors of the wine industry.
CAPS/ACSP National is currently made up of the following provincial chapters:
The Canadian Association of Professional Sommeliers, Atlantic Chapter based in Halifax
The Canadian Association of Professional Sommeliers, British Columbia Chapter based in Vancouver
The Canadian Association of Professional Sommeliers, Manitoba Chapter based in Winnipeg
The Canadian Association of Professional Sommeliers, Ontario Chapter based in Toronto
The Canadian Association of Professional Sommeliers, Quebec Chapter based in Montreal
CAPS is affiliated with the Association de la Sommellerie Internationale (ASI) headquartered in Paris and counting 52 member and 3 observer countries.
Judge bios, list of competitors and list of past winners courtesy of Canadian Association of Professional Sommeliers BC. I received a complimentary spectators ticket.