SQUASH SOUP WITH PEARS, MAPLE SYRUP AND BLUE CHEESE CROUTONS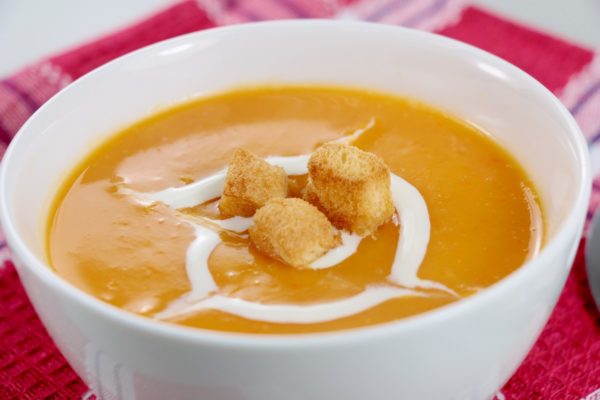 Ingredients – Soup:
3 lbs. butternut squash
2 tbsp. extra virgin olive oil
½ cup onion, finely sliced
One pear, cored, peeled and diced
½ cup Gewürztraminer
5 cups chicken stock (or vegetable stock)
2 tbsp. maple syrup
½ cup whipping cream
Method:
Preheat oven to 350º.

Carefully slice the squash and scrape out the seeds. Rub flesh of the squash with oil and season with salt and pepper and place on a cookie sheet with the skin side down. Place in oven for 40-60 minutes, squash is cooked when small knife can slide in an out of the flesh easily. Remove from the oven and scrape out the cooked flesh and discard the skin.

In a large pot place a tbsp. of olive oil on medium heat. Add the onion and sweat for 5-6 minutes or until translucent.

Add the pear and cook for another 2-3 minutes.

Add the wine and reduce for at least 7- 10 minutes. At this time add the stock, maple syrup, the cooked squash and whipping cream. Whisk together and simmer for at least 15 minutes.

Remove from heat and process in a food processor or blender, place back in pot over medium heat and season with salt and pepper. For added richness, add a tbsp. of butter.
Ingredients – Croutons:
1 cup blue cheese
6 slices dark rye
Method:
The idea with the croutons is to make individual toasts with slightly melted cheese to be placed on top of the soup. For the rye croutons, slice at least 10 pieces(some of your guest may want more than one. Place the toasts under a preheated broiler place and toast lightly for 30 seconds a side, then crumble the blue cheese evenly on the toast and place under the broiler for another 30 seconds. Do not take your eyes off at this point or you will burn the toast and the cheese.
To Serve:
Heat six soup bowls and ladle the soup into the bowls and serve with a crouton on top of each.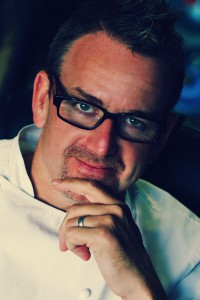 Chef Rob Feenie, Executive Chef, Cactus Restaurants Ltd.  
The driving culinary force behind Cactus Restaurants Ltd., the award-winning collection of 26 casual fine dining restaurants in BC, Alberta and Saskatoon, Rob Feenie is also one of Canada's most recognized and celebrated chefs.
At Cactus Restaurants Ltd., Chef Feenie leads the culinary team, blending his talent for creating elegant, globally-inspired cuisine with his passion for simple dishes using fresh, sustainable ingredients.  Chef Feenie's innovative approach to cooking has continued to drive the evolution of Cactus Club Cafe's menu selections and its commitment to sourcing the best fresh, local and sustainable products wherever possible.  
Growing up in Burnaby, BC, Chef Feenie first developed a curiosity for international cuisine over countless traditional family dinners at his Japanese neighbours' home. This early experience was followed by a high school exchange program where he was first introduced to European chefs and techniques.  At 20, Chef Feenie attended the Dubrulle Culinary Institute in Vancouver and upon graduating, became a Sous-chef in some of Western Canada's top restaurants, notably Le Crocodile and Cherry Stone Cove in Vancouver and The Rim Rock Café in Whistler. 
While at Le Crocodile he began a series of work and educational trips, or stages, throughout Europe and North America, starting in Alsace with Chef Emile Jung at Au Crocodile and Chef Antoine Westermann at Le Buerehiesel, both Michelin three-star rated restaurants. In North America he worked with Chef Charlie Trotter, at Trotter's Restaurant in Chicago, and Chef Jean-Georges Vongerichten at Jean-Georges in New York.
In 1995 Chef Feenie opened the internationally celebrated Lumière Restaurant in Vancouver, followed by Lumière Tasting Bar and then Feenie's, a more casual Canadian Bistro, next door to Lumière, in 2003.  Throughout his career, Chef Feenie has secured international culinary recognition, including the coveted Relais Gourmand and Traditions et Qualitè designations, in addition to the Mobil Travel Guide four-stars designation and the AAA Five Diamond Award.  In 2009 and 2011, Chef Feenie won the Vancouver Gold Medal Plates competition.
Chef Feenie has published four cookbooks: Rob Feenie's Casual Classics, Rob Feenie Cooks at Lumière, Lumière Light and Feenie's. He also starred on New Classics with Chef Rob Feenie on Food Network Canada for five seasons.  In 2005 Feenie became the first Canadian to win on the popular television show Iron Chef America by defeating Chef Masaharu Morimoto.